Features & Columns
Silicon Alleys: New Book Chronicles Young Da Vinci's Obsession with Spheres
In his new children's book, author David Eastis focuses on how Leonardo Da Vinci became fascinated by circles beginning at a young age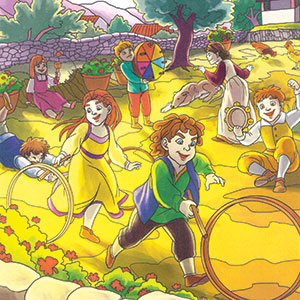 I first met David Eastis 15 years ago when he presided over the Silicon Valley chapter of Slow Food, originally among the first five chapters the U.S. Eastis was the Shakespearean "mine host" of a gluttonous event at the upscale Flea Street Cafe in Menlo Park, where 56 gastronomes of all shapes and sizes feasted at a snail's pace for over three hours.
The resulting May 1, 2003, Metro cover story was the first one I ever wrote and one of the first major features on Slow Food anywhere in the Bay Area. I contributed a bottle of Benedictine to the meal, which felt like a Fellini movie in the slow lane, and then quoted Rabelais and John Ruskin in the story. Such were the days.
In terms of the present day, Eastis finds himself connected to an idiosyncratic matrix of social pursuits, from charity fundraising and nonviolent activism to the childlike ways in which Leonardo Da Vinci was obsessed with circles. Yes, you read that correctly.
In his new children's book, Leonardo Da Vinci: The Boy Who Loved Circles, a short 48-page homage to the legendary Renaissance polymath, Eastis focuses on how Leonardo became fascinated by circles beginning at a young age. Always observant, he realized that unlike other shapes, circles had no beginning and no end. From the young Leonardo's perspective, spheres and circles seemed to be a part of everything—coins, eyeballs, belt buckles, plates and wagon wheels.
In contrast to how Leonardo is often pictured, nowhere in The Boy Who Loved Circles do we see him as an old man, nor do we read any androgynous conspiracy theories. Instead, Ami Leshner's glorious illustrations feature Leonardo's childhood and teenage years as he matures into the genius we know today. The idea was to provide an antidote to the Grizzly Adams version of Leonardo one usually encounters.
"Even the film that's shown in the home he grew up in depicts him as wizard-like, a hundred years old, decrepit and bald," laments Eastis. "He died when he was 67. He never looked like he was a hundred years old. At least during his youth, [Andrea] del Verrocchio used him as a model for the statue he did of David."
Such is the model Leshner then used throughout the book. Her colorful children's fantasy-style illustrations of the teenage Leonardo in his prime—the inventive, curious, athletic, exploratory wunderkind—are the highlight of the entire project.
A fourth-generation Italian-American, Eastis took art classes at Bret Harte Middle School in San Jose but now lives in Brentwood. His fundraising work and art-directorial pursuits put him in contact with numerous celebrities, from Priscilla Presley to the artist Peter Max. He raises money for causes like Habitat for Humanity, UNICEF and Doctors Without Borders. Through his affiliation with the Knights of St. Francis d'Assisi and fundraising for the Gubbio Project, Eastis is also a friend of Louie Vitale, the celebrated Franciscan priest and nonviolent protester with 400 arrests to his credit over the last half-century. Through Eastis' friendship with Vitale, he came into contact with Martin Sheen, who also boasts a seasoned arrest record for nonviolent civil disobedience. One cannot speak to Eastis without him name-dropping numerous celebrities—not in a bad way, but more like someone sincerely curious about making the world a more peaceful place. His primary circle of connections, as a whole, tends to radiate a charitable joie de vivre.
Now that The Boy Who Loved Circles is out in the world, Eastis says he would love to see a "Leonardo Circle Boy" exhibit at either the Tech Museum or the Children's Discovery Museum to inspire children and adults to innovate, design and build bridges rather than walls. Leonardo's life, says Eastis, can be used as a model for peace and understanding among cultures. His brilliance can help inspire and unite people.
"I may be partial after immersing myself in all things Leonardo da Vinci for two years, however, in my humble opinion Leonardo has the power of three Harry Potters, and the inventions, adventures, history, palace intrigue, innovations and mega orbits with circularity to blow the mind," says Eastis. "All true. Without need for any hype or fiction."