Features & Columns
Silicon Alleys: Conjuring the Spirits of San Jose Past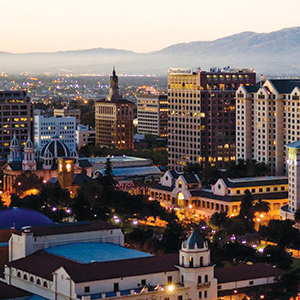 A French nobel Laureate inspired me to construct of network of ghosts in downtown San Jose to haunt the current onslaught of techie schmoes. When novelist Patrick Modiano won the Nobel Prize for Literature in 2014, the Nobel Academy's secretary said Modiano won "for the art of memory with which he has evoked the most ungraspable human destinies and uncovered the life-world of the occupation."
Continuing, he said Modiano's books "are always variations of the same theme—memory, loss, identity, seeking. Those are his important themes: memory, identity and time."
Modiano's books are haunting and atmospheric, often with a psychologically scarred narrator grafting a matrix of memories on top of his native Paris. We get specific places and addresses, people with whom the narrator once interacted, or just ways in which the physical buildings merge with temporal aspects of his own history and identity.
Which, of course, makes me think of downtown San Jose. Modiano's last two books, So You Don't Get Lost in the Neighborhood and the recently released Sleep of Memory, inspired me to graft a matrix of traceable memories onto downtown so future Modianos of this neighborhood will have something to haunt themselves with.
"With a little effort they come back to you, those names that lie dormant beneath a thin coating of snow and neglect," Modiano says, on page 26 of Sleep of Memory. San Jose is not Paris, so in our case, the names lie dormant underneath fancy new skyscrapers, names just waiting to resurface and haunt all the real estate tycoons gentrifying the neighborhood with tech schmoes and coworking spaces for overgrown frat boys.
On Feb. 27, 1989, for example, the legendary Nick Cave and the Bad Seeds played at the Oasis Nightclub in downtown San Jose, nowadays the vacant lot at North First and St. James streets, ground zero for the shiny new Park View Towers project. The documentary film of that tour, "The Road to God Knows Where," includes a hysterical scene of Cave hating on the whole venue and complaining about how small the stage was. The very next day, Feb. 28, 1989, legendary actor and musician Harry Dean Stanton played on that same stage. I missed both of those gigs, which even further inspires me to conjure up their spirits. Cave is still alive and well, playing arenas all over the world, but Stanton recently passed away, as did Don Joyce of Negativland, who performed a spectacular show I saw at the Oasis in 1993. Some troublemaker at KFJC taped it off the board, so the recording is readily available if you Google it. I swear, I can still hear Negativland's legendary sonic ridicule of U2 every time I walk by that vacant lot. But that's not all. I can also hear noise collages, dance beats and bisexual dry orgies that unfolded on stage when Genesis P-Orridge and Psychic TV played at the Oasis in 1990, another show I attended. If I can help it, all of these legendary counterculture heroes will forever inhabit that parcel of land, haunting the lives of every soulless techie that moves into those ritzy new towers.
Inspired by the Nobel Committee, I can think of many more examples. Kurt Cobain, Johnny Thunders, Country Dick Montana and Dee Dee Ramone all gigged at Cactus Club, which first opened 30 years ago next month, so I will conjure their nefarious spirits to spread out across the whole SoFA neighborhood, haunting and taunting any new shiny tower that comes along.
Finally, mystical laughter plays a role here, too. As another high-rise barrels toward completion on the former parking lot next to Old Spaghetti Factory, I am reminded of Satori Tea Company, which until very recently was located across that parking lot on the other side. In 2012, I wrote a column about Ramesh Pandey, the "Laughing Yogi," who gave a laughing yoga class inside the tea shop. I don't know exactly how many transient tech workers will move into the overpriced luxury units in that building, but each one of them will hear distant residual laughter from deep down underneath the foundation, echoes of the mystic yogi, uproariously busting a gut at the soulless techies and their superficial lives.