Features & Columns
Silicon Alleys: Exhibit Shows How WWI Hit Local Community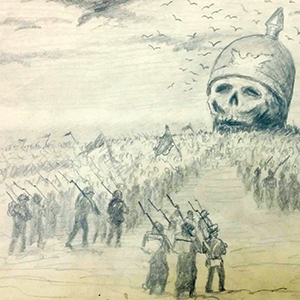 During World War I, members of a vigilante organization calling themselves "The Knights of Liberty" kidnapped an American citizen living in downtown San Jose and accused him of pro-German sentiments. They drove him out to the corner of Penitencia Creek and Piedmont Roads for a mock "trial," after which he was tarred and feathered and then chained to the brass cannon of the McKinley statue in St. James Park. San Jose police had to rescue him.
The May 2, 1918, San Jose Mercury Herald report of the crime is included in San Jose and World War One: A Centennial Exhibition, a simple exhibit at the Martin Luther King, Jr. Main Library, celebrating the 100th anniversary of Armistice Day, Nov. 11, 1918, when the war ended. We get personal stories about residents of San Jose and Santa Clara County. Turns out 35 people from San Jose State Normal School, the institution that evolved into what's now SJSU, served in the war. Included are posters, text panels, forensic books, military training manuals, maps and memorabilia, as well as reproductions of photographs and newspaper stories, most of which hang on white placards.
To make a long story short, in the early 20th century, angry militaristic nationalism began to emerge in Europe, with land grabs and defense alliances already in the works several years before the war. In June 1914, Archduke Franz Ferdinand of the passe Austro-Hungarian Empire and his wife were assassinated by a Serbian nationalist, essentially kickstarting the continent into armed conflict. It was the first modern war to widely feature tanks, airplanes, submarines, chemical weapons, wireless communication and mass targeting of civilians. Essentially defining the modern usage of the word, "horror," on numerous levels, The Great War took the lives of nine million soldiers and seven million citizens, leaving still more millions wounded.
At the opening reception for the exhibit, SJSU's Dr. Karen English spoke on "A Tribute to American Poetry of the Great War." Volunteers then read a few poems from the era: "I Have a Rendezvous With Death" by Alan Seeger, who was killed in the Battle of the Somme; "Unidentified," a poem by Mary Borden; and Lucian B. Watkins' classic, "The Negro Soldiers of America: What Are We Fighting For." That last one references lynchings in Tennessee and also the American men of color who served in segregated units during the war because many white American soldiers wouldn't fight alongside African-Americans.
Poetry apparently unfolded here in town also. In the exhibit, we get to see local literary types and artists who put in their 2 cents about the war effort. Acclaimed poet Edwin Markham, who lived in San Jose and attended San Jose State, harbored a devout love for France, so he supported the French resistance in his poetry. On the other hand, Ruth Comfort Mitchell, who spent her summers in Los Gatos, opposed American intervention and wrote anti-war poetry. And let us not forget San Jose's most infamous painter of that era, A.D.M. Cooper, who lived on 19th Street and drew voluminous numbers of sketches, many of which are under lock and key at History San Jose. One of those sketches, dated Sept. 14, 1914, a few months after the war began, depicts Cooper's response to the horrors involved (see above photo).
What's more, we get brief glimpses into the diversity of local heroes that served. Born in Saratoga, Sing Lau Kee, for example, was sent to the front lines of the Argonne Forest with the 306th Infantry, serving as a runner and even bravely operated a listening post for three days as his comrades were either killed or retreated. He received the Purple Heart and the French Croix de Guerre and was also the first Chinese-American soldier ever decorated by the United States. Members of his family attended the opening reception last week.
San Jose and World War One: A Centennial Exhibition is not a professional museum-quality installation by any stretch—in fact, some of the texts seem a little hurriedly organized—but it contains enough inspiring stories and examples of artistic influence to make it a worthwhile addition, for a month, to the selection of displays throughout the library. And it shows that the Great War indeed affected people all over the world.