Features & Columns
Silicon Alleys: SJSU, Irish Colleges Exchange Grad-Level Scholarship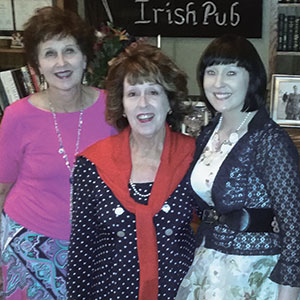 Helena Byrne, an Irish singer and storyteller from across the Atlantic, is entertaining a group of 40 people with stories about the footprint of St. Patrick. She sings familiar songs and then conjures up a few pagan stories about Samhain. I'm in the back row, with all of us comfortably jammed into the parlor of Pamela McMahon's house in Santa Clara.
Byrne is on tour, her first time ever on the West Coast, and this performance is a fundraiser for the San Jose-Dublin Sister City Committee's educational programs, which include a trans-Atlantic academic exchange between San Jose State University and the prestigious Dublin institutions of Trinity College and Dublin City University. Sister Cities International includes 500 member communities around the world, with over 2,000 partnerships in more than 140 countries, but San Jose-Dublin is the only partnership featuring a graduate level scholarship exchange between two cities.
As I scarf on way too many handfuls of mixed nuts and homemade cookies in the McMahon household, I am reminded of Pat McMahon, Pam's husband, who passed away a few years ago. One of the local heroes that originally founded the San Jose-Dublin relationship back in the '80s, Pat McMahon was a lawyer, activist, community booster for all things Irish and a veritable legend around these parts.
When Nobel laureate Seamus Heaney showed up at San Jose State, McMahon was the one who introduced him. He was also the proprietor of Paddy's Pub on Santa Clara Street, San Jose's only non-smoking bar at the time, and also where many of us watched the 1994 World Cup matches, since no other place showed them. He was a big proponent of education, so the SJ-Dublin academic exchange is now officially called The Pat McMahon Masters Level Exchange Scholarship Series. His widow, Pamela, is hosting the event tonight, but the cosmic spirit of Pat McMahon definitely seems to be present. Just hanging out with Irish people turns me into a mystic. It happens every time.
Even without the physical embodiment of Pat McMahon, his house soaks in history. Numerous books occupy the shelves. On one wall I see a painting of Henry's Hi-Life and a rocking autographed poster of the Ali-Frazier "Thrilla in Manilla" fight. I also see remnants of Paddy's Pub everywhere, including signs, ephemera and a huge mirror that I think was behind the bar. The transnational nexus of San Jose-Dublin royalty reigns free at this property.
When it comes to academic exchanges, several graduate student engineers have now traveled from Dublin straight to downtown San Jose over the last few years thanks to this program, supported by Cypress Semiconductor. But as of right now, for the first time, funds were raised to support an exchange in the other direction, this time in the humanities. Gurpreet Pannu, a second year music education student from SJSU's School of Music and Dance, my alma mater, is now studying at Dublin City University until September. Raised in a small Central Valley town by parents from India, Pannu graduated from UC Davis with a bachelor's in music and a minor in education before coming to San Jose for graduate study, where she directed the SJSU Young Musicians' Project, a program providing private and group lessons to inner-city and low-income youth. Until this trip, she had never before traveled anywhere near Europe. Her passion for music and citizen diplomacy is evidenced by what she wrote in her application: "Music is the relation that binds people together, binds people to their cultures, religions, ethnicities, to family, friends and even the stranger next to you." Amen.
As someone who spent six weeks studying abroad during grad school at SJSU, also operating from the music department, I have a dream that travel should be required for every American college student. In my adult years, I started traveling at age 24 and never stopped. Travel opens the mind, increases curiosity, creativity and cultural literacy, all of which help chip away at xenophobia, racism and a variety of ills plaguing this country. Anyone who's traveled extensively will tell you this. You become a more enlightened person. The Pat McMahon Masters Level Exchange Scholarship Series is a righteous cause. Even better, you don't have to be Irish to donate:[ http://www.sanjosedublin.org/ ] sanjosedublin.org.