Features & Columns
Silicon Alleys: San Jose Library Deploys 3D Printers to Make Personal Protective Equipment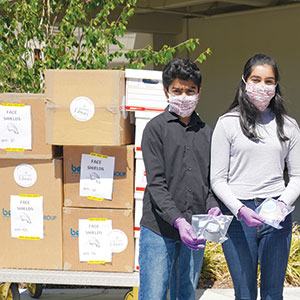 Suggesting once again that we're all in this together, the San Jose Public Library system tapped both the Czech Republic and Billings, Montana, for inspiration on how to 3D-print masks and face shields for Good Samaritan Hospital.
As part of its teen headquarters, The Martin Luther King Jr. Main Library already includes a maker space with an industrial size 3D printer, and each branch library recently acquired its own smaller 3D printer. So after all the libraries were closed, a grand total of 24 3D printers were then repurposed for this citywide project. Right now, library staff along with a few teenage volunteers are making it all happen. Some staff were even allowed to bring the 3D printers home to do the work, since each face mask takes two and a half hours to print, while the face shields take 90 minutes. The whole operation is a logical extension of everything that librarians already do: They provide access to knowledge—whether it's literacy, research, applied skills or technology—and help people turn that knowledge into practice so it benefits their lives.
"I love this project because of that," said library director Jill Bourne. "It's actually a direct allegory, almost, of why libraries exist. That with the knowledge and the tools you can literally make anything and it helps the individual, but it also lifts up the entire community."
As the Covid-19 era began to unfold, and along with it a massive shortage of personal protective equipment (PPE), an entire movement emerged across the country to create masks with 3D printers. Initially crystallizing at a clinic in Billings, Montana, the movement exploded into a vast online community. Anyone can now download instructions, files and specs to get started printing masks based on designs that have already been tested and vetted by healthcare facilities.
Likewise, in the Czech Republic, a prototype face shield came into being, thanks to the folks at Prusa Research, a famous and successful 3D printer manufacturer. The design is fully open-source. Anyone can download or modify it. At first, Prusa just threw the files up on their website, but now the design is being used throughout the world, as hospital staffers, first responders, nursing homes and grocery store employees continue to need such equipment. As with the 3D printed masks, the designs are not just somebody's best guess. Prusa worked with the Czech Republic Ministry of Health to help refine the designs to ensure they'd meet the requirements of those in need.
On the local front, after all San Jose public libraries were forced to close, staff saw the situation as an amazing opportunity. A few dozen library staff now contribute, with several others volunteering to assist, even if it's just helping with the final assembly.
Over the years, the public librarian's job has already expanded into something much more elaborate than many people realize. During regular opening hours, librarians also function as social workers, tech support or even first responders in some cases. In general, though, they connect anyone to all forms of information, especially in the digital hi-tech world of Silicon Valley.
"We're providing new tools and access to new types of technology, and new ways to be creative and to learn and to grow," said Elizabeth Allen, a librarian working on the project. "We're also trying to give back to the community. So this was an amazing way that the new tool we're offering and our commitment to public service come together."
With mass shortages of PPE continuing to characterize the Covid-19 era, the San Jose Public Library system will continue to carry out this project. If society ever veers back toward some semblance of normality, maybe the mass populace will finally become aware that libraries provide so much more than just books. And a 3D printer can create almost anything.
"I think having the teens be able to help is really good, because it shows that it's really accessible," Bourne said. "We have an incoming ninth grader and an incoming senior in high school, and they're these normal, lovely kids, and they're like, 'Yeah, we printed face masks,' and they're doing something that feels so critical right now."