Features & Columns
Silicon Alleys: Sister Act
Ideas to grow San Jose and Dublin, Ireland's 35-year 'sister city' status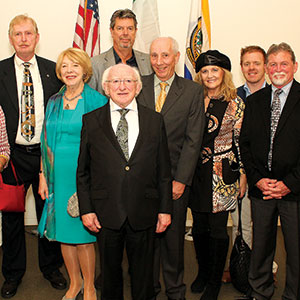 This year marks the 35th anniversary of the San Jose-Dublin Sister City relationship, triggering me to reflect on the benefits of person-to-person diplomacy and international partnerships.
The history is not complicated. Sometime during 1986, San Jose Mayor Tom McEnery and Dublin Mayor Bertie Ahern had a pint that launched the relationship. From there, Silicon Valley companies eventually opened up shop in Ireland, exchanges unfolded and, to this day, the relationship is much deeper than most sister city partnerships in the U.S. Much of the story appears in Tim Pat Coogan's book, Wherever the Green is Worn.
At least a few people in each city have learned from each other over the years. When I visited Dublin in 2010, a white-haired Frank Feely met me for tea at the Merrion Hotel, one of the city's most luxurious and iconic structures and a testament to Georgian architecture, down the street from the government buildings.
Feely was Dublin's City Manager back in the '80s, when the San Jose-Dublin relationship first started. As we sat there, Feely sang, out loud, his own version of "If We Only Had Old Ireland Over Here" but with alternate lyrics about the Guadalupe River and Santa Clara County. He said he'd once sung this version during a state visit in Sacramento. Listening to Feely tell stories, it seemed like he knew more about San Jose than most natives.
Though the Lord Mayor of Dublin doesn't bring a delegation to San Jose every year anymore, the relationship grinds along. The San Jose-Dublin Sister City Committee, on the local side, regularly presents the Spirit of Ireland Award to an individual whose accomplishments have exemplified the relationship between Silicon Valley and Dublin. The physical award is a bronze sculpture created by the late Harry Powers, who taught in the SJSU Art Department for almost 40 years and sadly passed away in 2018.
Many others that are no longer with us, like Ray O'Flaherty and Charlotte Powers, (no relation to Harry), were staunch supporters of the San Jose-Dublin relationship, throwing all their resources into the activities. O'Flaherty's Pub is still the San Jose headquarters for any visit by Irish dignitaries. Far as I know, at least one Taoiseach (pronounced tea-shook)—the prime minister and head of Irish government—has made an appearance at O'Flaherty's.
In April of 2016, to celebrate its 30th anniversary, the San Jose-Dublin Sister City Committee organized a landmark Sister City conference in Dublin. All US cities with Irish sister cities were invited to send a delegation.
The conference took place the same week as Dublin's 100th anniversary celebrations of the Easter Rising. Many San Jose politicos, business people and folks from the arts community attended. I was already in Europe at the time, so I hopped on an Aer Lingus flight from Zurich and joined. I was the only American journalist covering the conference. Irish president Michael Higgins, who'd just visited San Jose the previous year, also showed up. He gave a rousing, poetic speech, as he is known to do. It was a seriously emotional time to be in Dublin.
Local institutions that have collaborated with Dublin include Lick Observatory, San Jose Stage, Cypress Semiconductor and SJSU. It's easy to imagine even more partnerships in the future. For example, we need a sister rock 'n' roll club. Again, this is not complicated to understand; any grown-up, creative city with any shred of culture would get it.
Here's one proposal: An Irish dude, O'Brien, runs The Ritz on South First Street, so they should partner with the Workman's Club in Dublin, a live music joint right next door to the Clarence Hotel, which is owned by Bono and The Edge of U2.
The last time I stayed at the hotel, on New Year's Eve, when the calendar changed from 2017 to 2018, the band fronted by Bono's son was playing at the Workman's Club. Everyone was hanging around the hotel, although I missed Bono by about 20 minutes. The point being, in Dublin, people still show up and appreciate live music; it's in their blood.
I can think of many similar partnerships. You probably can too. In any event, San Jose and Dublin are only getting started. Here's to another 35 years.