Features & Columns
Silicon Alleys: Teetering Along
The Teeter-Totter Wall existed for just 20 minutes, but made a lasting impression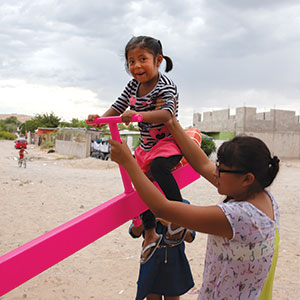 Three pink teeter-totters made by a San Jose State University associate professor has beat a moveable school for homeless Indian children and a three-dimensional model of the coronavirus in a prestigious international design competition.
The Teeter-Totter Wall allowed U.S. and Mexican residents to play on a simple toy through the hideous border fence between El Paso and Ciudad Juarez for a grand total of 20 minutes.
Despite its short life, the installation was named the overall winner in the 2020 Beazley Designs of the Year, an annual competition staged by the London Design Museum. Virginia San Fratello, who chairs the Department of Design at SJSU, created the Teeter-Totter Wall with Ronald Rael, a professor of architecture at the University of California, Berkeley.
The Beazley Design Awards are given for fashion, architecture, digital, transport, product and graphic design. Fratello and Rael's Teeter-Totter Wall had stiff competition. For instance, the 3-D computer rendering of the Coronavirus that we now see everywhere, designed by Alissa Eckert and Dan Higgins and commissioned by the Center for Disease Control, got the graphics category award.
Aside from being the overall winner of the design competition, San Fratello was surprised the teeter-totters also won in the transport category.
"[This] was an interesting category to put the project in, because it is playground equipment, so to speak, and an art installation," she said. "But I think after we thought about it a little bit, we realized it really is a bridge and it's a piece of infrastructure and so it's interesting to think about it that way—and in that category." With help from the Mexican design group, ColectivoChopeke, San Fratello and Rael installed the project in July of 2019. While it's installation was short-lived, videos of kids on both sides of the border riding bright pink teeter-totters went viral all over the world.
The message in the reaction was clear: human connection transcends borders. People should build bridges, not walls. In fact, walls don't do a damn thing to keep people out, instead, they amplify even more dialogue and interaction between the two countries.
What became clear is that whatever transpires on each side of the border affects those on the other side. Moreover, El Paso and Juarez are part of the same metropolitan area where people go back and forth every day to work, school, to go shopping, or to visit their relatives. A 20-foot border wall is an obscene, violent gesture, yet one that humans are indeed capable of transcending.
All the awards this year dealt with social justice and what the world was like in 2019, pre-pandemic. The London Design Museum announced the winners on January 19, Trump's last night in office. The timing was not lost on anyone. "Here we are in the twilight of one administration, who's been very contentious and unfriendly, leaving," San Fratello said. "And another one coming in, which I think for many of us, especially in California, feels more hopeful. So I think it was really a poignant moment and very timely to have the teeter-totters receive the award at that time."
The idea for Teeter-Totter Wall is at least 10 years old. In fact, Rael even wrote a book, Borderwall as Architecture, a subversive reimagining of the wall, filled with commentary on the absurdity of the border fence, filled with new ideas and stories from the landscape of the borderlands.
Yet there was no way to fully realize the teeter-totter idea until a few years ago when San Fratello and Rael visited El Paso to work on a huge 3D printing project, another medium in which the two regularly work. While in Texas, they met a member of Colectivo Chopeke, who knew a metal studio in Juarez that could fabricate the teeter-totters.
"We literally, within just a few days, decided we were going to go down there and do it," San Fratello said. "It was very spontaneous."
Right now, Fratello is sheltering in place in Colorado, along with a robotic arm for 3D printing projects. San Jose State remains closed. Even while Facilities Development and Operations (FD&O) employees prowl the campus in their electric carts, dodging neighborhood dog-walkers and Chinese people doing morning tai-chi, the whole campus feels eerily empty. Fratello is eager to get back to making local connections again.
"If we can come back in the fall, I'm thrilled to come back," she said. "I would be so happy to see my colleagues and the faces of our students."