Features & Columns
'The Black Prince' and
the Last Sikh King
'The Black Prince' brings attention to tragic story of Duleep Singh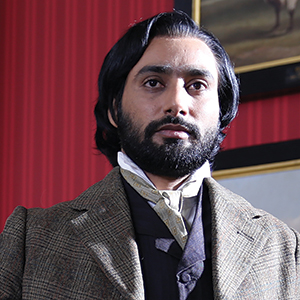 You don't have to be a forcibly exiled maharajah longing for his original country to identify with The Black Prince, a vivid historical film opening this weekend.
Written and directed by Kavi Raz and based on the true story of Maharajah Duleep Singh, the last king of Punjab before it was annexed by the British Empire, The Black Prince illuminates a tragic tale often hidden from the mainstream histories of South Asia.
In 1843, at the age of 5, Duleep Singh ascended to the throne of Punjab, a.k.a. the Sikh Empire, and even survived an attempt on his life. Over the next few years, the British began to set their sights on Punjab, the last remaining piece of Northern India not under their subjugation. When assassinations and infighting began to destabilize the Sikh throne, the British separated the maharajah from his mother and forced him into guardianship with Dr. John Login, who in due time helped convert Duleep to Christianity—all to help ensure he would never reclaim his rightful place as inheritor of the Sikh Empire. They replaced his spiritual identity and exiled him to the U.K., where they placated him with a lavish palace lifestyle including loads of new fortunes and possessions.
Duleep then became what biographer Peter Bance referred to as "an exotic party accessory" in Queen Victoria's crowd and grew up with a confused concept of his own history and who he once was, as a person. As far as the British thugs were concerned, Duleep was now a Christian and thus on his way to salvation. As part of the spiritual identity theft, the British even suckered Duleep out of the famous Koh-i-Noor diamond, which had been in his family's possession for decades.
Raz, the director, first infiltrated mainstream American audiences back in the '80s on the hit show St. Elsewhere, where he became the first South Asian regular on a major network drama. More recently, Raz felt deeply drawn to Duleep Singh's tragic story and committed himself with total abandon to assembling an authentic cast to enliven the epic story.
As a result, Satinder Sartaaj, normally a Punjabi pop singer, made his acting debut as Maharajah Duleep Singh. From the beginning moments, we see the isolation, introversion, emotional distance and overall confusion of growing up in England. He is struggling to find his real self and his spiritual well. Flashbacks and violent trauma undermine his existence. We feel the pain and suffering straight from his perspective—a view not emphasized in the previous books on Duleep's life.
Especially convincing is veteran actress Shabana Azmi, who plays Duleep's mother, Rani Jindan. She nails the role, capturing a strong, sarcastic, spiritual, and warrior-like woman whose only son and kingdom were looted by the British. Her performance is one of the highlights of the film. Azmi's task is to make Duleep realize he is a Sikh, not a force-converted Christian. He was born a king and should return to Punjab and claim what is rightfully his. When she comes to England with that task at hand, the interplay between her, Queen Victoria and Dr. Login is priceless. Understated tension drips off the screen.
From there, we see that even the wily, violent British annexation of Punjab and the treacherous displacement of Duleep was not something the God-fearing Victoria could completely write off. She and Login both carry great affection for the maharajah but struggle to reconcile their Christian faith with what their country has done to him. To that degree, in trying to evoke sympathy for the queen and Login, the film almost gives them too much credit, as if their inner struggle was somehow equal to a child being robbed of his entire identity.
In any event, Sikhs will feel especially proud that a well-done version of Duleep's tragic story finally appears on the mainstream screen. When Duleep grew older, he at least tried to assemble an international coalition of those who already hated the British—people from Ireland, Russia, France and other parts of South Asia—to spearhead a now forgotten attempt at winning independence for India. Unfortunately, thanks to the old standbys of treason, double agents and spies, he was unsuccessful.
The Black Prince
Towne 3 Cinemas (San Jose) and AMC Mercado (Santa Clara)
Fri July 21
118 MIn, R