Features & Columns
Constant Gardeners
Veggielution celebrates roots with annual Bounty of Heart's Delight dinner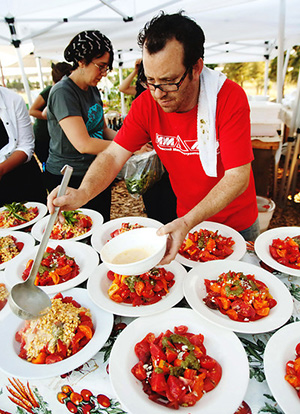 Along the journey to Veggielution, a glorious audio collage envelops me. By the time I arrive at the far back corner of Emma Prusch Farm Park, I've heard roosters, geese, whistling park employees, children scampering, a few tractors and ubiquitous freeway noise from the monolithic 680/101 interchange.
As a community farm, Veggielution occupies six acres of land and generates 47,000 pounds of produce every year, but since it's buried way at the rear of Prusch Park, past a few historic houses, gates and walkways, the general park populace doesn't seem to know it's there. The entire property seems miles from the congested, motor-oil-soaked nausea of King Road outside.
"Everybody's been to the park, but hardly anyone gets all the way back here," says Veggielution interim executive director Cayce Hill, as we meet in a makeshift kitchen. "We're trying to change that."
Veggielution features many different components, so many that it's hard to keep track of them all. Hill takes me into the farm stand, where 70 customers roll in every Saturday to pick up boxes of produce intended to last for a week. Over the course of a year, another 500 youths arrive to work in the garden, which is filled with goji berries, yarrow, aster, sorrel, narcissus, chard, garbanzo beans, marjoram and zinnias. Everything is labeled in both English and Spanish. In case you wanted to know, crocus translates to azafran.
Way off in the background, I see orchards, plots of vegetable plants attached to trellises and even two greenhouses, all flanked by freeways. In the pavilion area, the ladies from Somos Mayfair are teaching kids folklorico dancing while music blasts from a boom box. The tune "El Cerro de la Silla" remains in my head for the length of my visit.
As staff and volunteers saunter back and forth in every direction, a visiting group, Filipino Advocates for Justice, arrives for a tour. Hill begins by apologizing for the traffic noise.
"The freeway forms the contour of the farm," she tells the group. "That's why it's in our logo. You're always reminded that we're in a big city."
As I infiltrate the tour, we move throughout the expanse of the farm in about 30 minutes. We visit the orchards, the potting station and the greenhouses. I learn about myriad activities occurring on a regular basis: barn dancing, yoga on the farm, environmental justice lectures, cooking classes.
But all during the journey, we're warned about Veggielution's enemy number one: feral peacocks. No one knows why or how they arrived in this part of San Jose, but they tend to hide out in the cornstalks, eating crops and creating havoc on a regular basis. Even the greenhouses are blocked off with bird netting to stop them. Peacocks are one of my favorite birds.
"They're pests," Hill says. "They can mow down a little row of seedlings in a second. And the sound they make is like children screaming."
As a nonprofit, Veggielution struggles to raise cash just like any other 501c3 outfit, which is why their Annual Bounty of Heart's Delight fundraising dinner is this Saturday, 4:30-10pm. A grand-scale affair it shall be. The $140 ticket includes a five-course dinner on the farm with chef Matthias Froeschl of Naschmarkt in Campbell, plus hay rides, a raffle, auction and open-air dancing.
"We're hoping to get all the Veggielution regulars, as well as some people that haven't been here in a while," Hill says.
Veggielution is a full-functioning rural oasis amid one of the ugliest freeway monstrosities in all of California, a yin-yang of delicious corn orchards and Japanese eggplant juxtaposed against the perverse eyesore of suburban sprawl. In that sense, the entire scene represents the best and worst of San Jose all in one place. I would expect nothing less.
647 S. King Rd., San Jose. 888.343.6197