Features & Columns
Alternative Arts Space WORKS/San Jose Celebrates 40th Anniversary
This year marks the 40th anniversary for WORKS/San Jose gallery,
an all-volunteer alternative arts space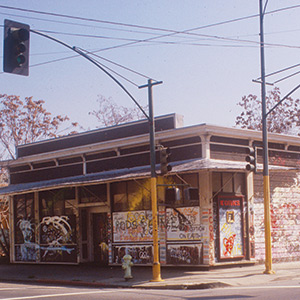 This year marks the 40th anniversary for WORKS/San Jose gallery, an all-volunteer alternative arts space. Entrenched in the eastern side of the San Jose McEnery Convention Center, the gallery celebrates a long, twisted history of continuous relocation woes after moving through six downtown locations in four decades.
A microcosm of San Jose's urban redevelopment saga, the WORKS story is a unique testament to how the alternative arts can survive endless cycles of creation and destruction at the hands of greedy real estate operatives and the city planners that love them. It isn't quite David versus Goliath, but it's close.
In 1977, an adventurous group of artists and San Jose State University professors were dismayed at the more mainstream direction of the San Jose Museum of Art, so they wanted to create a community-based art gallery, a place for cutting-edge visual art, dance, performance, avant-garde books, music and whatever else came along. Most important, they wanted the venue to be democratic, with no centralized leadership, a true community-based experimental arts space. No such venue in San Jose existed at the time.
Soon enough, the group discovered an abandoned building at Vine and Auzerais, transforming the structure into San Jose's first alternative arts gallery and debuting in October 1977. In the punk spirit of the era, the artists did it themselves. In a statement with ripple effects to this day, Tony May, one of the original protagonists, would later famously recall: "We just thought San Jose would be less embarrassing if it had an art gallery."
Of the Vine and Auzerais location, another original protagonist, Jim Thomas, would later write: "The place was a wreck. Yet a bunch of energetic artists, all ersatz carpenters and house painters and too naive to realize what the hell they were getting into, still had the power to transform it."
Unfortunately, the space only lasted eight years. San Jose politicians wanted a convention center more than they wanted an art gallery, so the city eventually slaughtered the entire residential neighborhood around Vine and Auzerais in order to create what's now two lanes of Almaden Boulevard. The intersection of Vine and Auzerais is long gone.
As a result, WORKS moved into the rundown Leticia Building at 66 S. First St. for the last half of the '80s. Their rent was $400. At the time, much of downtown was still a war zone of boarded-up storefronts and nefarious activity. As light rail construction tore up the neighborhood, putting retailers out of business left and right, WORKS thrived with punk shows, edgy visual art, performances and other hijinks. It was a fantastic urban space. Mark Pauline, of Survival Research Laboratories, even showed up one year to present a lecture and video documentation. Unfortunately, 66 S. First St. was an unreinforced masonry structure, legally uninhabitable after the Loma Prieta earthquake, so the artists were once again forced to relocate.
Enter Japantown. A corrugated metal warehouse at southeast corner of Sixth and Jackson became WORKS' new home for the next six years. Several legendary troublemakers showed up to do gigs here, including world-renowned body-modification maestro Fakir Musafar. Unfortunately, San Jose history began to repeat itself and the building was demolished in favor of lifeless, uniform housing.
However, WORKS was not deterred. In 1997, the gallery moved into the Sperry Flour Building at 30 N. Third St., where it thrived more than ever, that is, until the real estate operatives again came calling. In the early 2000s, WORKS again found itself without a home.
After a brief, disastrous stint on South First Street, WORKS opened its current location at 365 S. Market just a few years ago, bringing everything full circle in cosmic fashion. Now it sits exactly on the opposite side of the Convention Center from the original defunct location at Vine and Auzerais.
As a result, much of what has transpired in downtown San Jose—when it comes to arts spaces battling the dark forces of gentrification over the last several decades—can be traced back to the pioneering avant-garde spirit embodied by the original WORKS protagonists. San Jose is much less embarrassing thanks to what they invented. Look for official 40th anniversary celebrations to unfold at WORKS later this year.