Features & Columns
ZERO1 Leave the Garage to Focus
on Global Collaborative Projects
ZERO1 outgrows its physical exhibition space on South First Street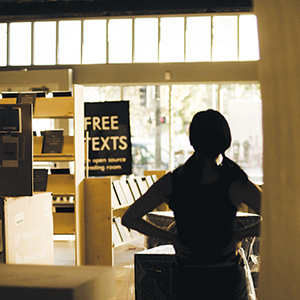 The goal since ZERO1's inception 15 years ago has been to see how artists can get people, especially those in tech, to think differently. Now ZERO1 is expanding that strategy to establish partnerships in which artistic thinking can impact social innovation. As a result, devoting massive resources to fund a permanent physical exhibition space like the ZERO1 Garage is no longer realistic.
ZERO1 will still function as a presenting arts organization—the next biennial is planned for 2016—but the organization will now also plot global collaborative projects in which art-think is used to tackle larger societal issues. For example, ZERO1 already collaborates with the U.S. State Department on the American Arts Incubator Program, an international new media exchange effort where four artists travel every year to places like Laos and Mongolia and use artistic perspectives to help solve problems. Similarly, ZERO1 already organizes a fellowship program in which artists team up with institutions like Google, Adobe or the city of San Jose to solve business problems like map design, cloud issues or urban wayfinding. Both of those initiatives were launched at the ZERO1 Garage, and now the organization imagines similar programs, perhaps with artists and NGOs partnering to address education issues, women's rights or working to help eradicate poverty. Yes, ZERO1 is moving out of the garage and into a more fluid and globally connected theater of operations.
"We never saw the garage as a permanent solution," said ZERO1 Executive Director Joel Slayton. "It was an opportunity to try something, experiment, take a chance and see what would happen. And it gave us the opportunity to incubate all these programs and move the needle along, but it doesn't mean that's what we have to do forever. So we're going to take what we developed there to the next level."
It makes sense. Apple and Google didn't stay in their respective garages either, right?
At the Computer History Museum, the fundraising event began outside in the parking lot. Mark Pauline of Survival Research Labs (SRL) brought a few of his legendary machines, the Spine Robot and the Track Robot in particular, and let them engage each other in metal-bashing fashion. If you're unfamiliar with SRL, Pauline, along with the guys and gals who work for him, have staged violently humorous robotic spectacles since the late-70s and have been long-since banned by regulatory officials in San Francisco from staging anything interesting. The SRL connection to ZERO1 runs deep. At the first ZERO1 Biennial in 2006, Pauline staged the first grand-scale Bay Area SRL performance in years, in the parking lot behind the South Hall of the convention center.
Once the fundraiser continued inside the museum, high rollers munched on arancini balls with risotto and parmesan cheese while the SRL track robot menaced people in front of the stage. Amy Critchett, who is also Pauline's wife, spoke about her involvement with ZERO1 since its inception. It was through ZERO1 that she met Pauline. Slayton also waxed poetic, as did original ZERO1 founder Andy Cunningham. Noted vocalist Pamela Z gave a rousing interactive performance using her voice and hands to trigger computer-generated signal processing in real time. After the speeches, a live auction commenced in order to raise funds for the ZERO1 portfolio of ideas.
Now, just because ZERO1 is evolving globally does not mean it will abandon San Jose. Cunningham envisions more partnerships similar to the Artist Fellowship Programs, but more geared toward societal issues.
"I want to do the same thing with a different set of artist fellows working on social problems," she told me. "For example, is there gang violence in San Jose that we could put an artist on to help solve that problem in a different way? Is there an educational issue that we can put an artist on? I'd like to identify three or four different social organizations, where we can partner up with them and give them an artist for a year to help them solve their problems in a different way."