Features & Columns
New Condos To Replace Santa Clara's Treasured Bharat Bazar
One of the oldest continuously running Indian grocery markets will soon
shut its doors for the condo-pocalypse.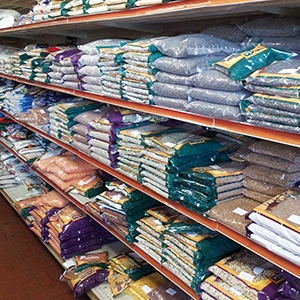 The wall of dal is about to come tumbling down. One of the oldest continuously running Indian grocery markets will soon shut its doors for the condo-pocalypse. From what little I could elicit by repeatedly grilling the dude at the register, Bharat Bazar on El Camino Real in Santa Clara will close for good at the end of this month.
The entire strip mall in which it sits will be razed for still more lifelessly uniform apartments. The Kohl's next door-the only other business left in the complex-closes Jan. 16. Welcome to the heart of Silicon Valley.
To be fair, I don't think this is a crisis. Experience tells me the stakeholders have probably known for a quite a while, but considering how Bharat Bazar first emerged in 1974, and since the anti-man-about-about-town first slithered into the place some 25 years ago, I do believe the scene is worthy of some reflection.
Journeying to the promised land of Bharat Bazar requires a pilgrimage through the destroyed stripmall wastelands of Silicon Valley. Since the complex in question sits back from the street, Bharat Bazar is tucked away in the far corner, across a perpetually empty and cracked parking lot. As a destination, the store has always felt like an exotic outlander gem, a bastion of curious international intrigue surrounded by bland suburban enclaves.
When it comes to the parking lot, every piece of it is fractured, making the whole scene look like a broken mirror. Instead of tumbleweeds, tree branches lay strewn about the landscape. Cement medians are split in half, uprooted by trees. No one has taken care of the lot in decades. Rusted shopping carts lay scattered, as if thrown away years ago.
Once across the ruptured parking lot, the traveler finds great wonders. After journeying past dilapidated facades, roadside motels leftover from the '60s, converted fast food eateries and then the final landmass of sprawling parched concrete, a spectacular Shangri-La emerges at Bharat Bazar. With shelf after shelf of moong dal, masoor dal, lentils, mustard seed, cardamom, cloves, asafoetida powder, basmati rice, jars of ghee, fenugreek, black cumin, tamarind, fennel and tons more, the anti-man-about-town always felt at home. There was no need for fantasy. It was real.
The entire place went through so many different reincarnations, it was hard to keep track. At one time, videos, clothing, threads, amulets, statues and other souvenirs added to the mix of groceries. Depending on the season, I'd see tables of vegetables out front, or pallets of onions and ginger. On the weekends, it was a madhouse. Customers piled stuff into their carts while kids scampered every which direction.
Originally, there was a restaurant next door, attached at the left. It was totally homemade. If I recall correctly, I ordered from an older lady and she called to the back. Maybe a handful of plastic tables and chairs comprised the whole of it-but the food was fantastic. Nowadays, the place seems to be scaling down, so that area is for chaat ingredients, larger bags of rice and flour, and an overall warehouse-y kind of feel, plus there's still a counter for sweets and samosas, but that's it. They're clearly winding it all down for when they have to move into Bharat's other location, on Reed Avenue in Sunnyvale.
Last weekend, contemplating what's left of the entire complex proved to be a strange experience. This market opened 41 years ago. When the anti-man-about-town showed up, the only other business left in the complex was Kohl's. All the fixtures were for sale. Sauntering through, a lot of merchandise still remained, but rows and rows of mannequins, male and female, were being sold at huge discounts. Half the store was reserved to sell empty racks, displays, shelving and other fixtures. It was quite morose to walk through. It almost felt like a science-fiction novel.
Soon the condo-pocalypse will explode on this very block. For me, no matter what happens, the memory of Bharat Bazar and the Wall of Dal will always remain in my heart.