Features & Columns
Cannabis Clubs in San Jose
A handy guide to some of the highlights of San Jose's medical marijuana scene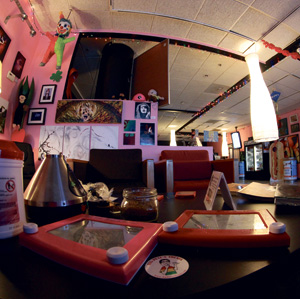 There miles of freeways to traverse and countless business parks to scour in order to visit all of San Jose's medical marijuana dispensaries. But who in their right mind would want to visit all of them? Me. OK, maybe not all of them. But for our Bars & Clubs issue, I searched out the highlights in a market saturated by dispensaries, many of which aren't much more than low-budget pot shops. I found warmth, soul, extensive hash menus and one special place that's open late.
CLUB WITH CHARACTER: Buddy's Cannabis
In the vast world of San Jose's medical marijuana collectives, there has emerged a prototype dispensary easily recognizable by patients: sparse furnishings, a glass display case, a fridge for edibles, a big guy at the door and babes behind the counter. Walk in, walk out.
At Buddy's, you're invited to take a seat, both at the counter and after your purchase in the dispensary's makeshift lounge area. The space has four cozy seats where regulars plop down to take advantage of Buddy's Volcano vaporizer.
"It's not just for our patients to meet each other, but it gives us a chance to meet them," says owner Matt Lucero.
Cannabis is a communal thing, he says, and Buddy's tries to develop as much of a sense of community as possible. The dispensary's pink walls are covered with patients' artwork, ranging from landscape photography to portraits of Tupac. A permanent DJ setup is used when the dispensary hosts events. And the collective also has teamed up with Second Harvest for an in-house food drive.
LATE NIGHT HOTSPOT: Purple Lotus Patient Center
A harried patient driving up and down North Jackson Avenue, searching for Purple Lotus an hour before closing, may end up going home empty-handed. (Trust me on this one.) But with a little prior research, it's easy to locate the dispensary inside the Jackson Medical Center before last call. Purple Lotus closes a full two hours later than most dispensaries—10pm every day—but its final hours are bustling, so don't show up 20 minutes before closing expecting serenity.
DABBLER'S PARADISE: ARC Healing Center
Sometimes flowers just won't do the trick. ARC's formidable menu of concentrates cater to a high-tolerance clientele and it doesn't disappoint. For a dose of ultraconcentrated relief (Kandy Kush wax clocks in at 82.6 percent THC; 1.8 percent CBD), patients can choose from a selection of more than 20 waxes, oils and kief. Regulars come back for ARC's Waxy Monday and Wednesday deals for cheap grams and half-grams of waxes and supermelts.
DOING IT RIGHT: Elemental Wellness
Consistently well-reviewed, Elemental Wellness sets itself apart with its professionalism and attentive customer service. It's the type of decidedly unsketchy place your mom probably would like if she were a first-timer unsure of how to go about filling a prescription.
Patients are greeted at the door with eye contact and a handshake—both extremely underrated—and, after passing through a metal detector, they are given a short orientation. The people behind the counter all wear collared shirts and are knowledgeable about the product. You will never hear the grating, "Yeah, that one's good, too," from a budtender hired for her bra size.