Features & Columns
Carlino Family Small Business
The family that founded Time Market and Sam's BBQ
marks 75 years of running small South Bay businesses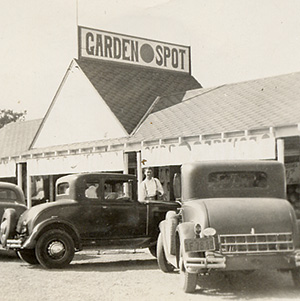 From a vegetable stand on Monterey Highway to a long-running barbecue joint on Bascom Avenue, through multiple generations of hardworking Italians, the Carlino family is celebrating three-quarters of a century in the food business. That is an amazing accomplishment. In my case, as a snotty teenager I lasted about two hours in that industry, so the Carlinos must be doing something right.
The Carlino legacy is an important one, since we live in an era of ever-increasing retail homogenization and ever-decreasing appreciation for local, family-owned businesses. And it seems like everybody who's been around these parts for a long time either knows one of these characters or is at least a few degrees of separation away from any of them, figuratively speaking.
Where to start? Before Highways 5 and 101 existed, back when Monterey Highway was the only way to get from L.A. to San Francisco, back when everyone had to go through San Jose when traveling between those two places, five Italian brothers opened up The Garden Spot vegetable stand in December of 1938. Four years later they closed the business to direct their time and energy to the war effort. Steve was killed in 1941 at Pearl Harbor. Sam was drafted out of San Jose High and fought in the Pacific Theater. Brothers Vic, Joe and Chuck became welders, building liberty ships in Oakland. At the end of the war, the Carlino brothers reunited in San Jose and continued building what would become a remarkable legacy in the food and grocery industries here.
In 1950, they opened Time Market at Bascom and San Carlos, eventually building the business into a major operation. Bascom was then called San Jose-Los Gatos Road, and Sam Jr., who has now operated Sam's BBQ for 20 years, remembers his days growing up in the Time Market with his dad and uncles, watching the bigger stores come and go, while Time Market outlasted 'em all.
"They were doing a million dollars a year in the '60s," Sam recalls. "And that was a lot of business for a 4000-square-foot space. Three supermarkets came and went in that same plaza, back in the '50s and '60s. They were big competition, and there was this little guy on the corner and they stuck it out and they made it."
Everyone in San Jose knows that corner and that clock on the Time Market/Deli building, but others in the family also went on to start several other business, including Entrees Unlimited, which still thrives today. Anyone who's prowled around Eighth and Julian streets has seen their warehouse.
San Jose native John Jussen started out as a young teenager slaving on the sausage machine at Time Market and later wound up buying the whole freakin' business from the Carlinos in 1987. Just as the Jussen family took it over, the era of mass homogenization began to kick in, with corporate supermarkets cannibalizing mom 'n' pop businesses throughout the valley. Jussen ultimately added a catering component to the business and carried on until just a few years ago, but still has fond memories of old Joe Carlino schooling him on work ethic and teaching him how to run a business.
"He was a tough guy," Jussen recalls. "He did things his way and worked really hard. He did the work everyone else did. It showed me that no matter what you're doing in business, cleaning the bathrooms, collecting the money from the registers, all those jobs are important. And he did them all."
Which might reinforce my theory that San Jose is just one giant Kevin Bacon game. All the longtime natives are only a few degrees of separation from all the other longtime natives.
"It's amazing how small of a world it is here," Jussen says. "San Jose, we got a million people and I can walk around and see everybody I know. In L.A., you can be in that wasteland down there, you might not see anyone. But this is a small town even though it's pretty damn big. That's what I like about it."
That's probably what the original Carlinos thought as well. Viva la Azzurri!