Features & Columns
Don Lattin
Author Don Lattin mixes his own tale of descent and recovery with story of three spiritual visionaries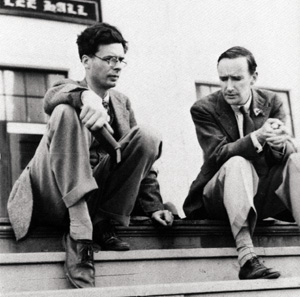 A few years ago, former Bay Area religion reporter Don Lattin penned The Harvard Psychedelic Club: How Timothy Leary, Ram Dass, Huston Smith, and Andrew Weil Killed the Fifties and Ushered in a New Age for America, in which he illuminated four characters who helped bring LSD to the public forefront.
For his new book, originally conceived as a prequel to The Harvard Psychedelic Club, Lattin started out by investigating the previous era, specifically three men who transformed the course of 20th-century spirituality: author (Brave New World) and LSD enthusiast Aldous Huxley (1894–1963), the mystic philosopher Gerald Heard (1889–1971) and Alcoholics Anonymous co-founder Bill Wilson (1895–1971). While researching the book, Lattin discovered more about his own personal story, especially his own struggles with substance abuse, so the book ultimately took the form of a memoir.
Distilled Spirits: Getting High, Then Sober, With a Famous Writer, a Forgotten Philosopher, and a Hopeless Drunk ($29.95; UC-Press) weaves Lattin's personal story of recovery with the lives of Huxley, Heard and Wilson in a way that should inspire anyone. It is neither a stock drunk-to-sober story nor a preachy treatise.
As someone who wrote for the secular press for decades, surrounded by legendary San Francisco Chronicle alcoholics and the skid-row bars within crawling distance of the newspaper offices, Lattin learned to escape his inbred cynicism and addictions with the help of three characters from his grandparents' generation.
"Each of these men independently led an inspiring life," writes Lattin. "But it's only when we consider the three collectively, pausing at these moments where their lives intersect, that we fully appreciate their cumulative power. Huxley saw the social problem. Heard charted the spiritual course. Wilson recruited passengers for the journey."
Most readers are probably familiar with Huxley and Wilson, but Heard is something of a forgotten character, hence the book's title. Among many other identities, Heard was the first science correspondent for the BBC, wrote one of the first popular books on flying saucers and pioneered gay spirituality. He was an historian, a mystery novelist and an influence on many flavors of the human-potential movement. Heard was also the one who guided Bill Wilson during the latter's first LSD trip in the summer of 1956. The two continued a lifelong correspondence.
Among still more endeavors, Heard opened Trabuco College in the '40s, in the Southern California canyon of the same name, where Eastern philosophy met its Western counterpart, and where inquiries into comparative spirituality were the norm. The campus is now used by the Vedanta Society.
All in all, Lattin says Heard and Huxley were probably two of Western culture's last great polymaths: "In an era of increasing specialization, they were interested in everything." Religious studies scholar Huston Smith and Esalen Institute co-founder Michael Murphy are two people who continue to cite Heard as a major influence.
Lattin's own story involves a deeper descent into alcohol and drugs while treating his editors like shit and insulting them in front of the younger staff writers. Now sober more than eight years, he says writing Distilled Spirits was part of his ongoing recovery, reinforcing a program of rigorous honesty and teaching him the redemptive power of storytelling.
Distilled Spirits even features lurid yarns about the various reporters Lattin worked with, some nearly dead from drink but still attached to bar stools. Lattin doesn't lionize or criticize the scenario; rather, he puts it in context, looking back on a long career writing about religion from a jaded reporter's perspective.
"Newspaper reporters revel in writing about religious hypocrisy, and God knows that's never hard to find," says Lattin. "But after nearly three decades, I had to turn in my press pass. Skepticism is an honorable trait, especially for journalists, but I'd spent enough time hanging out in that dim alley where cynicism meets skepticism, looking for a little light."
As one who occupies that same alley, I can relate. In more ways than one.
Don Lattin
Monday, Nov. 19, 7:30pm