Features & Columns
PLACAS
MACLA presents the San Jose premiere of a new play with Ric Salinas of Culture Clash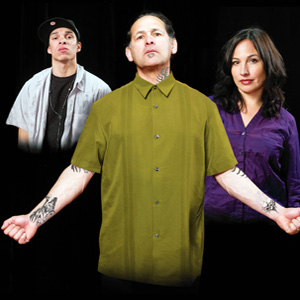 On a stage set in mostly darkness, a technician says the laser is active. A sizzling sound mixed with distant automatic gunfire emerges. There are voices in Spanish, soldiers shouting orders. As Fausto "Placas" Carvajal reels from the pain of laser tattoo removal, we hear him say: "That smell is epidermis and India ink blasted off your shoulder by a hot laser."
Again, soon thereafter: "I'm gonna start by taking these tattoos off. One by one. But it's not the burning of the laser that hurts. It's the memories every time I come in here for treatment, screaming back at me in pain like ghosts. When I leave here, I'm looking over my shoulder. That trail of smoke behind me, whispering in my ear. 'La regaste. La regaste, hijueputa. You fucked up.'"
Such is just one powerful scene of many in Paul D. Flores' PLACAS: The Most Dangerous Tattoo, starring Ric Salinas, of Culture Clash fame, in a rare serious role. The play gets its San Jose premiere at MACLA, running Oct. 5–14.
Fausto "Placas" Carvajal is a Salvadoran immigrant and now a middle-aged ex–gang member recently released after nine years in prison. As a requirement of his parole, Fausto must remove the tattoos that mark him as a gang member.
That's not all. He must also find a way to reconnect with his family, especially his teenage son, Edgar, who has never known his father, and who is now about to join a rival gang. What unfolds is a sincere, multilayered, human story, set in the Mission District of San Francisco, against the backdrop of barrio life, gang and family dynamics, parole officers, police and bible-thumping street preachers. The destroyed absentee father-son relationship of Fausto and Edgar, in particular, comes off as authentic to the core.
In barrio street-culture slang, placas is a multilayered code word for graffiti tags, a nickname or body tattoos. Tats symbolize a gang member's dogged allegiance to the group, as well as a form of identity the member can rarely shake. The process of tattoo removal is painful, both physically and emotionally; it's seen as one's symbolic detachment from the gang, a statement that does not go over very well with other gang members. Thus, the word—placas—frames the entire play, from top to bottom, inside and out.
In researching the work, Flores interviewed dozens of gang members, parents and intervention workers, many of whom were reluctant to talk, in fear of being exploited. What he found, in the process, was the oft-ignored, more human side of gangs, underneath the drugs and violence.
He flatly asked them, if they were to be profiled, which aspects of gang life would they want to see emerge in the play. The resounding answer was love. That is, forget the violence, the death, the drugs and all the darker aspects usually exploited by the mass media. The gang members wanted people to know that there exists a human side to the experience.
"A lot of people just get caught up in these guys with tattooed faces behind bars," Flores told me. "That's what people think gang members are. They forget that it's someone's son, somebody's brother, somebody's daughter. That was the whole idea of what I'm trying to capture in the play. Not only humanize it, but to show that these people are capable of love and being loved."
The play, however, is not 100 percent drama. Comedic elements emerge throughout, so viewers will not be overwhelmed and emotionally swamped by the subject matter. Don't get me wrong—it's a powerful work that leaves a definite mark, pardon the pun—but with Salinas, his comedy background suits his role. Hysterical Chicano and Salvadoran quips emerge between the cracks of the tragedy, giving the storyline occasional bouts of relief from the more sinister material.
Above all else, PLACAS is about the universal family dynamic, a concept that doesn't come easy for many, many people, especially when gangs enter the picture.
"That was my message to folks out there involved in gangs, or to kids considering gangs," said Flores. "This is no joke. Once you're in, you're in. There really is no way of getting out."
PLACAS
MACLA, 510 S. 1st St., San Jose
Oct.5-14 2-4pm Friday-Saturday at 8pm, Sunday at 2pm; $10–$25