Features & Columns
High Tech Public Art comes to San Jose
New projects promise interactive high-tech public art pieces in and around downtown San Jose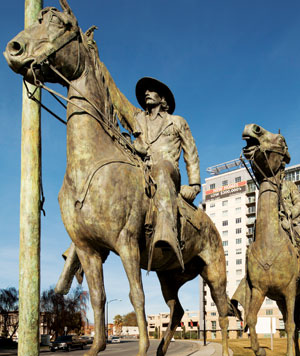 The tentacles of San Jose's Public Art machine will soon reach into yet more arenas of audience participation. New projects are slotted for the McEnery Convention Center, the streets of downtown, Lake Cunningham Regional Skatepark and even a hideous former corporation yard in Japantown.
In some cases, the project is a high-tech collaboration of artists and engineers, while in other scenarios, community boosters are celebrating local history.
In most cases, however, the artists and curators are not yet releasing photographs or potential mockups of the projects—in order, I'm assuming, to avert a public relations fiasco, a la the oft-maligned and vulgarly nicknamed Quetzalcoatl statue. Yes, the city of San Jose does learn a few things every so often.
Most folks know by now that the McEnery Convention Center is undergoing a long overdue expansion, and a new addition is being constructed. Part of the botched design on the original footprint is the public space in front of the entrance, essentially an uninviting concrete plaza that no event attendee ever uses for anything.
Enter South Korean artist Soo-In Yang, who is at work designing an interactive high-tech cloud to be suspended over the entire plaza, cantilevered from the roof of the new addition.
A floating 60-foot canopy of sorts, the structure will give the public an opportunity to leave short audio messages via recording stations, or "sculptural seeds"—audio pods from which their messages will then be played back and remixed in real time.
Audio pods will also be located within the convention center as well as other sites in the city—at least that was the idea presented last week to the San Jose Public Art Committee, which approved the preliminary concept. The project aims to convert the entire plaza into an interactive, immersive experience.
At the committee meeting, Yang said he was inspired by San Jose's interactive technology-driven public art works, especially those at the new airport terminal, such as eCloud and Show Your Stripes.
He said that interactivity is paramount and that he has already talked to local technology startups Kovio and Armageddon as well as Cisco, Polycom and Brocade, some of whom might contribute technology to make the whole thing work.
There will even be filtering technology in case someone leaves a nasty message at one of the recording stations. That is, when the homeless punk-rock kids who congregate at the Convention Center Light Rail Station decide to scream expletives into the project, their voices will be mixed into unintelligible ambient compositions of some sort.
Another public art project will see lampposts along San Carlos Street, between Fourth Street and Market Street, converted into permanent interactive LED installations, fully operable by the public at large.
Pedestrians will be able to walk up to a lamppost, punch a button similar to a regular crosswalk button and see the panel of multicolored lights react as a result. Each lamppost will have an infrared sensor to detect a human presence, as well as the manual button, all of which will drive algorithms that control lighting sequences on the LED displays, all along the street. That is, you punch a button on one pole and get to see how it affects the LED panels on every other pole.
Artists Steve Durie and Bruce Gardner, both of whom are longtime fixtures at the CADRE Lab for New Media at SJSU, conceived the project and will begin installation during the next few months.
"The way we've built this system, it's pretty flexible in terms how we can program its behavior," Durie said. "What we want to do in the end is have an interface that can be reprogrammed once or twice a year." For example, if the Sharks are in the playoffs, the system can be reprogrammed so that only teal lights will go off when people hit the buttons, or something similar.
In Japantown, Tamiko Rast is planning a huge series of murals along Jackson Street from Sixth to Seventh. At Lake Cunningham Regional Skatepark, artist Stephen Glassman will create a sculpture on-site. No more poop statues, please.