Features & Columns
San Jose Earthquakes Reunion
The true believers of 1974 reunite to salute the history of the Earthquakes and pro soccer in San Jose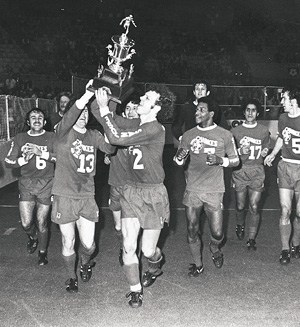 A few weeks ago, the Grand Council of Elders, North American Soccer League, San Jose Chapter, C.E. 1974, secretly convened in a dive bar for a very special occasion. Aside from free drinks, members of the original, and I mean original, San Jose Earthquakes reunited once again because the current club was inducting two very important folks into its Hall of Fame: original scoring leader Paul Child, who played from 1974 to 1979, and original owner Milan Mandaric.
As a result, Jack's Bar in Japantown, where the current club's supporters regularly get hammered when they're not traveling to a road game, opened up a tab for any NASL Earthquakes alumni.
The next night, many former Quakes, from every era, were brought onto the field at halftime for the induction ceremony. The weekend proved to be yet another family reunion for many of us who grew up with the original NASL squads, which were always community-based, above all else.
The NASL team's former equipment kid, Ron Gilmore, usually organizes the reunions, which take place every five years or so, but this was a special occasion, since Child and Mandaric were being inducted. Basically, the reason many kids play soccer in Northern California, in 2012, is at least partly due to what these guys helped create, nearly 40 years ago.
Regardless of one's sports preference, this particular slice of local history remains important, because it exemplifies arguments that still rage today. In the early '70s, if one wanted professional sports, one had to drive to San Francisco or Oakland. San Jose had nothing.
Mandaric, a Yugoslavian transplant, entrepreneur in the semiconductor industry and passionate soccer fan, wanted a new soccer club in San Jose, since there was no professional sport here yet. He wanted to be the first game in town. The league's top brass at that time, including the famed Lamar Hunt, did not want the team in San Jose. They wanted it named after San Francisco because they considered San Jose to be a hick town, the redheaded stepchild of the Bay Area, or the "hinterland." Sound familiar?
Mandaric, however, pleaded his case and eventually won. The Quakes started playing in 1974. The town and media welcomed them with open arms, primarily because the team branded itself as a bunch of players who occupied exactly the same social level as their fans—all the way down to partying with everyone after each and every game.
It was a community team. Everyone in the stands had met one of the players before the team even played a single match. The players themselves hung out together off the field and caroused around in public together everywhere. As a result, the Quakes successfully sold a brand-new professional sport to what was then an unknown California suburb, one that was ready to go big time. Unfortunately, as everyone knows, the entire league collapsed 10 years later. C'est la vie.
The whole scenario raised arguments you might recognize: Is a team that prides itself on street-level connections with an entire community better for the fans than a team with high-priced rock-star players? Is the business bottom line more important than the product on the field? Is San Jose a major-league city or a hopeless minor-league wasteland?
In any event, many of these guys never left the local area. They started soccer camps, became coaches at all levels or went on to play in local over-35 leagues. In some cases, they even became bartenders when Britannia Arms opened up.
Until a few weeks ago, Mandaric had never attended the recent reunions, so it was a moving experience when they brought him out onto the field. Even though he has long since lived in England, taking the helm at clubs like Portsmouth, Leicester or Sheffield Wednesday, he referred to the Earthquakes as his hometown club. He expressed his joy that the current San Jose Earthquakes team still prides itself on being a community club.
In a nutshell, while there exist other Major League Soccer clubs with similar historical lineages, and certainly larger attendance figures, none of them have the multigenerational family that the San Jose Earthquakes have. Look for part two of this column next week, as the Quakes commence the groundbreaking ceremony on their new stadium, 40 years in the making. Cheerleaders will come out of the woodwork for that one.