Features & Columns
Renovations at San Jose Civic
A tour of the San Jose Civic shows off new seats and more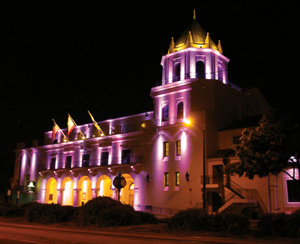 I AM standing in the lobby of the San Jose Civic Auditorium. Gigantic 10-foot posters of Mick Jagger, Bob Dylan, Donald Fagan of Steely Dan and others now grace the front wall. The photos are current-era shots, but each depicts an artist who once played at the Civic.
Inside the main venue, the hideous bile-orange plastic stadium seats are slowly being ripped out and replaced with brand-new brown-leather equivalents. Some walls appear taped off for painting. Construction noise abounds, and the aroma of sawdust breaks through the atmosphere.
For a cover feature last June, Metro revealed the first phase of renovations. At that time, new audio and video systems were arriving at the San Jose Civic, and the ancient house system from the '70s was being systematically torn down. The floor was redone, and the inside got a new paint job. As of right now, the second phase of renovations is going full steam ahead. Major structural repairs and seismic retrofitting are officially under way.
Thanks to an inside source—I'll call her Natasha—we're sporting yellow hard hats and touring the entire facility. As we enter the women's bathrooms on the Market Street side, she gleefully points out that there are now two rows of new stalls, unlike the archaic arrangement before. We then have a look-see at the men's room, likewise completely expanded and redone. Considering that I probably puked in this very same bathroom during a 1985 Iron Maiden show, I am impressed.
Sauntering out the back door, Natasha reveals that the original loading dock is now officially open for business again. You see, in a quintessential San Jose screw-up, when Parkside Hall—the original convention center—was built next door in 1977, it included a new rectangular structure of meeting rooms that blocked off the Civic's original loading dock. When Netherlander Concerts took over the booking last year, they insisted this structure be demolished. Now it is gone forever. Trucks can back right up to the side of the stage and stagehands will no longer have to share the Tech Museum's loading dock.
As we migrate back into the building, Jim Salata of Garden City Construction emerges from around the corner, also wearing a hard hat. Salata is downtown San Jose's guru of seismic retrofitting and historical preservation. He knows every crack, every bolt, every pillar and every granule of grout in practically every building from Julian Street to 280.
Thankfully, he is directly involved with the renovations, which means they will be done right. We will not see botched installations or bush-league work-arounds. He's also a musician, so he's been complaining, er, observing, along with the rest of us for 20 years that precisely what downtown has always lacked is a midsize venue like the Warfield or the Fillmore. With this next round of renovations, it will finally happen.
Salata and I then go into a quick rant about the embarrassing hick-town spat a few years back between the city and the county over the location of a potential new concert hall—including a lawsuit that resulted in the city losing millions—while the Civic Auditorium was already here and could have been properly restored for less than half of what was spent on the damn lawsuit.
But I digress. Natasha and I then head upstairs to check out some former meeting rooms that are now gutted and converted into much-needed upper-level concession stands. Until now, if you sat upstairs at the Civic, you had to trudge downstairs to get food or drinks. It was a joke.
Natasha also points out how several of the original windows on the building had long since been closed off and covered up. Now they are open, and the sun shines right in. In the end, I will take the glass half full on this one. It is about freaking time we had a real midsize venue in downtown San Jose. Let us hope the Civic returns to glory.