Features & Columns
San Jose Sister City: Dublin and Beyond
Castle Leslie in County Monaghan is the Winchester Mystery House of Ireland.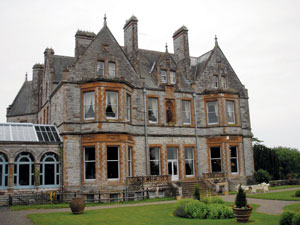 SINCE San Jose and Dublin, Ireland, are sister cities big time, I could not pass up a recent chance to visit my doppelgängers across the pond. In the mystical land of Ireland, the term used for sister cities is "twinning," and Dublin provides an adequate jumping-off point for endless other journeys, since Ireland is not that large of a nation.
Dublin itself is a haven for any traveling scribe; it's one of the literary capitals of the world. Aside from James Joyce, William Butler Yeats, George Bernard Shaw, Samuel Beckett and Oscar Wilde, other famed writers associated with the town include Joseph Sheridan Le Fanu, the undisputed godfather of lesbian vampire stories worldwide. If you saw Twins of Evil, it was based on one of his tales.
I couldn't visit my sister city without traveling to nearby Newgrange, the legendary megalithic kidney-shaped passage tomb, older than both Stonehenge and the pyramids of Giza. Every winter solstice, a shaft of sunlight shines directly through the opening of the tomb and continues down the passageway to illuminate the chamber inside.
The sanitized explanation is that Newgrange was simply a burial chamber, but many believe it was instead used for ritual purposes. Controversial Irish occult researcher Michael Tsarion says the place was probably a waterproof refuge for survivors of the Great Flood, who hailed from the lost continent of Lemuria.
On a more aristocratic front, the Castle Leslie estate in County Monaghan remains a worldwide attraction. If any habitat near Dublin could possibly qualify as a sister of San Jose's Winchester Mystery House, it would be Castle Leslie.
The estate itself is one of the most celebrated eccentric hangouts in all of Europe. Numerous princes, poets and prime ministers have all caroused within its walls. Paul McCartney's ill-fated marriage to Heather Mills took place there. Mick Jagger and several entourages regularly partied at the castle. Winston Churchill's christening clothes are displayed on the wall. There have been ghosts and even UFO sightings. I felt an immediate connection.
The senior occupant, Sir John Leslie, 4th Baronet, is now 93 and still regularly gives colorful public tours of the castle, pointing out centuries-old portraits and historical ephemera while he navigates the staircases and corridors of the place. On the wall at one particular landing hangs a bloody shroud that carried the decapitated head of the Earl of Derwentwater after he was executed in 1715. Sir John never married, never had kids and essentially lounges in his bedroom and reads a lot, but he also goes disco dancing every Saturday night—not bad for a nonagenarian. He is a role model and an inspiration for all.
Wherever I traveled in Ireland, there seemed to be a secret occult backdrop. W.B. Yeats himself was a member of the Theosophical Society and the Hermetic Order of the Golden Dawn; he sometimes incorporated Tarot and cabbalistic symbolism in his poetry. His old stomping ground of Sligo is riddled with myth, mystery and otherworldly folklore.
I just had to visit his grave in Drumcliffe. On another path, I visited Corcreggan Mill in Dunfanaghy, a locale characterized by psychic vortexes. Owner Brendan Rohan then guided me to Marble Hill Beach—where the mystic Irish painter and poet George Russell said he met the god Pan and introduced Yeats to the realm of spirits.
Of course, synchronicities bookended the trip. One can define synchronicity as a convergence, in time and space, of seemingly unrelated points, serving to evoke depth and psychological significance. Maybe there's an intradimensional connection to this whole sister-city thing after all.
On the very day I began my journey through Ireland, Michael Tsarion himself was presenting at Conspiracy Con back in Silicon Valley. At the very conclusion of my trip, back home in San Jose, the greatest Irish punk band of all time, Stiff Little Fingers, was gigging at O'Brien's Rock & Roll Bar, a.k.a. the Blank Club. I hope they played "Alternative Ulster."