Features & Columns
Dublin Up
Every year, the Dublin/San Jose sister-city program draws the two high-tech centers closer together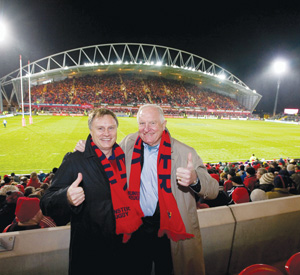 LAST SUMMER, Frank Feely and I drank tea in the Georgian Room at the Merrion Hotel in Dublin and discussed the history of the San Jose/Dublin sister-city relationship. Feely was Dublin's city manager 25 years ago when the relationship first began.
As we sat there, he sang "If We Only Had Old Ireland Over Here" but with alternate lyrics about the Guadalupe River and Santa Clara County. He told me that he had once sung it during a state visit in Sacramento. Listening to Feely, I got the impression he knew more about San Jose than most natives.
Normally, a sister-city relationship is just a formality, with politicians traveling on junkets every year to exchange gifts and then forgetting the whole thing afterward. The San Jose/Dublin connection, to me, seems unique, as it forms a backdrop to the rise of the high-tech sector in Ireland, and the growth of Irish technologists here in Silicon Valley, plus numerous other cultural, educational and business exchanges that continue to evolve. Even the public libraries are scheming to form a partnership of some sort.
There are two different versions of how it all started. Feely says that back when he was city manager, someone sent him a letter suggesting the concept, and then he got the ball rolling. Former San Jose Mayor Tom McEnery claims that he had a pint with Bertie Ahern, then mayor of Dublin, and together they got the ball rolling. Regardless of what happened, many celebrated local characters have been involved ever since, including pub owners Ray O'Flaherty and Johnny Hannegan.
"Looking back on it, it's been a huge success," Feely told me that day last June, adding that it was only natural for a conversation to emerge between Silicon Valley and Ireland. "We had the workforce, and there seemed to be a rapport between Americans and the Irish. Americans feel at home in Ireland. We speak the same language. And in Ireland, you can talk to people in seats of power real easy."
On that same trip, Peter Finnegan and Hugh Fitzpatrick, from the Dublin City Council Office of International Relations and Research, were gracious enough to meet me in the Westbury Hotel and listen to my stream-of-consciousness probes for information on the sister-city relationship. Fitzpatrick showed up with a city of San Jose notebook and Finnegan expressed support for reinstating a direct Aer Lingus flight to the San Francisco Bay Area, quite a hot topic these days.
Since Aer Lingus pulled its direct flight to SFO a while ago now, executives in Silicon Valley and Ireland have gone out of their way in lobbying the airline to bring a flight back. The effort has now turned into a serious grassroots endeavor. At the forefront of that effort, we find John Hartnett, founder and president of the Irish Technology Leadership Group, an assemblage of senior Irish-American technology executives committed to further cementing the ties between Silicon Valley and Ireland. He also founded the Irish Innovation Center in downtown San Jose.
Now, one doesn't usually apply the term "grassroots" to a faction of senior-level corporate executives, but these guys are rallying the troops to get Aer Lingus' attention. All one has to do is read the group's Facebook page ("Direct flight—Ireland to Silicon Valley NON Stop!!") to see actual CEOs complaining about delays, missed connections and screw-ups every time they need to travel between California and Dublin via Heathrow, Chicago or Newark. These guys have had it. They want a direct flight now. Hartnett says they are determined to get a positive result in 2011.
"We have received very strong support from the Dublin Airport Authority, who we met last month," Hartnett told me. "They showed us travel data that indicates that this would be a successful travel route if properly managed."
This year marks the 25th anniversary of the San Jose/Dublin sister-city program. Each year, the lord mayor of Dublin brings an entire entourage to San Jose for a week during March. The week's events include the Spirit of Ireland Award, presented to someone whose accomplishments have exemplified the relationship between San Jose/Silicon Valley and Ireland. This year, John Hartnett will receive the award.
Irish Eyes