Features & Columns
Sister Synergy
A few modest proposals for establishing fertile new sister-city connections for San Jose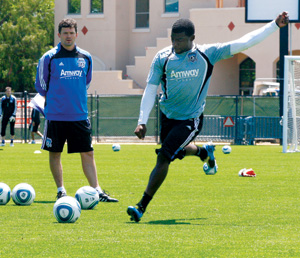 I'LL SAY it again: Everything is connected to everything else. Celebrating its 25th anniversary, the San Jose-Dublin Sister City Program will welcome the annual visit by Dublin politicians next month, as part of its yearly Irish Week.
On the high-tech front, every year a contingent of executives from Silicon Valley visit Ireland, and their equivalents from across the pond also visit the San Jose area.
I would like to suggest even more sister-city relationships. I believe it would make San Jose a much more interesting place. For example, the Cinequest Film Festival will soon be upon us. In Ireland, the Dublin International Film Festival is already going on as you read this.
Pam Kelly, one of the Sister City Program's board members, came up with an idea: Maybe the two film festivals should also collaborate. Unofficial conversations have already gone down behind the scenes.
It was with the help of the Dublin International Film Festival and Trinity University that The Secret of Kells was able to screen here in San Jose in March of 2009, as part of that year's Irish Week. Kelly says she would eventually like to see local San Jose filmmakers screen their work at the Dublin festival and vice-versa. I think that's an awesome idea.
But why stop there? ZER01 should also consider such a partnership. Three iterations of the 01SJ Art Biennial have occurred in San Jose so far, consistently reinterpreting the interstices of digital culture, new media ecologies, interdisciplinary art practice and scientific inquiry. Several equivalents of ZER01 the organization exist in countries throughout Europe. Why not collaborate with an equivalent in Dublin? There already exists a group called the Dublin Art and Technology Association (DATA), "built on the idea that collaboration between artists, musicians, technologists, and academia is the key element in creating a rich cultural environment for the dialogue and conception of technological art practices."
The time is ripe for a potential ZER01 collaboration, as Dublin will be the official European City of Science in 2012. The city will host the Euroscience Open Forum (ESOF 2012), a biennial pan-European meeting dedicated to scientific research and innovation with leading scientists, researchers, entrepreneurs, policy makers and the general public all discussing new discoveries and debating the direction that research is taking in the sciences and humanities. It is the largest European gathering of its kind.
Just one example might be ZER01's Climate Clock Initiative, which I've written about in this space a few times before. A gargantuan project combining public art with information and long-term data-measurement technologies to gather and display climate change data, the final Climate Clock will be installed as a permanent public landmark in San Jose. Three cross-disciplinary teams are now presenting their ever-evolving proposals and competing to win the chance to fabricate and install the project.
The first implementation of the project will be in San Jose, but the goal is to establish a global program that will encourage and support the creation and installation of other climate clocks in cities around the world. Dublin would be perfect, for example. Everyone involved with the Climate Clock project should develop a proposal to present the idea next year at the Euroscience Open Forum in Ireland. It would be a superb way to even further connect the two cities.
And what's high tech without low tech? The Blank Club, San Jose's native rock & roll club owned and operated by a native O'Brien, should have an equivalent sister-rock venue in Dublin.
Finally, the San Jose Earthquakes, who are in the process of designing their new soccer stadium, might consider partnering with Shamrock Rovers FC in Dublin. Both teams have an "Ultras"-style supporters' group that choreographs its activities in the stands—chanting and singing myriad songs, waving flags, displaying banners—all to ratchet up the atmosphere. With Major League Soccer now declaring that its future is built on supporters' groups, the time is right.
With that, I will end with words from Brendan Behan: Bless you, Sister City, may all your sons be bishops.