Features & Columns
Aiding Activism
SJSU's Cathleen Miller helped create bestselling book, Desert Flower,
now a major feature film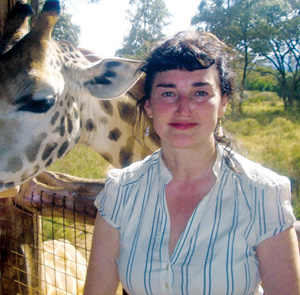 CATHLEEN MILLER is the only faculty member at San Jose State University ever to write about the horrors of female genital mutilation and have those words translated into 55 languages.
Fourteen years ago, immediately after completing her MFA at Penn State, Miller co-authored Desert Flower, the worldwide-blockbuster story of Somali supermodel Waris Dirie. To date, the book has sold 11 million copies. A recent film based on the book, already released in 27 countries outside America, premiered at Cinequest last week. National Geographic begins U.S. distribution of the film beginning March 18.
The book and film tell Waris' remarkable true story. Born into a nomad family in the Somali desert, she underwent the inhuman procedure of genital mutilation—a sickening tradition still practiced in many places today. Later, as a teenager, she fled from her family to London, where photographer Terence Donovan discovered her and made her a supermodel. She vaulted to international stardom on the catwalks of the world, but now devotes her time to fighting against female genital mutilation.
She has made a huge difference. Kofi Annan appointed her as U.N. special ambassador for the elimination of female genital mutilation. In 2007, French President Nicolas Sarkozy appointed her as a Chevalier de la Legion d'Honneur. Her Desert Flower Foundation raises millions for the United Nations. As a result, dozens of African countries have finally outlawed the practice of female genital mutilation, although 8,000 girls are still forced into the process each year.
Fresh out of graduate school, Miller settled for second billing on the book, which became an international bestseller, reaching No. 1 in several countries. In Germany, it remained in the Top 10 for 120 weeks.
When the project began, Miller was living on a farm in Zion, Penn., while trying to shop her own memoir around to a few publishers in New York. At the same time, Waris had made a snap decision to tell her life story but couldn't find any publishers to climb onboard and connect her with a co-author. William Morrow did agree and developed the contract before they even lined up who was going to write it. After a few potential collaborators didn't work out, Miller's agent came into the mix.
"As a brand-new author who hadn't published much, to see my name on a book that already had a contract to come out in hardback on William Morrow was a great opportunity," Miller told me, especially "to have it be involved with something that I immediately realized was a great humanitarian effort."
Miller then had six months to complete a manuscript, which proved to be difficult, since Waris was inherently erratic and unpredictable. Miller would take the train into Manhattan in order to meet Waris and tape the conversations, only to find out that Waris had left on a modeling assignment without telling her. Ultimately, Miller invited Waris to come stay with her at the farm in Pennsylvania, in order to have the necessary downtime to make the project happen on deadline. It was there that the two really got a chance to converse.
"I spent the week interviewing her, and I saw this as the moment to get the real grisly stuff," Miller said. "We were in a more tranquil environment there, without all of these interruptions." When it came to the genital mutilation scene, Miller made a conscious decision not to sanitize the passage in any respect. She wanted to capture the sheer horror of what was done to Waris.
"When I wrote it, I decided I was not going to make it easy on the reader," Miller told me. "There was a movement afoot at the time—this was 14 years ago, nobody even knew what this was, nobody talked about it—that this was an African cultural practice and Westerners really needed to keep their nose out of it. So I said, 'I'm going to write the scene in such a way that nobody is ever going to make that statement again.'"
As a result, Desert Flower continues to play a significant role in Waris' worldwide plight to eradicate this horrific practice.