Features & Columns
Take a Dive
The author recalls the seedier side of the bar scene along South Bascom in San Jose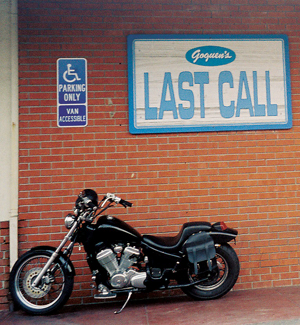 ONE OF San Jose's most recognizable bastions of dive-bar architecture was the celebrated Bears Cocktail Lounge at the southeast corner of Alma Avenue and Almaden Expressway. It was there for a staggering 50 years. With a spinning sign outside and faded velvet curtains inside, and even a patio for smoking, Bears was a throwback to old San Jose, when Italian Gardens, right down the street, reigned supreme.
In the '70s, driving with my parents up Almaden Expressway on our way to San Jose Earthquakes games defined a good portion of my childhood. This included staring in wonder at the Bears every time we turned that corner. The place was an institution, that is, until a few years ago when the landlord destroyed the building in favor of an empty retail complex that will probably never get rented out. Which is quintessential San Jose, I guess.
I contemplated all of this while infiltrating the newer incarnation of the Bears at 1872 W. San Carlos St. It used to be the Glass Gecko, which used to be Bella's Club. At Bear's, Meghan poured me a fruit salad, and we contemplated a hypothetical, transdimensional, historical voyage down the seemingly endless corridor of South Bascom Avenue in search of legendary dive bars that no longer exist. From the Bears, it's only a quick stroll to the corner of Bascom and San Carlos, so my thoughts just naturally wandered in that direction.
Beginning at that intersection, where Alex's 49er Inn occupies closet 2241 of the appropriately named Business Circle, I envisioned a supernatural journey southward down Bascom, all the way to Los Gatos. Ghosts of dive bars from decades past emerged from the ether to greet me.
In 1960, a place called Hole in the Wall Tavern inhabited 860 S. Bascom Ave. I wasn't there, obviously, but it must have been awesome. As the fantasy continued, I recalled the defunct dive, Club Four, at 514 S. Bascom, right next to the celebrated Burbank porno theater. The bar went through many incarnations. A pickled old drunk in there once told me Metro was "left-wing propaganda." That's about all I remember.
If one soldiers on from there, the ghost of Murray's Bar soon appears. Located for decades at 1015 S. Bascom, Murray's was a classic neighborhood joint. Workers from Valley Med regularly showed up, as did employees of Streetlight Records across the road. If one purchased goods at Streetlight and missed the bus afterward, Murray's was a logical place to kill time. Today, a vacant lot sits where Murray's used to be—a defining visual remnant of San Jose city policies.
After a few more miles, Bascom then bores through the gray area where San Jose morphs into Campbell and Los Gatos. Both Court's Lounge and the Escape still occupy 2425 and 2942 S. Bascom, respectively. They will never die.
But the ghosts do not stop appearing. Twenty-five years ago, the Pot Belly Saloon highlighted 2897 S. Bascom, at Shamrock. A legendary biker bar, it featured a gorgeous yellow sign. And then there was the Korner Club, located at Bascom and Union.
Even farther south, as Bascom turns into Los Gatos Boulevard, the ghost of a dive bar called Double Vision looms on the horizon. Formerly the Bascom Lounge, Double Vision died a natural death when the freeway was built. It sat right where 85 now plows through Los Gatos Boulevard. There was also Otto's Garden Room, a notorious biker bar, now the Boulevard Tavern at 15043 Los Gatos Boulevard. I made it to Otto's only once. I was legal, but too young to really fit in.
As Los Gatos Boulevard ends and turns the corner into Main Street in downtown Gatos, one only has to wander a few blocks up and around the corner to where the Last Call used to be (see photo). Basically, the Last Call was the place to go after one was cut off at every other bar in Los Gatos. Alas, Gatos is a place where folks hire chiropractors for their poodles and discuss real estate values while they get their weekly colonics, so a place like the Last Call was never going to survive.
There were many more dives on Bascom and Los Gatos Boulevard, which, incidentally, used to be called San JoseŠLos Gatos Road, so this journey of the fantastic has only just begun. Bring on the ghosts!