Features & Columns
Socializing Media
A panel on social media and a visit to a Little Italy fundraiser boost San Jose's mood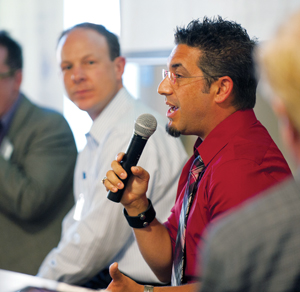 THE anti-man-about-town recently found himself at two different events on the same night, in the same neighborhood. Splitting his time between the Irish and the Italians, he emerged with a renewed sense of hope about San Jose.
First of all, Social Media Day—a global online event launched by Mashable—took place on June 30. Groups and communities all over the world were encouraged to organize their own meet-ups to celebrate the revolution of media becoming social.
Since this year marks the 25th anniversary of the San Jose-Dublin Sister City Program, politicos from both cities issued official proclamations of Social Media Day. In San Jose, the city co-sponsored an illustrious panel session with the Irish Technology Leadership Group (ITLG) at the Irish Innovation Center (IIC) in downtown San Jose.
The ITLG is a group of Irish senior executives and technology leaders endeavoring, among other things, to help potential Irish startups get their feet wet in Silicon Valley. They currently set up shop at the IIC, directly above a British pub run by a Scottish dude.
The event was Silicon Valley central. A menagerie of businessmen and curious entrepreneurial types congregated, power-networked and wolfed through more boxes of bland Little Caesars Pizza than I've ever seen in one place.
The first panel session consisted of four individuals from completely different parts of the spectrum. All shared how they utilize social media to strengthen their businesses and their brands. The panelists included relationship expert and Facebook personality Charles J. Orlando, author of The Problem With Women ... Is Men, who singlehandedly grew his Facebook fan page from 600 fans to 500,000 fans in 12 months with zero advertising dollars.
He gave advice on how to constantly live on Facebook, post many times a day, always respond and interact with the thousands in your audience and get them to come back for more. Stressing that social media is not for everyone, he said you must be ready to dive in and spend lots of time with it.
Art-car impresario Philo Northrup, also a co-founder of enVie Interactive and a veteran of the video-game industry, philosophized about productive play, human biology, postmodernism, interactivity, synapses, neurons and niche markets—all in a span of five eloquent minutes. The audience seemed blown away that a few down-to-earth artist types were sitting there on a panel, advising on things like how to implement public-relations damage control via Facebook and Twitter.
After the first panel, a break ensued, the bar opened up, and the Little Caesars pizzas began to disappear. The party was so much fun that only one-third of the people actually returned to their seats for the second panel session. The IIC includes a breezy outdoor patio overlooking the street, where guests continued to devour even more pizzas, while the booze flowed.
At that point, the anti-man-about-town headed a few blocks over, underneath the freeway and then around the corner to an area rechristened as San Jose's Little Italy. There, the instigators behind Little Italy coordinated a silent auction of several prestigious items donated by individuals or groups who will eventually have Little Italy banners in their names.
Auctioned items included paintings from John DeVincenzi, one of the founding fathers of the San Jose Museum of Art. Sports memorabilia from the San Jose Earthquakes and Oakland A's were auctioned off for the family of United States Soccer Hall of Famer Umberto Abronzino. San Francisco 49ers memorabilia was auctioned off for a banner to honor Al Ruffo, the late San Jose mayor, who was also one of the founding partners of the 49ers.
The said location was a house on West Julian, emptying through the rear door into a shared courtyard that looks, well, Italian. People drank wine and placed their bids for selected items. The food included panzanella salad with fresh mozzarella, tomatoes, basil, red onion, French bread and balsamic vinaigrette, tortellini with homemade pesto, meatballs with vodka sauce, Italian sausage with marinara sauce, and pasta salad with marinated bell peppers and egg in a vinaigrette.
The evening was an all-around success. San Jose City Councilmember Sam Liccardo—the only other person to attend both events—even proclaimed himself half-Irish.