Features & Columns
Back of Beyond
A planned reunion for seminal valley music club One Step Beyond recalls touring bands from Jane's Addiction to the Ramones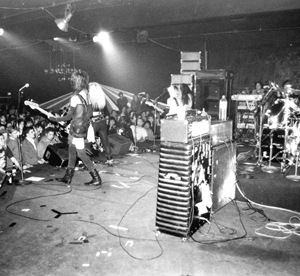 WISE MEN say lotuses bloom from the darkest muddy wastelands and that was precisely what happened when a club called One Step Beyond graced the landscape of industrial Santa Clara during the last half of the '80s.
In what's now considered a forgotten practice from the Vanishing Wild West, the venue was "all ages," that is, one didn't have to be 21 to get in. On Saturday, July 30, there will be a reunion at Club Illusions in Palo Alto for anyone who wants to go. Expect many photos and flyers to grace the walls, as several folks have been toiling away to make it all happen. David J., of Love and Rockets and Bauhaus fame, will perform.
One Step—as the place was universally known—quickly became many things for many punks, goth kids, '80s New Wavers, mods, metalheads or anyone subjugated by the jocks or cheerleaders in high school. It was a place to dance until the wee hours of the morning—something not available anywhere else at that time. Even adults showed up to see countless alternative bands that later vaulted to arena stardom.
The Sugar Cubes (with Bjork) once played at One Step, as did Faith No More, before Mike Patton was in the band. The Ramones seemed to play two shows every year. Their July 1989 show was Dee Dee's last one with the band. The roll call also includes Ministry, Jane's Addiction, the Psychedelic Furs, A Flock of Seagulls, Motrhead, the Replacements, Jane's Addiction, Iggy Pop, Living Colour, Midnight Oil and even Cheap Trick. Thanks to One Step, music fans no longer needed to drive to San Francisco or the East Bay to see shows at a midsize venue.
Along with a few partners, Stan Kent opened the place in 1985. It was initially a dance venue but quickly migrated to a live music focus.
"It was one of those quirks of fate that we took over a catering operation and not a bar," Kent recalled. "We had a liquor license that said as long as we served enough food, we were OK. I don't think you could do One Step Beyond today."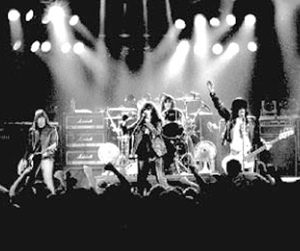 In fact, the scene at One Step was indicative of countercultures anywhere. That is, it was a scene that could only have happened at that particular time and place, and could not possibly be re-created anywhere else.
"If you look at things like CBGB and all that kind of stuff, they existed at a time that was unique, where things got done and things happened," Kent said. "Because the chemistry was there. And permit-wise, either they turned a blind eye or didn't care or didn't know any better, and a bunch of people and the fans that went there defined it. That's really what made One Step Beyond—the people. What really defined it and what moved it in a certain direction was the people that came there. And that's been the motivation for doing this reunion."
Which brings up another point I feel inclined to ram home every time one of these reunions goes down. This is not about reliving the past. It's just about revisiting the past. There's a big, big difference. No one's wallowing in nostalgia or lamenting their lost youth. Rather, that club, for many of us, was an integral component of our musical growth as individuals.
One Step taught us it was just fine to explore alternative sounds, that it was OK to feel uncomfortable around trendy music fans and all the other homogeneous drones who then listened to commercial radio. Hell, if people can go apeshit over Civil War re-enactments, why shouldn't this generation simply get together and revisit a special and rocking time in their lives?
One Step closed in August of 1990. The last night—it was a Tuesday—Kent and crew opened the place up and overbooked the venue to all bloody hell; the Champagne flowed, and many cannot remember exactly what happened. But what everyone recalls is seeing Kent taken away by the police. The club briefly opened again under new ownership, but the scene was never really the same. The building is now an electronics warehouse.
"It's sort of like this flower that sprouted up in the Silicon Valley wasteland and has now shriveled back up into the Silicon Valley wasteland," Kent said.
One Step Beyond Reunion
July 30, Club Illusions, Palo Alto