Features & Columns
No Bailing
A San Jose grassroots campaign fights to keep
Lake Cunningham Regional Skatepark open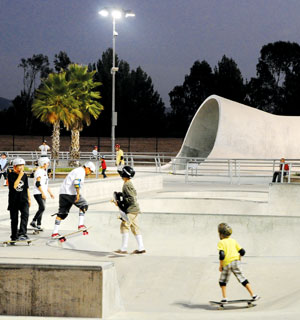 SAN JOSE is a place where, if you want anything interesting to happen, you usually have to fight for it. Thus brings us the case of Lake Cunningham Regional Skatepark (LCRSP), originally slotted to close last June.
Due to budget cuts, the city did not plan on maintaining the facility anymore, but in a dramatic battle that will go down in local history, parents and community members fought to keep the park open. At least for now, the grassroots effort has succeeded, but much more money still needs to be raised.
The largest of its kind in California and a world-class facility that has successfully put San Jose on the map all across the United States, LCRSP is a place where thousands of boys—and girls—have honed their chops, built their self-esteem, learned how to follow their passion, set goals and positively challenged themselves for the better.
To add to the inspiration, each year the Tim Brauch Memorial Skateboarding Contest takes place there. Skaters arrive from far and wide to compete, including youngsters, as well as aging "grandmasters" who originally put San Jose on the worldwide map 30 years ago. Brauch, of course, was a San Jose native who died prematurely at age 25, right when he himself was atop the world of professional skateboarding.
None of this is hyperbole. San Jose has always been a major center for skateboarding. There isn't even enough room here to list all the folks who've filmed or starred in countless videos over the decades. Plus, in the early '80s, bands like the Faction and Los Olvidados successfully merged San Jose skate culture with punk rock, influencing generations of bands thereafter.
The opening of LCRSP in 2008 marked a milestone in San Jose history, in the sense that thousands of folks no longer had to drive hundreds of miles to find a park of similar magnitude. We finally had our own paradise made from 3,500 cubic yards of concrete and 437,000 linear feet of reinforced steel.
But as the budget cuts loomed, parents were aghast when they learned the park would probably close at the end of June. It took a letter from local resident Paul Murphy to San Jose City Councilmember Rose Herrera to get the ball rolling. Parents and community members jumped on board and the grassroots battle commenced.
Carol Kruger, whose two boys regularly skate at Lake Cunningham, never thought that taking her 6- and 8-year-olds to skate camp would turn her into a community activist, but it did. Upon hearing of the park's imminent demise from one of the instructors, she was wrought with sadness.
"I was so bummed, I cried all the way home," she recalled. "I started to do some research, then got mad and started making phone calls to Mayor Reed, Councilmembers Herrera and Pyle, and Parks and Recreation."
She was not the only one. Kim Smallwood regularly takes her son to the skatepark whenever the facility is open. She says skateboarding provided a positive channel for her son's energy and even helped to improve his performance in school.
"My son was getting in trouble," she said. "But skating built up his confidence and his security in himself, and gave him an outlet that was positive for him. Skateboarding is not as rebellious as it used to be, since there's now a lot of parental involvement. But in my mind, that's a good thing."
As of right now, meetings take place on a regular basis under the banner of Save Our Skatepark! (SOS!). The group is working with the support of the San Jose Parks Foundation, an independent nonprofit laboring to reinvent funding models for maximum access to all parks.
While they fight for the park's future, parents continue to take their kids to skate at Lake Cunningham. It has become a full-blown family atmosphere.
"For a family of four, for less than what it costs to see a movie, you can take your family out there and have the time of your life," said Kruger. "I'm just thankful that so many people have come together to support this."
Skatepark Donations
www.sanjoseparks.org or 408.893.PARK