Features & Columns
Face Time
Student artists paint portraits of famous artists for a wall of fame and creative angst at SJSU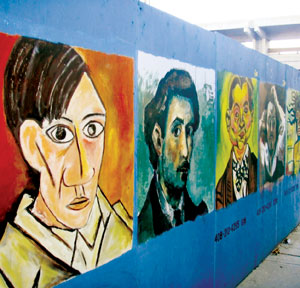 IN THE SJSU campus, a heroic faction of art students calling themselves Dirty Brushes has enlivened a primer-blue construction wall with replicas of famous self-portraits.
On the wall, one sees paintings of van Gogh, Diego Rivera, El Greco, Rene Magritte, Francis Bacon, Berthe Morisot, Frida Kahlo and more. The first few paintings emerged last spring, but the project, titled "Better Than Blue," is a work in progress. There are now 30 paintings, with even more on the way. The participating artists include Miranda Fry, Theresa Because, Magdalena Reiter, Colin King-Bailey, Eliza Bui, James Pollard and more.
The construction in question is for a new Student Union complex currently being erected in the place of the former Spartan Pub, which, 20 years ago, was a rocking alternative-music venue before the philistines at Spartan Shops converted it to a genteel food-court abomination.
As a result, blue construction walls surround a parcel of campus directly opposite the Music Building. I'm not sure why blue, in particular, always emerges as an established hue for such things, but in this case, the paintings constitute a gorgeous improvement. Since the mural of portraits sits on campus property, not city property, the artists didn't have to go through San Jose bureaucracy just to paint on the construction walls.
Even better, an audio component of the project allows one to call a phone number and listen to explanations of the portraits. For example, we hear that the original version of Francis Bacon's Self-Portrait 1969 was "influenced by surrealist abstractions and raises feelings of anxiety, alienation and distinct personalities. From mutilated interpretations of the figure to mysterious and electric color patterns, Bacon's work can be seen as both repulsive and seductive."
We learn of Bacon's view that "painting is a pattern of our own nervous system being projected into the canvas." I think any creative type can relate to that.
In another branch of the phone tree, we arrive at the explanation for van Gogh's final self-portrait from 1889, painted some time after the artist had cut his ear off, although the portrait is depicted at an angle that hides the missing ear. It was also painted around the time van Gogh was living in an insane asylum. The recording continues: "Most everything in the painting has a blue hue, symbolizing van Gogh's depressed nature, which would eventually lead to his suicide. Although there is value contrast, part of van Gogh's torso is delineated, creating the perception that he was fading into the background. Perhaps he though he was fading away from society as his life came to an end."
Replicas of self-portraits by Gustav Courbet and Joan Miro sit right next to each other on one portion of the wall. In the recording, we learn that Miro painted this particular self-portrait a few years after he had a nervous breakdown.
We also learn that Courbet's portrait, titled The Desperate Man, was painted around 1843–45. The recording informs us that he painted more than 20 self-portraits throughout his career and that this one "grabs us with the artist's intense gaze. [His] use of light, value and color creates a dramatic and intimate moment. Could it be that he was desperately trying to connect with his audience?"
The effect doesn't stop there. A replica of Alice Neel's nude self-portrait, which she painted at the age of 80, decorates another portion of the wall. As with the van Gogh piece, the hues seem fully integrated into the blue of the construction wall.
On the phone, the listener hears an explication of the scene: "Despite her pale skin and the heavy droop of her body features, Neel stares directly at the viewer, as if to prove she is not ashamed of her aging. Why would she choose to depict herself in this manner? Alice Neel was notorious for including every imperfection and flaw in the subjects she painted, including her own. ... She uses her self-portrait as a statement that she is both vulnerable and unashamed."
Again, "Better Than Blue" is a work in progress. Some of the portraits don't have audio accompaniment yet. Others are not even labeled. But that's OK. The whole shebang is more than off to a splendid start. And as one would expect and perhaps encourage, each student painter seems to bring a little bit of himself or herself into the replica—a process I can fully appreciate.
For Wall Art Info
408.213.4295