Features & Columns
Magister Hesse
The Hermann Hesse Museum in Switzerland keeps the novelist's spirit alive with unexpected treasures and events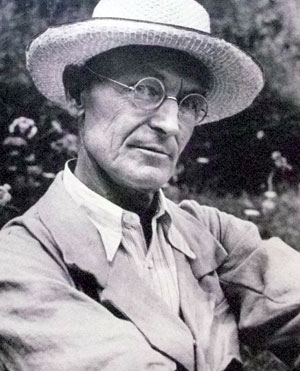 THE anti-man-about-town has emerged in this space quite a few times over the years, but after experiencing the Hermann Hesse Museum and Foundation in Montagnola, Switzerland, he just may have found a new inspirational terrain.
The author of Steppenwolf, Magister Ludi, Siddhartha and others, Hesse was an original anti-man-about-town who often merged inner travel with outer travel, exploring his internal conflicts through his novels. And he won the Nobel Prize for doing it.
Born in Germany in 1877, Hesse spent the last half of his 85 years in Montagnola, a tiny village in Ticino, the Italian-speaking section of Switzerland. At exactly the age I am now, he separated from his family and country, moved to Montagnola and started all over again.
While en route to Ticino, he produced the short book Wandering, a juxtaposition of poems, prose and watercolor paintings of panoramic landscapes he found along the way. After settling in the Baroque-style Casa Camuzzi, he immediately wrote Klein and Wagner, followed by Klingsor's Last Summer. Both novellas are based on Hesse's conflicted life against the scenic backdrop of Ticino.
Today, the Fondazione Hermann Hesse includes a small museum in the tower adjacent to Casa Camuzzi, filled with many of the author's personal artifacts—his typewriter, desk, eyeglasses, books, watercolors and much more. One can peruse displays, posters, photos, plus audio accompaniment in Italian and German. A garden provides a regular setting where children take painting classes. Throughout the facility, collections of photos occupy the walls, accompanied by two different sets of texts. One set functions as explanatory material, while the other provides passages from Hesse's works that relate to the particular photographs displayed.
Regina Bucher, the museum's director, leads me around, explaining various components of the museum. Next door, the Boccadoro Literary Cafe hosts concerts, readings and other events. Patti Smith and Lenny Kaye recently showed up and performed together for a crowd of just a few hundred, while thousands jammed the cobblestone lanes outside.
"Our success is partly because we are very active," Bucher tells me. "Sometimes a museum is a calm, rather boring place. We try not to be boring."
In the main room, Hesse's typewriter sits atop his writing desk—quiet, calm and still, almost as if it is meditating. Hesse posters flank the walls on either side of the desk. This is the typewriter on which he wrote Magister Ludi, Narcissus and Goldmund and The Journey to the East. I imagine it's like experiencing the Bodhi Tree in India. But, Hesse did not write Siddhartha on this machine.
"Siddhartha he wrote by hand," says Bucher, as she leads me up to a small area on a landing. We then gaze at an original printed version of Siddhartha sitting behind a locked case. The book was one of a few dozen copied by the publisher and hand-bound by Hesse for his close friends.
"Siddhartha is a book that is even more important now than when it was originally published," Bucher says, adding that the novel's message needs to resonate with teenagers in our current fast-paced world. As a mother of a teen herself, she says teens have shorter and shorter attention spans these days. They're always online and communicating in a multitude of ways. They can't concentrate and focus.
From the museum, an official walking path takes one through the village and down to the cemetery where Hesse is buried. The graveyard is on the Swiss Inventory of Cultural Property of National and Regional Significance. Along the path, placards contain texts Hesse wrote while wandering down the exact same route.
One particular clearing presents a breathtaking, unreal view of Lake Lugano, as it disappears over the horizon, between jagged hills and snowcapped peaks.
At the cemetery, Hesse's grave sits in the far right corner. Tiny lizards dart back and forth across the thick gravel paths. There is no epitaph, just his name, along with the pertinent dates. On the bus back to Lugano, the anti-man-about-town could almost feel his inner conflicts beginning to resolve.