Features & Columns
'Obey Your Master' art show at Exhibit A Gallery
Metallica, San Jose skate great Steve Caballero and Tony Alva showed up for the 'Obey Your Master' show.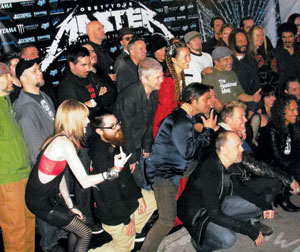 Whenever he roams, the anti-man-about-town seems to wind up in revelatory situations that directly relate to his teenage San Jose memories. No matter what lies buried and repressed within his personal unconscious, it always comes back.
This time he attended the "Obey Your Master" art show at Exhibit A Gallery, an exhibit of work inspired by Metallica songs. San Jose skateboard icon Steve Caballero contributed a painting to the show.
At the reception, without even trying, the anti-man-about-town recalled how, in 1985, he was possibly the only person in high school with a Metallica shirt. The band was not big yet. His conventional heavy metal friends hated the new extreme form of metal that Metallica was playing. To those friends, the band was "too close to punk." They didn't get it.
The only other miscreants at school who appreciated a Metallica shirt, oddly enough, were the skaters. At that time, Caballero was already a pro and a highly influential figure, especially in San Jo. A huge Metallica fan, he often skated to Kill 'Em All and Ride the Lightning, the band's first two LPs.
That was 27 years ago. Now, skip to 2012 at Exhibit A Gallery in L.A., conveniently co-owned by '70s skateboard icon Tony Alva.
Present at the reception were the four members of Metallica and their entourages, plus all the participating artists, rock celebs and aging skateboard legends that originally revolutionized the sport in the modern era.
Literally, it was Dogtown and Z-Boys meets the Metal Militia. I felt an overwhelming sense of counterculture kismet, like everything had come full circle in some odd fashion. It was surreal.
Across the board, the entire show characterized exactly the myriad influence one would expect Metallica tunes to inflict. Shepard Fairey supplied prints based on "Disposable Heroes."
He wrote: "Metallica first appealed to me because the aggression and rage in their music mirrored my own teenage feelings of frustration. I could vent my anger ... vicariously through Metallica, and directly by grinding curbs and coping on my skateboard."
Andy Biersack, who contributed a painting of deceased bass player Cliff Burton inspired by "Creeping Death," described the band as "equal parts darkness, intellect and vitriol."
Shawn "Clown" Crahan of the band Slipknot created a gigantic mixed media sculpture inspired by the tune "Damage Inc." Victor Castillo, who contributed an acrylic on canvas, said he first heard Metallica in Chile when he was 14.
Artist, photographer and filmmaker Chad Michael Ward created an original giclee print based on "The Unforgiven," and said he originally became smitten with two gorgeous stoner girls wearing Metallica shirts in junior high in 1986, and the rest was history. Caballero's painting of a monstrous robot was based on the track "Metal Militia."
Again, the reception was a revelation for the anti-man-about-town. In 1985 in San Jose, the high school Metallica shirt scenario had a deep effect on his already-troubled psyche. He craved adventurous music, and, growing up in the valley's suburbia, it was difficult finding similar people to hang out with.
He was considered gifted as a youth, along with which came hypersensitive inclinations, and to be rejected by seemingly everyone for his forward-thinking musical taste felt catastrophic at the time. Rejected by everyone except for the skaters, that is.
But somehow, everything sorted itself out at the "Obey Your Master" reception. After all, he probably has Caballero to thank for the skaters originally digging his Metallica shirt when no one else would. And 27 years later, there they all were: some of the world's most revolutionary skateboarders—Caballero, Tony Alva and more, plus Metallica—all hanging out in Alva's own gallery. This mind-blowing space-time continuum-shattering circle of events was so extraordinary that the anti-man was finally able to dislodge the negative imprint from high school and the healing came from within.
He felt interconnected with all beings and phenomena. He no longer needed to repress the memories. Throughout the entire experience, including writing this column, he conquered the trauma of having no friends in high school that understood his Metallica shirt. His presence at this reception compensated for all the high school reunions he never attended.
If you harbor repressed memories from your teenage years in Silicon Valley, however insignificant, and they occasionally haunt you, stay positive. Things will work themselves out. Writing can help you discover hidden things about yourself. If it helped this dork from Leigh High School, it can help you too.