Features & Columns
Taco Festival of Innovation
Returns for it's 3rd Year
Taco Festival of Innovation represents the next generation of summer events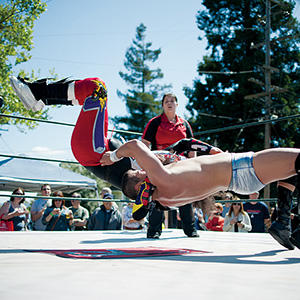 At first Ryan Sebastian wanted to launch a taco into outer space. He could attach a GPS unit, plus a GoPro and set the taco in motion. The image of a taco hovering over the curvature of the earth seemed groovy. There could even be a Taco Olympics. But instead, he settled for the San Jose Taco Festival of Innovation, the third incarnation of which erupts on May 24 at History Park.
Aside from 35 taco trucks from all around the Bay Area, the day-long event includes Mexican wrestling in a full-size ring, a taco competition and a variety of eclectic music on two stages. Near the park's stables, a kids' area will feature pinatas, balloon artists and face painters. At least 30 vendors curated by SJMADE will also take part. And I especially love the way in which the festival's very moniker takes a direct stab at all the bureaucrats who consistently embarrass the valley's citizenry with nonsensical buzzwords like "innovation."
Sebastian says he will implement some new strategies this year. Expect more variety. Previous incarnations of the festival offered almost entirely fusion strangeness in the food, which somewhat miffed foodies in search of really good and authentic Mexican tacos. And one stage simply wasn't enough for all the music.
"The obvious changes are that we're doubling the stages," Sebastian explains. "There's two stages of entertainment, the kids' activities are really interesting, there's more artistic things. We're going for half traditional taco trucks and half fusion taco trucks. That's a big change from the beginning."
Meaning, there will be a wealth of traditional Mexican-influenced tacos for those who crave adovada, carne asada or lengua, but also a crazy variety of nouveau offerings, like chocolate ice cream tacos, Vietnamese shrimp tacos or mac 'n' cheese tacos. There should be something for everyone.
When it comes to entertainment, Sebastian says classic rock is banned. There will be no such thing, he declares. Instead, a variety of folk-fusion, ethnic music and indie rock shall unfold on the two stages. So don't arrive expecting beaten-to-death FM radio stuff—it ain't gonna happen. Although, you might hear an accordion-and-guitarron version of "Free Bird" somewhere on the property.
All of which, to me, is refreshing. A kooky yet accessible festival like this represents a new flavor of creative placemaking-style events that are starting to emerge from the next generation of cultural urbanists in San Jose. The bland suburban arts festival with booths of dolphin paintings seems to be an artifact of distant memory. I mean, for decades, it seemed like the majority of San Jose's population was thrilled to drive downtown and watch the vacuum cleaner demonstrations at Tapestry in Talent.
Sebastian's generation is different. It represents a new wave of folks who can see beyond such banality and who sincerely want to provide alternative varieties of experience. This makes sense because each generation that comes along is more and more interested in participatory experiences, rather than static, passive consumption of culture. It's a global trend.
What's more, each generation of San Josean that comes along seems ever so slightly more equipped to celebrate what's good about this place. They have a fresh and productive anti-suburban mentality, which speaks more to the future, not the past.
"It speaks to a different shift in San Jose," Sebastian says. "You're going away from people who moved here to get away, to people who actually grew up here. And I'm trying to say, 'Look, this is no longer a bedroom community. It's a real city with a million people that live here.' That's a different dynamic."
All in all, Taco festivals with Mexican wrestling and accordion music are happy affairs. And the innovation won't end with tacos. Sebastian says later this year, expect to see a Fourth of July bacon festival and a Labor Day festival of electronic music and Sriracha sauce. But for the 24th of May, tacos will reign supreme.
"Celebrating the taco truck is kind of ridiculous in some instances," Sebastian admits. "But it's an iconic, kind of an American invention. It's a unique thing. And we want to celebrate that."
Sat. May 24; Noon - 8pm
$10 General Admission