Features & Columns
Breezy Excursion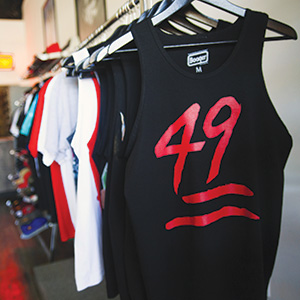 When Ryan Mante began screen-printing T-shirts in his cramped bedroom seven years ago, his designs, whose early iterations were drawn up in Microsoft Paint, riffed on pop culture. Their bold type, brash slogans and playful images paid homage to the hip-hop, drugs, parties, cartoons he grew up on and Gen-Y egomania.
These days, some of the biggest names in pop culture don tops and snapbacks from one of his several apparel brands. Justin Bieber, Janelle Monae, Ellen Page, Childish Gambino and E-40, to namedrop just a little, sport designs from Breezy Excursion (which Mante co-founded with college buddy Christian "Flip" Lilleland), Petals and Peacocks (the women's line he kicked off with his fiance Victoria Velasquez) and Booger Kids (the more graphics-heavy brand he runs with childhood friend Mike Ngo).
Mante, 30, and his clique of young streetwear impresarios helped turn the South Bay into something of a mecca for urban clothing. For whatever reason, T-shirts have become an expression indelibly San Jose, spawning not only a litany of brands—many of them sharing the same sartorial family tree—but propped up several small, independent clothing shops that stock them. The Aristocrats and Azuki in Japantown and Pesos Bodega on West San Carlos Street all carry Booger, Breezy and Cukui, another big player in the city's streetwear scene.
Over the weekend, Mante and Ngo, 30, celebrated the grand opening of the Booger Kids flagship on the Santa Clara side of The Alameda. Their friend, Evan Lessler, 31, whose 12-year-old Adapt Clothing has spun some of the most popular sportswear in the Bay Area like the ubiquitous 49ers-boosting "Gold Blooded" shirts, launched his South Bay flagship the same day. Adapt set up shop next door to Booger Kids and Petals and Peacocks, which debuted its own flagship a year ago. Lines for the dual openings wrapped around the block.
Lessler, who also runs a store out of San Francisco, brought another brick-and-mortar to San Jose partly to set up shop near his friends and partly because there's such a strong market for his brand of clever wordplay and reimagined sports logos.
More than the clothing they make, Booger, Breezy, Adapt and their ilk strike up collaborations with other Bay Area creatives. Adapt has long incorporated musical references into their font-heavy designs, teaming up with E-40, Hieroglyphics & Souls of Mischief, Quannum Projects, Del the Funky Homosapien and DJ Amen. Petals and Peacocks recently sketched up a tank top design with street artist Girafa that puts a cheeky spin on the Toys "R" Us logo. Booger and Breezy follow suit, cross-promoting entertainers, artists, designers and often other brands.
From humble beginnings crashing trade shows to pass out merch and storing boxes of shirts in their cars before they could afford to rent warehouses, Breezy and Booger have become kingmakers in the local fashion scene—a serious feat for brands that boast about not taking themselves too seriously.