Features & Columns
David Brin: Existence
David Brin explores the fluid boundaries between human, alien and artificial intelligence—an excerpt from Existence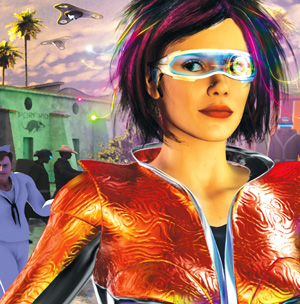 If, or more likely, when, the first message arrives from another world—from the aliens we all secretly hope/fear are out there—will we 1) prepare to do battle or 2) embrace an extended tentacle? That simple yet all-encompassing question has animated our dreams from H.G. Wells and Steven Spielberg to Carl Sagan and Agents Mulder and Scully.
In his epic new science fiction novel, Existence (Tor Books), David Brin delves into the multiple consequences of the first alien encounter. The setting is that most fertile of speculative territory, the near future—far enough away to surprise us but close enough to be recognizable and plausible.
In the year 2050, humanity is coping with extreme climate change and nuclear terrorist attacks. Inexorable advances in technology allow full immersion in augmented realities.
The story begins when when a space garbage man snags a glowing, egg-shaped artifact and brings it back to Earth. From within the object, strange visions materialize: an "alien head near enough to peer outward at him with a gaze that seemed oddly familiar." And from the "gill-like openings" of that head emerge the word we have been waiting to hear: "Greeting."
This close encounter changes everything. Brin's narrative navigates the globe as his large cast of characters deals with the prospect of what the aliens have to offer. There are shocks to come, including the existence of competing artifacts (these aliens are a contentious lot), as well as the disturbing possibility that it may all be a hoax.
Brin balances storytelling with fascinating asides about how we will live and communicate some 40 years from now. The excerpt in this issue comes from an early chapter called "Sky Light," in which a reporter for "MediaCorp" named Tor Pavlov embarks on a cross-country "human interest tour" (some things never change in the news business) that leads to a much bigger scoop.
Her first stop on the way to "Rebuilt Washington" is "Sandego," one of many cities overrun by refugees from rising sea levels and spreading radiation. Everything Tor does is intermediated by ubiquitous tech markers: "virt overlays," "reality-stacks" and "position-tagged information, notifications and animations." Part of the fun of entering this world is adapting to the many tweaks of language and spelling that Brin artfully deploys. Alerts are now "e-lerts," people dress in "pixel-fiber suits" and "ai" (artificial intelligence) has become so ubiquitous that it is routinely lower-cased and inserted in other words.
Our excerpt also includes two of the many "Interlidoludes" scattered through Existence that provide a multifaceted perspective on the action.
A noted scientist and technology expert, David Brin has written for Metro on such diverse topics as the uses and abuses of surveillance and the transaction tax on stock purchases. He is the author of 15 novels, among them Kiln People, Uplift Universe and The Postman, which was made into a movie with Kevin Costner. The American Library Association gave Brin a Freedom of Speech award for his nonfiction book The Transparent Society: Will Technology Make Us Choose Between Freedom and Privacy? A good introduction to his works and ideas can be found at www.davidbrin.com. The site also features an animated preview for Existence, created by artist Patrick Farley, whose images illustrate our excerpt. Farley, who kickstarted his career as the staff artist for Cupertino's Homestead High School's newspaper, is the creator of Electric Sheep Comix (electricsheepcomix.com) and now lives in Portland, Ore.
Brin will visit our area on a book tour, with appearances at Kepler's in Menlo Park on June 23 at 7pm, as well as at Dark Carnival in Berkeley (June 22, 5pm) and Borderlands in San Francisco (June 23, 1pm).