Features & Columns
Wedding March: Santa Clara's First Marriage After Prop. 8
Eve and Trish Kedar, by chance, were the first same-sex couple married in Santa Clara County after the ban was lifted in late June. It wasn't the first time they celebrated their union, but it was the first chance they had to make it legal.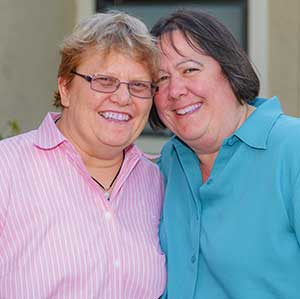 Eve AND Trish Kedar married each other whenever they got a chance, which turned out to be three times.
In May 2010, the couple celebrated their newly filed domestic partnership under a chuppah in Monterey. They wore white shirts embellished with blue embroidery; friends and family danced in the open-air ceremony. The civil union didn't do much in terms of practical benefit—they still couldn't share health insurance or file joint taxes—so the affair was more a display of personal commitment.
In September that same year, the pair exchanged vows and broke the glass together in a traditional Jewish ceremony at Congregation Beth-David, Eve's synagogue in Saratoga. It took months of persuading the conservative congregation's leadership to allow a same-sex wedding at the place where Eve had worshipped and volunteered for years. Trish's mother showed up with a big Catholic cross on her chest. At least she went, Trish says diplomatically.
But this year brought the union they had been waiting for ever since Eve proposed five years ago, a few months after the two met. On July 1, the Kedars arrived at the Santa Clara County Government Offices on Hedding Street in San Jose at 5:45am to obtain a marriage license after the 9th U.S. Circuit Court of Appeals officially lifted a ban on same-sex unions. They showed up first in line, attracting the attention of news reporters ready to document the moment. Without planning as much, they made local history.
"We got there early because we had to be at work that morning," says Trish, with a laugh. "We didn't know we'd get bombarded by the paparazzi."
They welcomed it, though: a celebration at once political, public and profoundly personal.
"I never thought I'd get to experience this in my lifetime," Eve says, placing her hand over her heart.
Attitude Adjustments
"We're from a generation where we'd get rocks thrown at us," says Trish, a 49-year-old marketing manager, who came out to her Catholic family as a kid and grew up out-and-proud in San Francisco's SoMA district during the 1970s and '80s. "And now we have so many people celebrating with us, or who just consider gay marriage no big deal, like 'yeah, of course this is OK.' It's a major attitude shift."
Eve, a 50-something training manager at a Silicon Valley startup, didn't come out until she was 45 years old. Though born in New York, Eve grew up part of the time internationally, settling down in a Parisian suburb, then Brighton, England, as her father, a university professor, followed his work around Europe. By high school, the family was back in New York City.
"I didn't come out then because New York City public schools weren't a friendly place for gays and lesbians at that time," she says.
Even after graduation, she kept the fact of her identity a secret—albeit an open one to some who knew her. Eager to travel again, Eve moved to Israel to live on a kibbutz, volunteering and picking fruit from the citrus groves. She then enlisted in the Israeli army, becoming an officer and a paratrooper. Colleagues suspected she was gay and had a sit-down urging her to date some guys and settle into life as a straight woman.
"They meant it from kindness," she says. "They didn't want me to be ostracized. I believed it was for my own good because two women that we all assumed were gay had recently ended their own lives. They were giving me advice for my own protection, they thought."
She obliged, married a soldier (whom she later amicably divorced) and had children with him.
"I finally decided later in life to be on the outside who I am on the inside," says Eve, who recently penned an autoethnography about being disaffected for her identity. "I lost some friends, but not the people who mattered."
Small Steps
The Kedars met on Chemistry.com in 2008; Eve delayed their first date at Alum Rock Park because of the Jewish High Holidays. Trish, having also grown up in a religious family, appreciated Eve's faith. She decided to convert to Judaism and take the Kedar name.
Like many same-sex couples, the Kedars have had to take their union step by step. They filed for domestic partnership. They changed one's surname. They married in a place of worship. And when the opportunity was granted, they became legally bound.
"It's whatever we can get whenever we can get it," Trish says. "We have friends who fly to get married in every state that legalizes it. We got our marriage in bits and pieces."
For a middle-aged couple the union was hugely pragmatic. Eve battled breast cancer in 2006, which left her in need of frequent medical care. But working contract gigs on and off left her without insurance for a while and, before their July 1 marriage, Trish couldn't extend her own company's coverage to cover her partner. Now, that's no longer a problem. The Morgan Hill house Trish bought a year-and-a-half ago now belongs to them both as a married couple. Their tax situation has also vastly improved. And if either woman ends up in the hospital again, her spouse doesn't have to beg staff permission to visit.
"That marriage certificate right there is like gold," Trish says, pointing to the framed document signed by Ken Yeager, their wedding officiant and the county's first openly gay supervisor. "It's security. It means we get to take care of each other. It means we're included in that part of society."