Features & Columns
Greg Bardsley: 'Cash Out'
From newspapers to high-tech, author Greg Bardsley has turned
his insider's knowledge of Silicon Valley into a satirical romp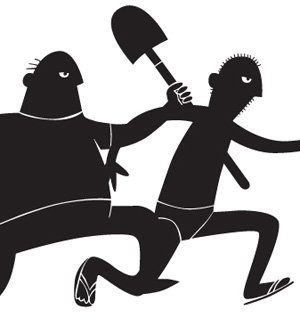 Greg Bardsley joined Metro around the time newly elected President Bill Clinton and Vice President Al Gore began their regular visits to Silicon Valley to talk about this thing called the Internet. He remembers being sent to cover a presidential visit in Sunnyvale and seeing a fellow staff reporter seated by mistake in the honorees' section, wearing wrap-around shades and smiling broadly.
Much more relaxed than today's tightly scripted White House events, the undiscovered security lapse also spoke to Silicon Valley's relative innocence. Overnight success was quantified in the tens of millions in those days, about to leap to the hundreds of millions but still a far cry from today's banal billions.
Bardsley's beats at Metro included everything from the Queztalcoatl statue controversy to the free-spending Redevelopment Agency. From Metro, Bardsley went to work at an East Bay daily in 1994, the year the Internet browser went into commercial distribution. Two years later, he left journalism to do executive communications for LSI Logic, perfect timing for a front-row seat for the run-up to the dotcom boom. By 1999, he was putting words in the mouths of the top executives at then-high-flying Sun Microsystems.
Bardsley saw a novel in the craziness around him during the unprecedented economic explosion and subsequent implosion, and when he originally wrote Cash Out he set the action in 1999. But timing is everything, and another boom-and-bust decade passed before HarperCollins picked up the book and asked him to change the scene to 2008.
Cash Out will publish in October, and Kepler's bookstore in Menlo Park will host an Oct. 13 signing event with Bardsley.
The novel, now set in 2008 right before the recession, is a crazy ride through the corporate pressure cooker, filled with lust, ego, greed and dreams of escaping to a simpler, more balanced life.
"The place where I grew up is gone. I want out," Bardsley writes in the opening chapter. "Just a few years ago, I felt like I was making a difference. I was working as a reporter, calling out people hurting other people, people taking things that didn't belong to them. ... I covered issues that mattered to real people, issues that dwarfed the IT babble that now dominates my life. Now I find myself with The Suits, dealing with people like Janice from Finance."
Bardsley offers the standard disclaimer so that no one thinks he's ratting out his employers or co-workers at the valley behemoth where he works. "It's fiction, it's crazy," he says, and he points out that he's never worked for a startup, and, besides, the novel was written 10 years ago.
Like Dan Jordan, the book's beleaguered protagonist, however, Bardsley is married with two children and lives on the peninsula.