Features & Columns
Reefer & Reality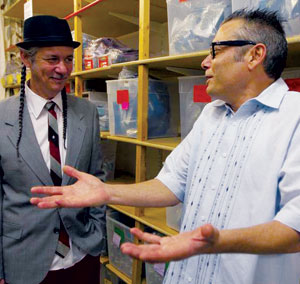 IN 2006, Steve DeAngelo received a permit to open Harborside Health Center in Oakland. One of the first calls made by DeAngelo—whose signature hair braids make him look a little like a middle-aged, white version of Snoop Doog—was to friend Elan Hawtrey, a retail and sales expert.
DeAngelo wanted to know if Hawtrey would help him revolutionize the way medical cannabis is dispensed. "How do you reinvent the retail sales wheel?" Hawtrey asks in the office of Harborside's sister store in San Jose. "We're based on a model of operation that had never been used before."
Since two men joined forces, Harborside in Oakland has become the biggest retailer of medical cannabis in the world. Providing some of the best medicine in the bay area with a well-compensated staff, while also keeping above-board books to be a "true nonprofit," Hawtrey and DeAngelo developed a model that many collectives copied.
Though the model is no longer unique, Harborside's success and its charismatic founder, DeAngelo, attracted the attention of the Discovery Channel in the fall of 2010. Making Harborside in Oakland the subject of reality TV show, Weed Wars, the program recently wrapped its first season.
But as exciting a topic as medical marijuana is right now, Weed Wars can be a pretty boring show at times. Spider mites, a clogged toilet and the IRS are anticlimactic TV villains, but they demonstrate how Harborside is a normal business with abnormal problems to overcome.
Hawtrey calls the $2 million tax bill recently levied by the IRS on Harborside "an attempt at intelligent enforcement." (The government doesn't agree that Harborside is a nonprofit and employees' salaries and benefits are tax-deductible.) If the IRS shuts down a business as robust and law-abiding as Harborside, he says, other dispensaries will have a difficult chance of survival.
"They realize that we're a squeaky-clean company," says Hawtrey, "We'll always pay our tax bill, regardless of what it is. We're going to continue to do diligence as to our rights and our options. But at the end of the day, if we have to pay it, we'll pay it. It could shut us down. It could. But we don't plan on letting that happen."
As general manager of Harborside of San Jose and a member of Citizens Coalition for Patient Care (CCPC), Hawtrey is currently involved in negotiations over the city's medical marijuana ordinance. "One of the convincing arguments to the city as to why the ordinance was unworkable," he says, "is that trying to supply the quantity of cannabis on-site would have created gigantic, energy-sucking, plantation-size operations that would have certainly interested federal agencies.
"Beyond that, I think the best way to appease the federal government is to simply work with the city that you operate in, be 100 percent compliant without fail, have transparent and honest books and treat your staff and your patients with respect and reverence."
Harborside's community-oriented attitude, as well as DeAngelo's reverence for cannabis—the show features many instances of him praising the healing powers of the plant—is evident in Weed Wars. But another development that escaped the attention of cameras is how the show changed the way Hawtrey's family perceives his job.
"I think they envisioned a dark room with sketchy people in black clothes handing over boxes of money for garbage bags full of cannabis and calling it medical," he says. "Even when you explain to them about services and about CBD versus THC, it's still virtually impossible for somebody that has never been exposed to medical cannabis to really comprehend that it can be done this way."