Holiday Gift Guide
Things to Watch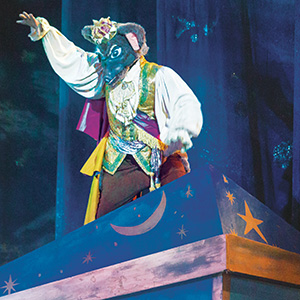 The Nutcracker seems to have single-handedly started the tradition of holiday theater, and Ballet San Jose is doing its part to keep the ritual alive—but fresh. For the second year, the company presents alum Karen Gabay's version of The Nutcracker, Dec. 13-26 at the San Jose Center for the Performing Arts ($30-$105). San Jose Dance Theater also stages The Nutcracker at the CPA, with a cast that combines dance students with professional dancers, Dec. 6-8 ($22-$55).
With The Terra Cotta Prince, the Tchaikovsky ballet is completely reimagined by choreographer Dennis Nahat and Theatre Ventures International, for a performance that includes China's Dalian Acrobatic Troupe, Dec. 18-22 at the Flint Center ($45-$75).
Engelbert Humperdinck's opera Hansel & Gretel isn't the only operatic adaptation of a fairytale, but it might be the family-friendliest, and Bayshore Lyric Opera's production makes it even friendlier with a 60-minute version, Dec. 13-15 at the Saratoga Civic Theatre ($10-$16).
San Jose Rep puts a steampunk spin on a fairytale with the world premiere of The Snow Queen, Nov. 27-Dec. 7 ($10-$69).
Children's Musical Theater alumni and young performers come together in Irving Berlin's White Christmas, Dec. 6-15, at the Montgomery Theatre ($24-$30).
Louisa May Alcott's much-adapted 19th-century novel Little Women became a Broadway musical in 2005. TheatreWorks presents the musical Dec. 4-29 at the Lucie Stern Theatre ($25-$73).
Tabard Theatre Company has a full holiday schedule with two rotating shows at Theatre on San Pedro Square. There's an especially kid-friendly world premiere—a new musical telling of The Elves and the Shoemaker, Nov. 29-Dec. 15 ($10-$35) and a Big Band take on a holiday favorite, with jazz band Nineteen performing The Duke Ellington Nutcracker Suite, Dec. 5-15 ($10-$35).
Life is wonderful three times over with a few local companies presenting shows inspired by the 1946 feel-good Frank Capra film It's a Wonderful Life—or four times, counting the Stanford Theatre's traditional Dec. 24 screening of Capra's film.
San Jose Stage Company helps George Bailey rediscover his purpose in life with a Nov. 27-Dec. 22 run of the It's a Wonderful Life Live Radio Play ($25-$50)—a show also presented this season by Broadway by the Bay, Dec. 26-29 at Redwood City's Fox Theatre ($35-$55). Pear Avenue Theatre stages a one-man retelling: This Wonderful Life, Dec. 6-21, at its theater in Mountain View ($15-$30).
Coney Island Christmas brings an inclusive holiday tale to City Lights Theater Company Nov. 21-Dec. 22, with the story of a young Jewish girl cast as Jesus in the school Christmas pageant. By Pulitzer Prize winner Donald Margulies ($16.95-$34.95).