Features & Columns
Howard Hawks Retrospective Schedule
All screenings take place at the Stanford Theatre, 221 University Ave., Palo Alto.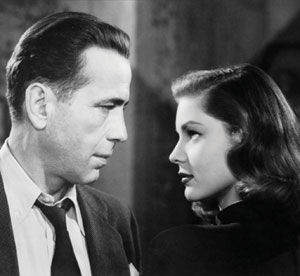 April 20-22
Twentieth Century
(1934) Aboard the New York-to-Chicago train, a producer (John Barrymore) stalks the star (Carole Lombard) he once alienated; desperate to win her back, he pitches the plum role of Mary Magdalene: "The little wanton ending up in tears at the foot of the cross.' Barrymore was considered the greatest actor of his day, and this is the film that suggests why. The flamboyance he brings to this particularly silvery screwball comedy remains bright 75 years later.
Scarface
(1932) The various censor boards that tried to cut Scarface were right to worry. The film boasts a crackling, wise-ass script and races along breathlessly, high on crime. Paul Muni, with an X-shaped scar on his left cheek, plays the thug Tony Camonte, whose rise and fall are hastened by his unnatural love for his sister (the red-hot, mad-eyed Ann Dvorak).
April 25-26
The Dawn Patrol
(1930) Hawks was a pilot (in fact, his brother died in a flying accident); this strikingly titled story of conflict among British aviators in the Great War was his first sound film. It was also the template for the kind of film Hawks was to make again and again: tales of groups of men keeping their nerve in the face of danger.
Ceiling Zero
(1936) Paralyzed aviator Frank "Spig' Wead (the subject of John Ford's biopic The Wings of Angels) wrote the source play. James Cagney is an irresponsible pilot who runs the airmail out of Newark. One of his pranks leads to the death of a friend, and that's when he puts his own life on the line.
April 27-29
Bringing Up Baby
(1938) Fatuously satisfied with a dried-up old intercostal clavicle, paleontologist David Huxley (Cary Grant) is knocked off his ladder by a sweet and wealthy but perhaps addled Connecticut girl (Katharine Hepburn) who keeps a large and disobedient leopard ("Baby') as a pet. Grant's woe makes him all the more hilarious. Bringing Up Baby is a prime example of Hawks' skill in filming a comedy that looks like a tragedy and vice-versa.
Come and Get It
(1936) Frances Farmer was a difficult, hard-drinking woman whose supposed lobotomy made her a feminist icon (as seen in the 1982 biopic with Jessica Lange). She was, Hawks told interviewer Joseph McBride "the best actress I ever worked with.' She plays a double role in an Edna Ferber story about a fortune-seeking spoiler of a Wisconsin lumberjack (Edward Arnold).
May 2
A Girl in Every Port
(1928) Victor McLaglen and Robert Armstrong star as sailors on an around-the-world cargo run; their rivalry over the women they meet (one is Louise Brooks) leads to minor mayhem. Hawks was so enamored of the dynamic of the feuding friends that he was still trying to do this story over in the early 1970s with his never-sold last film When It's Hot Play It Cool.
Fig Leaves
(1926) Nothing ever changes, says this short silent comedy: George O'Brien and Olive Borden are Adam and Eve Smith, who quarrel over the matter of clothes, just as Adam and Eve once did in the Garden of Eden (with dinosaurs). A two-strip Technicolor sequence highlights a fashion show. Dennis James at the organ for both films.
May 3
Paid to Love
(1927) The plot sounds like Ernst Lubitsch's The Smiling Lieutenant given a sex change: the Prince of San Savona (George O'Brien) needs help in the romance department, and a helpful American finds him a date in Paris. William Powell plays the more successful Prince Eric.
Fazil
(1928) Hawks takes a different angle on the plot of The Sheik. Here an Arab prince (Frank Borzage star Charles Farrell) has a doomed romance with a European woman.
May 4-6
Only Angels Have Wings
(1939) As in the case of Casablanca, the improbabilities only heighten the appeal of this drama of aviators in a bad racket: a group of Yanks hauling mailbags over the Andes in crash-prone planes. People love the film, as well they might, considering that Cary Grant is one of the dashing pilots and Jean Arthur provides the mostly drowned-out voice of sanity. In the 1950s, The Wages of Fear would take the stuffing out of the material, just as Hawks himself unstuffed many a piece of genre.
Air Force
(1943) The star of the show is a bomber, the Mary Ann, a B-17 involved in action in the Pacific, with the kind of mixed group of people aboard that gave the film world the expression "bomber crew' to describe the mix of classes and ethnic types war movies have ... and still have, all the way up to Act of Valor. Most interesting of the actors is John Garfield, on his way up, though his final act of heroism with a heavy .50 caliber machine gun had our troops guffawing.
May 9-10
Tiger Shark
(1932) A San Pedro fisherman (Edward G. Robinson) has a hook for a hand ever since a shark bit him, but he hopes it won't interfere with his courtship of an orphan (Zita Johnson). That's when his best pal (Richard Arlen) enters the picture.
Barbary Coast
(1935) The model for TV's Deadwood, set in '49er-era San Francisco, a pre-noir town of fog and mud. Miriam Hopkins plays a woman who arrives to find her man dead and her money gone. Determined to stay, she meets Louis (Edward G. Robinson), who runs the Bella Donna casino and saloon: "Do you like San Francisco? That's good—I own it.' Water Brennan gets his first big role as "Old Atrocity,' an eye-patch-wearing Charon who rows people into the harbor.
May 11-13
His Girl Friday
(1940) Big-city newspaper editor Walter Burns (Cary Grant) faces the simultaneous loss of his ex-wife and his star reporter: Hildy Johnson (Rosalind Russell), who proposes to remarry, move to the sticks and have kids. Grant's Burns is the distillation of every type of movie comedy into one man. Grant uses slapstick, irony, cartoon reactions, silent-film mugging and Hamlet's own wordplay to confound the marks around him—and all the people in the world are his marks, except for Hildy. The banter between Grant and Russell flies by at a furious pace, like a high-stakes volley between two top-ranked tennis players. Hapless Ralph Bellamy doesn't stand a chance. Full of piquant nostalgia for people who love the idea of old-fashioned metropolitan newsrooms bustling with legions of cynical reporters, hard-boiled editors and hotshot young copy boys.
Ball of Fire
(1941) The incomparable Barbara Stanwyck is just what the title suggests, but the film labors in parts. They really should have got an Englishman to play Gary Cooper's part as a professor dazzled by a female fountain of slang named Sugarpuss.
May 16-17
The Thing from Another World
(1951) Hawks' adaptation of John W. Campbell's Who Goes There? kicked off the 1950s monster wave, establishing the template of the genre as McCarthy-era allegory (Communists! That's "who goes there!') while creating a tale so limber its descendants are everything from Alien to, of course, this film's two remakes.
The Road to Glory
(1936) William Faulkner co-wrote this anti-war film, based on a French movie called Wooden Crosses about the trenches in 1916, where an intense rivalry continues between two officers (Warner Baxter and Frederic March.)
May 18-20
To Have and Have Not
(1944) Humphrey Bogart stars as an individualist made to see the big wartime picture, with the help of Lauren Bacall to stiffen his backbone. This is prime romantic stuff made from an inferior Hemingway novel, which director Hawks claimed was filmed because of a bet with Hemingway ("He interested me. Strange guy,' Hawks told author Joseph McBride.)
Sergeant York
(1941) Hawks' great hit was the biopic of World War I hero Alvin York, a pious Tennessee man who killed more than two dozen enemy soldiers. A tough film to make, since York was understandably leery about the whole project, but Gary Cooper's irreproachable integrity made the film the biggest success up to that time after Snow White and the Seven Dwarves and Gone With the Wind.
May 23-24
Land of the Pharaohs
(1955) "I made this film for one simple reason: Cinemascope.' Hawks to critic Andrew Sarris. The engineering problem of how the pyramids were built contrasts with the romance of a scheming princess (Joan Collins) and the 4th Dynasty Pharaoh Cheops II (Jack Hawkins).
Viva Villa!
(1934) Hawks fretted that the studio had turned the warrior Pancho Villa (Wallace Beery) into "Santa Claus,' but the Mexican locations had their share of real-life gunplay according to Hawks (and like shots of tequila, the things Hawks said need to be taken with a dash of salt).
May 25-27
The Big Sleep
(1946) Easygoing L.A. private detective Philip Marlowe (Humphrey Bogart) is hired by a crippled general to keep tabs on his nymphomaniac daughter, who is wrapped up in a case of blackmail and murder. No one has ever cared as much about the plot as they have about Hawks' staggeringly impudent direction—or as much as they cared for Lauren Bacall, who plays the smoky-voiced, tough good girl who assists Marlowe.
The Criminal Code
(1931) One of a number of prison films released in the early 1930s, this is remembered for its famous scene: Boris Karloff as the enforcer of the code in question, lurching through the part with such deadly force that he landed the role of Frankenstein's monster next.
May 30-31
The Outlaw
(1943) A troubled film before and after release. Hawks left it as the ever-prevaricating producer Howard Hughes took over. And then came the censorship problems. Too many commentators were blinded by Jane Russell's shape to recall the thunderous sullenness of the actress onscreen (she's kind of a gateway drug to Elvis). However, it was her terrific rack that became a salient point in both the making and marketing of a berserk Billy the Kid tale, with Walter Huston as Billy's pal (or more) Doc Holliday, while Thomas Mitchell's Pat Garrett waits for vengeance.
Corvette K-225
(1943) Hawks produced this wartime tale of the escort ships following the Canadian convoys from Halifax to England, but his sometime second-unit director Richard Rosson actually accompanied the ships to gather footage of the war.
June 1-3
Red River
(1948) Rancher John Wayne has had it up to here with his foster son (Montgomery Clift) in this intergenerational battle set against a cattle drive from Texas to Oregon.
O. Henry's Full House
(1952) A witty double-bill. A different kind of brat than Clift disturbs two kidnappers (Oscar Levant and Fred Allen) who purloin the worst kid ever. It's an adaptation of O. Henry's "The Ransom of Red Chief'; one of a five-part omnibus, though Hawks' section was clipped before distribution, turning the full house into a straight.
June 6-7
The Crowd Roars
(1932) Unlike most men who direct films about the world of car racing, Hawks had done a bit of it; this fact, and the half-dozen Indianapolis winners he had working on the film, added some dash to this epic about the rivalry between a pair of racing brothers (James Cagney and Eric Linden).
Red Line 7000
(1965) James Caan is one of a group of competing race-car drivers. Hawks once said that he thought the movie's good race scenes were undone by the three-sided story he tried to compress into one movie. (Shown in 16mm.)
June 8-10
I Was a Male War Bride
(1949) The fact that the lovers are perhaps named after the pair in A Farewell to Arms is funny in itself. Ann Sheridan is a macha stand-in for the kind of Russells she resembles (Jane and Rosalind), yet there are some very juicy bits for people beyond gender-studies majors in this story of military bureaucracy.
The Big Sky
(1952) Kirk Douglas in one of the first completely process-shot-free Westerns since the silent days. He plays a fur-trader bucking heading up the Missouri River.
June 13-14
El Dorado
(1966)
Rio Lobo
(1970) Q: "Is the story of Rio Lobo similar to El Dorado, as El Dorado was similar to Rio Bravo? (At the Chicago Film Festival in 1970).
Hawks: "You've got fellows with guns, and one of them's the sheriff ... you know, there isn't much you can do.' Still, if you've got John Wayne, it's the start of something. In El Dorado, Robert Mitchum plays the drunken sheriff that a pain-wracked Wayne rehabilitates. The shot-in-Mexico Rio Lobo is Hawks' last film.
June 15-17
Gentlemen Prefer Blondes
(1953) A pair of ex-Little Rock adventuresses heading for Paris: the dumb-like-a-fox Lorelei Lee (Marilyn Monroe) and her shrewd but loyal friend, Dorothy Shaw (Jane Russell), who is trying to keep her pal out of trouble. The signature "Diamonds Are a Girl's Best Friend' number—a fantasia of shocking pink and gold—is one of those moments where Monroe really shows what she was about.
Monkey Business
(1952) Is it really the best use of Cary Grant to turn him into a big kid? In this formula-of-youth story, Grant, a research chemist, regresses. So does Ginger Rogers. Marilyn Monroe plays Miss Lois Laurel.
June 20-24
Rio Bravo
(1959) Mercenaries encircle a town, trying to rescue the jailed brother of a big rancher. Holding down the fort is a group of unsteady deputies, one of them one-legged, one of them a barely recovered alkie. "That's all you got?' "That's what I've got,' says Sheriff John T. Chance (John Wayne).
Man's Favorite Sport?
(1964) Rock Hudson stars as an author of books on fishing who has never cast a line, and that's when he meets the PR manager for a fishing lodge (Paula Prentiss).