Features & Columns
Anarchy on the TV
A mix of art, political crusade, low-budget spectacle and sheer weirdness, Joe Demaree's surreal South Bay public-access show leaves heads spinning as it pushes the boundaries of television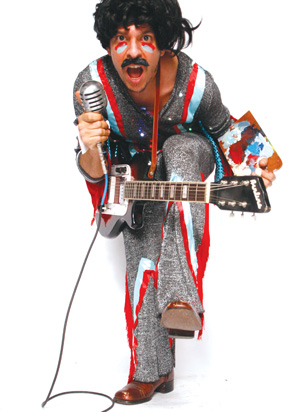 IT'S ABOUT 10 to midnight on a Wednesday, and Joe Demaree looks nervous. He has invited about 30 of his friends to the Old Wagon Saloon in downtown San Jose to watch the debut of his new show, Welcome Back! With Dorris and the Poon on South Bay public-access station CreaTV. His friends are sitting outside on the patio, where he has a projector aimed at the wall. His mom is there as well, dressed as Elvis. The 36-year-old Demaree is too slight in stature to be physically intimidating, but his sheer intensity as he stalks around minding to technical details keeps everyone out of his way. Suddenly, just before the show begins, he makes an announcement.
"We decided to make a television show today," he begins. "Everything went wrong, which has been kind of a problem with this show. Once we start doing something, it just falls apart and we're already thinking about going down to CreaTV tomorrow to petition the stations with banners saying 'Stop Welcome Back From Airing.' We're sick of this. We don't like the way the network is treating us. We don't like the way the venues are treating us. I mean, we have fucking Elvis Presley in the audience. We're not even getting the respect we deserve from the audience; they're silent."A wave of chuckles ripples across the crowd—this has to be a joke, right? And yet, true to his word, Demaree is picketing the CreaTV station the next day with the cast and crew of the show and a couple of local people, carrying signs reading "Welcome Back, Go Home," "Crap On Welcome Back" and "Censor Us, God Damnit." He even makes his own fake news story about the protest and incorporates it into the next show.Welcome Back! With Dorris and the Poon can be broadly classified as a variety show. With a surreal mix of live-action skits, puppets, music videos and more, the show is offbeat, funny and bizarre. Demaree is intensely secretive about it, refusing to divulge his plans for upcoming episodes or let anyone watch the filming. But despite his own protests, Welcome Back! With Dorris and the Poon has found a cult audience and has been running every Wednesday at midnight.
"The show went off like I expected it to," says Todd Flanagan, Demaree's longtime friend and former bandmate in the group the Unit Breed. "Joe does what he wants, no matter the cost. Nothing distracts him. In everything he does, it's not for himself and it's not about the money, if there is any."
Seeing Is Disbelieving
Over the years, San Jose native Demaree's artistic and intellectual curiosity has led him to study surrealism, pour his emotion into painting, teach himself how to play guitar and tour from coast to coast with a band. When he takes on a new art form, he puts his all into it. His foray into television is no different: strange and unpredictable, there's nothing else like it on the airwaves. It's so out there, so full of absurdity and barely describable semi-improvised scenes, it can make the viewer uncomfortable to the point of wanting to change the channel. But one also never knows what could come next, and the fear of missing it keeps the remote in check. "Some of it's funny, and some of it makes you ask, 'What the fuck did I just see?'" says Nicolas Smith, a longtime friend of Demaree's.
Demaree first got the idea for the project when he stumbled upon the public access channel while watching TV with Flanagan.
"I was looking around and happened to catch the Willow Glen channel on CreaTV, channel 15," he says. "I thought it was awesome, strange and exciting, because anyone can make their own show."
When he was much younger, Demaree would make puppets and put on a show for his cousins. He'd make up the voices and write silly stories. But it was his disillusionment with today's materialistic world and a deep-rooted disappointment in the government that gave Demaree his real motivation for the show. He wants nothing less than to change the way people think about art and entertainment.
"Once you figure out how to create a value for something, you are ultimately telling people they need to like this and have this; this is heaven, a little piece of God. That's all we've done as humans," he says. "It's an odd thing for a species that has a great capacity to do so many great things. The ultimate goal is to make that dollar bill."
Anyone, literally, can have their own television show on the public access channel—just call the station, register for an orientation and pay a $50 fee. However, there is a line that can't be crossed. Any lewd behavior cannot be aired without "artistic merit." For Demaree, that's not so much a threat as a challenge.
"This is a way I can take advantage of my government rather than being taken advantage of," he says. "I can do anything I want to in a public format. It goes into all these people's homes and it isn't advertisement or product placement. Some of my stuff isn't even solid story-based; it's artistic and it makes you think. With my show, I'm not saying 'this is the way you should act or this is what you should wear or this is how you should feel.'"
Most TV shows push products; Demaree pushes ideas.
"If I'm pushing something, then maybe I'm saying you need some more art in your life. My focus is on the community, and it feels good to make something art-based and free."He uses his own Panasonic photo camera because it shoots in HD. As for the people working on the show, it's friends and friends of friends. He hires aspiring actors, but also nonactors. In true DIY style, everyone involved makes it up as they go along, no matter how ridiculous it gets. "I have my mom singing Elvis songs," says Demaree. "My mom can't sing. She's never been able to sing; she has the voice of a man. We have these loose scripts. We get out and shoot on a location and sometimes find real people to be on the show. It just propels itself."
What he ultimately wants is to be true to his vision, to create his own little word.
"It's not easy," says Demaree, "and I'm learning new techniques constantly. I'll shoot something different every time and I'm using green screens. We're using crap, but we're doing it fast. It's a great way for me to play with a new medium. The audio part of it is also a pain in the ass; which mics to use and how to mic certain elements. This is a stepping stone to making films, which is what I want to do after this."John Muller, a roommate of Demaree's, helps write and produce the show. Over the past few months, he's gotten to know his partner very well. "I'm mostly behind the scenes, and I want to remain there as long as I possibly can. I'm not much of an actor," admits Muller. "The point is to get people involved. We're not doing this to become stars. We think of funny ideas and both subconsciously think of the perfect person to act the part."
Muller joined Demaree in his crusade to get Welcome Back banned, saying, "I am outraged at CreatTV because they have found no reason to censor the show and they give freedom to everyone."
Simon Nekbeen, an aspiring actor, found Welcome Back through a Craigslist casting call.
"Joe's very creative, with a great vision as a director. He has good guidance and knows exactly what he wants and how to get it. Even though there is a script, there is freedom for improvisation," says Nekbeen. "Eventually, I think he will get discovered."
Autumn Bear, a neighbor of Demaree's, isn't an actress, but thought it would be fun to be a part of the show.
"Joe's a very unique and interesting person. I really enjoy working with him and he's very creative and inspiring, which rubs off on me. As for CreaTV, I think it's great their offering Joe the chance to do something like this in San Jose," Bear says.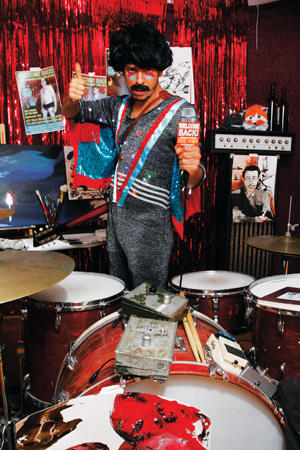 The Artist As a Young Man
Demaree grew up in San Jose during the '80s. While in middle school, his parents were getting a divorce and the timing was perfect for a young kid to start skateboarding and listen to punk music. "My parents were going through a divorce, so we didn't hear much music in the house," he says. "Before that, there was always good, old country in the house. My mom's a huge Elvis fan. There were a couple good Blondie and Beatles albums. But as soon as the '80s hit, I turned off the radio. I can't stand the static and the sound. Then I started getting into punk. A friend made me a mix tape with the Dead Kennedys, the Faction and Minor Threat on it."
He realized it didn't take any experience to play in a punk band, so he stared singing for his first band, Flying Dead Skin, in 1988. For Demaree, it wasn't the musicianship that was important at the time. It was the attitude.
"It was terrible," he says. "It had crazy solos that popped out of nowhere with a standard punk beat. The bass player could barely play and I couldn't sing. It was loud and abrasive, but it was punk as fuck."
An interest in art started to develop at the same time. The world of surrealist painters was calling his name, and he was helpless to resist. But it also made him wonder if he was in over his head, saying that once one begins to explore painting, "you're in for a hell of a long haul."
"The early surrealists were my favorite," he says. "The only thing I didn't like about it is somebody gave it rules. Salvador Dali was the first person who broke away from those rules. There was a manifesto. My favorite painters were the ones who didn't follow the rules. Van Gogh didn't follow the rules and Dali certainly didn't. I'm a big fan of Jackson Pollock. The beauty of those guys is that they were walking the line and bending it."
The idea of breaking the rules has stuck with Demaree his entire life. Anything he was involved in—art, music or a TV show—was about taking what people expect, and smashing it. After high school, he decided to pursue his love of art by moving to San Francisco to attend the Academy of Art in 1992 on a scholarship. Within a semester, he had dropped out and moved back to San Jose. However, he returned to school in 1994, but still resided in San Jose. By 1999, his Cal grants ran out and he left just three classes shy of graduation.
"They were liberal arts classes; basically bonehead classes for an art school. It was a rough time; I was living in Daly City. There were some good times, but it wasn't what I thought about when I moved there," he says. "I was going to school full-time and art school is not easy. I don't even remember sleeping at all while I was there."
Audio Pilot
After about 5 1/2 years, Demaree returned to San Jose. He started singing for the band Ringwurm, a heavy band mixing metal and punk. He eventually bought a guitar and taught himself how to play. In 1996, he formed the Unit Breed, an experimental South Bay band that melded art and music. It showcased projection art during its live performances, while Demaree played guitar and sung.
"Art and music don't feel different to me. It's something I can do and I believe in. Even with the early Flying Dead Skin stuff, I would draw all the cartoony covers for the tapes we would make. There was more of a group effort going on, but in the end I realized I had to do it, or it wouldn't get done. With the Unit Breed, it just took it a little further. We always got an interesting response from people when we played live, because it was genre-breaking. It wasn't punk and it didn't have standard timing. So I'm coming from an art perspective, and trying to recreate some of the things Dali might have done."
By 2005, Demaree got an itch for a change of scenery. With the Unit Breed at its strongest, he left the Bay Area, many of his friends and a bad relationship to find out where life would take him. He had some friends from San Jose who moved up to Portland, Ore., and offered Demaree a room. Flanagan played bass in the Unit Breed at the time.
"It was the first 'real band' I was in—I was really nervous trying out for the band, the fact that the Unit Breed was touring, putting out records and had a legit practice spot. When Joe decided to leave, he wanted me to come with him, to keep the band together. But I had family here, a girlfriend and full-time job. I couldn't just up and leave," Flanagan says.
Flanagan says Demaree is the kind of person who follows his dreams, no matter the cost. If that meant skipping out of San Jose for a while, so be it.
"I just got sick of living in San Jose. I mean, San Jose's an amazing city to grow up and live in. It was the beginning of so many things I love, like art, music, skateboarding," says Demaree. "People want to stop learning things and get comfortable, which is fine. I wish I could do that sometimes, but I can't and I've never been able to. I'm just way too curious."
Portland opened up new opportunities. He kept the Unit Breed going with different members. By this time, there had been a revolving door of over 50 members, with Demaree being the only constant. They had released five albums and toured extensively.
After over 10 years of the Unit Breed and dealing with the dreary Oregon weather, Demaree decided to come back home in 2010. His father had passed away two years before, his mother needed reassurance and his sister was going through a hard time. There was never one reason for him to come back; it just felt right at the time.
Now he has come full circle, and Demaree emphasizes that Welcome Back is a chance for people to see something different from the mundane formulas television usually offers. He wants to evoke emotion.
Consider "Honest Abe," one of the show's comedic skits. Todd Sandigo, a friend of Demaree's and guitarist for local band Doctor Nurse, plays a duo role as two Abraham Lincolns. They face one another and trade off contradictory quotes taken from actual Lincoln speeches. It ends with the announcement:
"In July of 1858 while campaigning in Chicago, northern Illinois, Abraham Lincoln gave the Senate a miraculous speech of freedom and equality. Two months later Honest Abe delivered a brutally powerful speech in Charleston, southern Illinois, contradicting all aspects of his belief in freedom and equality. Please read between the lines! Please keep thinking!"
"I want people to watch the show and think, what did I just see? And why do I want to see it again?" says Demaree. I want people to want to see it again. I don't want people to get it the first time around. If you do, heck, yeah, you're on the level. But, it's not easily read. Some of it is very artistic and stylized and some of it just mocks television. But I want people to get caught up in the story, because the episodes are going to keep building."Welcome Back is another part of Demaree's world, another expression of who he is. It's an outlet through which he is able to show his own unique outlook on life.
"I'm experimenting again with art. It feels like it's really starting to come together," he says. "More and more, it feels like I'm not borrowing from influences, but creating my own style."