Features & Columns
Making The Future
From solar cars to animated sharks and underwater robots, the local tinkerers at the Maker Faire are part of a scientific/ artistic DIY culture that is building the future from the ground up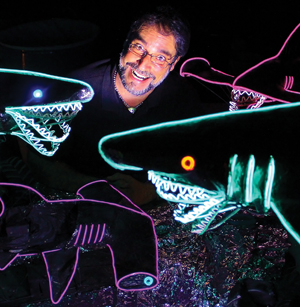 ONCE DESCRIBED as "Burning man without the nudity," the Maker Faire is an extravaganza of invention and self-expression— the largest do-it-yourself fair in the world. From basements, garages and scattered warehouses through Silicon Valley and beyond, local inventors and tinkerers are putting the finishing touches on their projects for this year's fair, which takes place May 21-22 in San Mateo. Fans of San Jose's art and tech happening 01SJ should feel right at home.
The Maker Faire's hands-on giant playground atmosphere provides multigenerational entertainment, but it's also a significant nexus for some of the most creative minds in the Bay Area. The open-source philosophy of the Maker Faire means that all the participants are sharing their designs with the world. There are no copyrights. There are no profits.
As Sherry Huss, general manager and founder of the Maker Faire, puts it, "You can take something from the big pot and work on it, and if you add to it, then you should put it back into the community so other people can work on it. It's not proprietary."
Although our cultural tradition is to buy new things made by private corporations, the emerging open-source DIY movement offers a different model for innovation.
"DIY is so important to the creation of technology. It's unconstrained by bureaucracy, and it's fueled by passion instead of profit," says Eric Stackpole, a mechanical engineer from Cupertino who's bringing his telerobotic submarine to the faire. "When people follow their passion, they try things businesses that rely on market research never would, and the kind of communities passionate people end up networking and collaborating with are all like-minded."
Part playground, part science fair, part workshop, part county fair, the Maker Faire is also famously a catalyst where disparate elements meet and new forms of art and technology are born. "When the knitters start talking to the folks from the Graffiti Research Labs, that's when the magic happens," says Huss, referring to the "yarn bombs," or knitted graffiti, that came out of a Maker Faire in New York, an example of a DIY collaboration that has reverberated worldwide.
We spoke with some Maker Faire participants about three promising projects.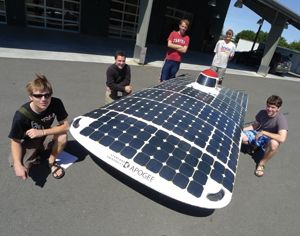 Sun Trip
Stanford's Solar Car Project workshop, located in an engineering department building on the Palo Alto campus, hums with excitement as its latest project, Xenith, nears completion. Xenith will be the 10th solar-powered car built by the Stanford University student-run organization committed to researching environmentally sustainable technology.
A sleeker, thinner version of its last solar-powered car, the Apogee, Xenith resembles a spaceship liable to launch into orbit without warning. It will be on display at the Maker Faire, no doubt surrounded by general-interest gawkers and solar nerds alike.
The 20-person Solar Car Project team has been designing the Xenith model since last year, and the members' enthusiasm stems from their confidence that this one is going to be the best one yet.
"Our goal isn't to finish the race. Our goal is to win," asserts Sam D'Amico. The race he speaks of is the World Solar Challenge—a biennial 2,000-mile-trek across the continent of Australia from the northern city of Darwin to Adelaide in the south.
The race, scheduled for October, isn't so much about speed, since participants must obey speed limits; it's more about efficiency and each vehicle holding its own. Of all of the world's contests involving solar-powered cars, the World Solar Challenge is considered the most prestigious, attracting the most innovative solar cars on the planet.
The three-wheeled car (two in the front, one in the back) is made out of a lightweight carbon fiber, and its slender flanks are tiled with top-of-the-line solar cells donated by the SunPower Corporation of San Jose, one of the Solar Car Project's sponsors.
In total, the panels generate about 1,300 watts (about enough electricity to power a toaster oven) that feed into the electric motor. But the trick to an efficient and powerful solar vehicle is to maximize its energy absorption, says D'Amico.
"Glass typically reflects 4 percent of light," D'Amico explains. Four percent doesn't sound like much, but according to the team, cutting down on that figure is probably what will set their car apart from others. Xenith's solar cells are laminated in an anti-reflective glass that, according to their tests, retains all but 1 percent of the light energy from the sun. Provided by Corning, Inc., it's a thin, dark, optical glass similar to that used on an iPhone or digital camera screen. Peering into it in a brightly lit room is like peering into a black abyss.
The other advantage the Xenith may have is its exceptionally aerodynamic body. Aside from the ever-so-gently protruding bubble where the driver sits, Xenith is a flat disk just 4-1/2 inches thick. It also weighs just 352 pounds.
"The smoothness of the car is absolutely critical—any seams greater than about one 1/100th of an inch will cause an aerodynamic disturbance that will transition the flow from 'laminar' to 'turbulent,' significantly increasing the drag area," says team leader Nathan Hall Snyder.
Rachel Fenichel, a sophomore studying electrical engineering, will be the main driver of Xenith across the sun-baked expanse of Australia.
"I showed up and they said, 'Can you fit in this space?'" recalls a smiling and small-framed Fenichel. She does, indeed, just barely, and it will be an interesting squeeze for anyone taller than about 5-foot-4. The race rules allow the cars to drive between 8am and 5pm, so Fenichel will be switching off every few hours to let D'Amico or another teammate squeeze behind the wheel.
In spite of all their efforts, when asked if they think Xenith has a future on the roads of the world, the Stanford students are quick to say no.
"I think there is a future for solar power, and there is a future for electric cars, but not so much for solar cars. This is a one-person car; there is no cargo capacity," D'Amico admits. And even if there were a way to craft a more "practical" solar-powered vehicle, that's not really the point of all of their research.
"It's not that this is the future of cars. It's that there are a lot of teams competitively working on solar energy, actively researching and testing it, and we're making a lot of progress on it," says Fenichel.
Xenith is Exhibit 23 in the West Lot.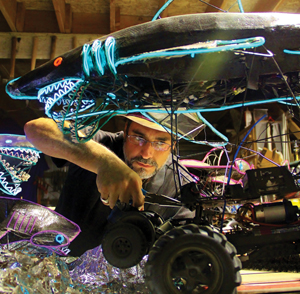 Fancy Fins
Artist and sculptor Todd Williams was in the middle of Nevada's Black Rock Desert when he saw a tumbleweed float by suspended above a remote-controlled truck. It was 1998, his first year at Burning Man, and the hovering bundle—one of thousands of strangely beautiful and absurdly creative works of art he would see that week—planted a seed of inspiration that would come to fruition years later.
"There's just something so elegant and ridiculous about seeing a tumbleweed floating by instead of tumbling around," says Williams.
"I never really thought about putting art on a remote-controlled car before that."
Captivated by another floating object in the desert that week—this one a two-dimensional neon horse "galloping" over the black sand—Williams, who earned a degree in sculpture from San Jose State University, found his fascination with floating art deepening, and he began thinking about other possibilities.
The horse had been fashioned from electroluminescent wire, or "el wire," a new material that was at that time coming out of Israel. Basically copper wire coated in phosphorescent material, it required only a low-voltage charge to glow as if it were red-hot.
Williams began experimenting with el wire projects, returning to Burning Man in subsequent years with various art projects—horses, UFOs and "alien bug things," all strapped to remote-controlled monster trucks, and all received with great enthusiasm by his peers.
It wasn't until the underwater-themed year of Burning Man, though, that a swimming shark began to take form in the shadows of Williams's mind, and six years after he began working with el wire, he crafted his most popular and intriguing piece of work to date: a 4-foot-long neon shark named Sparky.
"There's ju-ju to it. It's more than just a fish. There's the danger side to it," says Williams. "It's one of the more powerful animals on the planet."
In two weeks, Williams, Sparky and three other sharks, complete with glowing eyes and neon flashing jaws, will ply the crowds at the Maker Faire.
Williams crafted Sparky working overtime—over 250 hours to be exact—in a sculpting class.
"The first time I drove it was better than I had dreamed," says Williams, his eyes aglow with the memory. Sparky's skeleton was fashioned with wire, welded into a shark-shaped basket, and then covered with a scaly aluminum screen, papier-mache and paint.
The result, should one catch sight of it in daylight, is a realistic-looking sharkskin. The final touch is outlining the whole shape with el wire, with segmented jaws, gills and tails lit in succession to create the illusion of breathing and biting. Perched on long metal rods above her remote-controlled vehicle, Sparky swims a couple feet off the ground—the perfect height for nibbling at the calves of unsuspecting festivalgoers.
"What started as a toy to play with in the desert for a week turned into a cult favorite," says Williams, who is coming to be known as "the shark guy" and now has four "festival-durable" sharks, two modeled after the average great white-type shark (Sparky and Betty) and two hammerheads (a.k.a. "glamorheads"), Hammie and Stella. Williams had just returned from Coachella, where he had been commissioned to troll the fields with the neon creatures each night of the three-day festival.
"You never know what people will do. I've had people run up and tackle them," says Williams. "Every night there's usually one incident." And since most people have never seen a neon shark swimming toward them in the dark, there are thousands of different reactions to be had.
"It brings so much joy to kids, adults, teens. A few people are scared by it, though. I don't know if it's ancient wiring or spiders and snakes," he says. Williams tells anyone intimidated by the shark that it's a vegetarian. "It works for most kids, but still, there's an element to it that terrifies about 5 percent of the people who see it." Williams has also noticed the psychology of how people behave depending on the sharks' genders. "If I bring two males, people say, 'Fight! Fight!' and when I bring Hammie and Betty, they say 'Kiss!'"
Williams will be bringing all four of his sharks to the Maker Faire this year, while a life-size 12-foot-shark prowls the far reaches of his imagination—one large enough to ride, he says. "It would require finances and a truck with a trailer. I'm just waiting for everything to line up," he says.
Landsharks are Exhibit 415 in the Dark Room of the Fiesta Building. Williams will be running the Sharks for 20 minutes on the hour every hour except noon.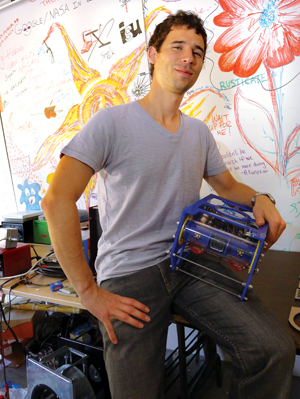 Aquabot
Adventurer Eric Stackpole has been burning the candle at both ends. Designing his second Remotely Operated Vehicle for underwater exploration is "just a work of passion," he tells me—a passion he somehow finds time for while in the middle of writing his senior thesis at the University of Santa Clara's School of Mechanical Engineering.
But dividing his time between school and building robots is only one of Stackpole's talents. He once built a robot named ESTR and controlled her from his dorm room, attending lectures remotely with the webcam-toting robot while an undergraduate at San Jose State University.
"It could access anything a wheelchair could access," says Stackpole. ESTR is one name on impressive little list of robots Stackpole has been tinkering with since high school, and the impetus behind his passion is clear: exploration.
"In the last 10 years alone, some of the greatest exploration that has been done—missions to the deepest parts of Earth's oceans and the highest latitudes of Mars' poles ... and many places in between—has been with telerobots," Stackpole explains.
His latest Remotely Operated Vehicle—we'll call it the second OpenROV for now—was inspired by his desire to delve into the mysterious depths of Hall City Cave.
Hall City is a cave in the mountains of Northern California with a seemingly bottomless water-filled shaft rumored to contain a stash of stolen gold hidden there by Native Americans during the Gold Rush. Although many people have attempted to explore the shaft, no one has ever reached its end.
"Using a home-built Open-ROV submarine, I intend to telerobotically explore the parts of this submerged labyrinth that have neve been seen by human eyes before," Stackpole says, with a verve that Jules Verne would have admired.
But the most notable aspect of Stackpole's new telerobot is that it is an "open-hardware project," meaning that it will be built from "everyday parts," or materials that can be easily obtained at tech and hardware stores (Stackpole often works at the TechShop in Menlo Park, which was started by Jim Newton, a Maker Faire participant and operates like a gym for techies.) The entire blueprint will be open and free to the public.
The open-hardware movement (an offshoot of the open-source software ethos) has huge potential. Design work is transferable, and the cost of development is spread among users and shared within a community of people.
"A lot of times, the most brilliant and capable engineers happen to like open-hardware stuff too," says Stackpole. The one stipulation for the open-hardware project is that it always remain in the public domain—all subsequent modifications and improvements in design are to be shared with the community just as the first design was.
So, a project motivated by an altruistic desire to share the ability to explore the world's mysterious parts, and not by patents, copyrights or profits? It's almost too altruistic to believe. But listening to Stackpole's animated breakdown of his work, it becomes apparent that this is exactly what the OpenROV project is about.
"Imagine what we could do if the average person had access to serious telerobotic exploration equipment and could conduct expeditions to unknown places on his or her own with the same ease as playing a video game. That's what I envision for OpenROV," Stackpole says.
In addition to the sense of adventure, the OpenROV's potential impact on environmental science is hard to ignore. "Most people live by bodies of water, and most people don't have the ability to see what's inside them. This is a way to let people see what's under the water and give that access to everybody," says Stackpole. He explains that when people hear or read about the endangered state of our oceans, it's easy to remain unaffected—especially if you live inland—but when people can actually see the underwater world and the creatures that are being endangered, it becomes more than just a distant idea—it confirms a reality.
When asked about his source of motivation, he recalls meeting the American aerospace engineer, Burt Rutan—designer of the first privately funded spacecraft—who told him: "Take your concepts and build them and fly them."
"I think what he meant is, don't just think about it and talk about it. Try it out. Why not just do it? I took that to heart. I've tried to make it so that anytime I'm interested in something, to just try to build it. You can do more than you think," says Stackpole.
OpenROV debuts at Exhibit 38 in the Expo Building, and is aiming to impress. Get updates at openROV.com.