Features & Columns
Silicon Valley Startups Develop Plant-Based Meat and Dairy Staples
Startups race for edge on vegan market, as future of plant-based food in flux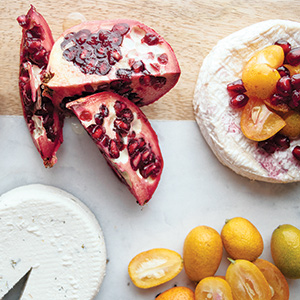 A little more than decade ago, Pat Brown made the switch from vegetarian to vegan. He had no problem changing his diet and giving up eggs and milk and other products derived from animals. But there was one thing he couldn't live without: cheese.
Most vegan cheeses are made from oils or ground up nuts, but Brown wanted something authentic. A microbiologist who has taught at Stanford for 25 years, he was well aware of the relatively simple biochemical reactions required to produce cheese. Perhaps, he thought, the same process could be replicated using almond milk. He went back to his lab, determined to become the first person to make cheese curd from almond milk. And he succeeded.
But to get his cheese to taste good, like the ones he yearned for after tightening up his diet, he teamed up with celebrity vegan chef Tal Ronnen and Monte Casino, an artisan cheese maker at Le Cordon Bleu in Boston. In 2011, Kite Hill, a company that produces plant-based dairy products, was born.
"We make cheese the way normal cheese is made," says Matthew Sade, CEO of Kite Hill, which is based in Hayward. "We make our own [almond] milk, then we take enzymes and cultures that cause the milk to form a curd—and that's the way cheese is made. We are the antithesis of what people think of with food created in a laboratory."
The company now creates a variety of plant-based dairy products, including soft ripened cheese, ricotta cheese, cream cheese and mushroom ricotta ravioli.
Kite Hill's faux cheese is part of an industry shift in Silicon Valley to develop plant-based alternatives to meat and dairy staples. Unlike meat substitutes of the past, such as tofu and tempeh, these products aim to look, feel and—most importantly—taste just like the real thing, so that even carnivores can't tell the difference.
In addition to Kite Hill, Silicon Valley investors have thrown their money behind Beyond Meat, a Los Angeles company that sells plant-based burgers, chicken strips and meatballs; San Francisco's Hampton Creek, which makes vegan eggs, mayonnaise and cookie dough; Redwood City's Impossible Foods, which has created a meatless burger that "bleeds" on the grill; and San Francisco's Clara Foods, which is developing chicken-less egg whites. And Peter Thiel's foundation, Breakout Labs, is funding the Brooklyn-based company Modern Meadow, which is working to develop 3D printed meat.
It's important to mimic the foods people already love as a way to "lower the barriers to adoption," Kite Hill's Sade says. "There's a basic belief that if you give people something that is familiar to them—looks like cheese, smells like cheese and hopefully tastes like cheese—that even if you tell them that this didn't come from an animal, it came from plants, they'll still be able to accept the premise."
Richard McCarthy, executive director of Slow Food USA, has seen the market for meat and dairy substitutes evolve in the 35 years he's been vegetarian. "The quest to stay clear of animal products has opened up a whole new subset of the market," he says. "There are now whole other flavors and tastes that look like something you're familiar with, it's just something different."
The average American eats approximately 275 pounds of meat, 600 pounds of dairy and 250 eggs per year, according to the U.S. Department of Agriculture, but consumption of animal products has been in decline over the past decade. Researchers have cited the growing popularity of plant-based diets as well as rising concerns over the ethical, health and environmental implications of eating meat.
Livestock production is one major contributor to climate change, according to the Food and Agriculture Organization of the United Nations, accounting for nearly one-fifth of greenhouse gas emissions—that's more than cars, airplanes and all other forms of transportation combined.
"We don't contaminate the water, we don't contaminate the air, we don't occupy a third of the landmass on earth to produce animal products that are harmful to your health," Sade says. "That's pretty compelling in my book."
Another motivation for many to go vegan has been food safety. Clara Foods CEO Arturo Elizondo says one of the inspirations behind his company's decision to develop a chicken-less egg white was the recent avian flu outbreak, which "exacerbated the pricing problem and raised serious concerns around food safety."
Food activists such as Michael Pollan, Mark Bittman, Alice Waters and the group Slow Food have advocated for traditional, low-tech ways to solve some of these problems. And while there are many efforts for people to grow their own garden, eat more plants, buy locally and cook more, many new companies are taking a different approach by instead turning to high technology.
Real Vegan Cheese, which, like Kite Hill, grew out of an Oakland lab, does not replicate the process of making cheese with plant-based ingredients. Rather, the company uses genetic engineering to recreate the exact proteins of cow's milk cheese—but from yeast. Clara Foods, based in San Francisco, is using a similar process to create its egg whites.
These plant-based foods may provide some benefits to health, the environment and animal welfare, but food experts are skeptical that technology and consumer products alone are the solution to the country's broken food system.
"In their rush to replace existing proteins, do they also rush to replicate the same level of processed foods that we should also be coming down on?" says McCarthy of Slow Food, noting items such as Beyond Meat's Beast Burger, which contains more than 30 ingredients, many of which are chemicals. "Social change through shopping is okay up to a certain point, but there are limitations."
Marc Julle, co-founder of Real Vegan Cheese, also recognizes that there's a risk in only looking to technology. "Relying too much on this high technology in order to make your basic food products could be a terrible idea," he says, adding that it centralizes control over what gets eaten and who has access to it.
Ann Thrupp, executive director of the UC Berkeley Food Institute, worries that many meat substitutes are just "a fad for the elite consumers."
"If you're really trying to make something that's accessible, that could be a potential substitute, it can't cost $10 a pound," she says. Four ounces of Kite Hill's soft fresh original cheese, for instance, costs $9.99 at Whole Foods. "Part of the broken food system is a matter of lack of access to healthy foods for all sectors of society, including low-income," Thrupp says. "So often people jump onto new food fads, whether it be pomegranate or acai, chia seeds, flax seeds or all kinds of things that are blown out of proportion that are going to save the world."
But Sade doesn't expect the plant-based foods trend to fade anytime soon, noting that there are "tectonic shifts" currently taking place in the way people view and consume food. He believes products like Kite Hill's will eventually replace animal-based dairy entirely.
"The only question is: At what point will plant-based foods become the primary source of protein in people's diets? I think that's going to happen—the question is when."