Features & Columns
Setting the Scene
With a rush of local bands making a big noise from small clubs to festivals like Left Coast Live, has the South Bay music scene finally reached critical mass?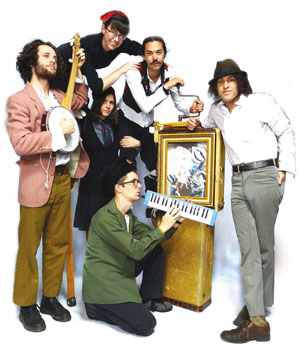 LESLIE HAMPTON can recall the moment that she realized the South Bay music scene was starting to blow up.
"I remember going to a show at the Blank Club where Worker Bee, Ugly Winner and Doctor Nurse were playing," she recalls. "I was like, 'This is amazing. There's more of a scene than I had any idea was happening.' I felt like there's this incredible music that's happening in San Jose, and there's not enough people who know about it."
In the two years since, the Los Gatos designer has done everything she can to change that by starting her own label, Side With Us Records. She now puts out releases from some of the most interesting bands that have come up in this newest explosion of talent in the South Bay: The Record Winter, Corpus Callosum, the Albert Square, Dirty Pillows, Ugly Winner, Worker Bee and more. And she's seen the scene grow even bigger since she started Side With Us in 2009.
"It's definitely built up more. There's a lot more underground stuff happening. It's house shows and more stuff spreading out a little," she says. If underground gigs at spots like Gingerbread House, Texas Toast House and House of the Dead Rat have become proving grounds that lead to shows at bars and clubs like the Blank, Johnny V's, Caravan, Avalon and X Bar, they've fostered a scene deeper and more diverse than anyone around here can remember in well over a decade, back when venues like the Cactus Club and the Usual encouraged a similarly remarkable music community.
Possibly, the South Bay scene can shed its reputation as a third tier musical incubator, producing only two commercial breakout bands—the Doobie Brothers and Smash Mouth—in the past four decades. More immediately, the scene has recovered from its dark ages in the mid-2000s, when anything that wasn't straight-up punk or metal (the meat and potatoes of any big-city rock scene) or, interestingly, roots-rock had a hard time finding a foothold.
Some of the more offbeat bands that formed in that time have found a following now, and new groups are crossing genres with abandon. Whether in rock, roots, punk, hip-hop, soul or electronic, unique and sometimes downright strange musical visions have taken hold. Many longtime scene watchers credit this "new eclectic" movement in the last couple of years to the rise of South Bay bands like Campbell's electro duo the Limousines and the eccentric Mumlers.
"The Mumlers definitely broke down some walls and made it more acceptable to do something weird," says promoter Eric Fanali. "For every Mumlers that make it, for every Limousines that make it, there's at least half a dozen bands from the South Bay of that type that start popping up and playing more regularly."
Jeff Evans, drummer for Dirty Pillows, DJ and owner of the Campbell vinyl shop On the Corner Music, agrees there's been an explosion of talent and diversity in the scene since.
"The more offbeat bands coming up, that's the thing now," Evans says. "Anything goes. And it's not like 'those guys are playing this weird stuff.' Now it's applauded, if it's good, if it's something people can latch onto. People can do more types of music than ever before."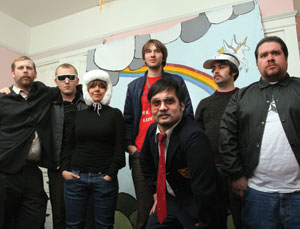 Breakout Bands
Indeed, there's been a trickle-down effect from a highly visible block of breakout South Bay acts. Besides the Mumlers, who've been garnering national attention since their debut album in 2007, and the Limousines, who got their first radio play with their "Very Busy People" single in 2009, there's longtime Los Gatos rockers dredg. The band played Coachella in 2008 and ironically put out its highest-charting album after leaving a major label a year later.
There's also DJ and producer crew the Bangerz, who turned their success on national TV into a collaboration with dance crew the Jabbawockeez on a Vegas show, and will perform at New Orleans' huge VooDoo Experience festival at the end of this month.
"The fact that I can name 10 acts from San Jose that are doing quite well, and that have their own sound but also are kind of within a certain genre, I couldn't have done that three or four or five years ago," says Chris Esparza, co-founder of Left Coast Live, the downtown San Jose festival that will, on Oct. 8, showcase several of the bands central to the scene's comeback.
For the festival's third year, LCL organizers wisely chose one of those recent South Bay success stories, the Limousines, to headline. Esparza believes that the group's success has had a major impact on the rest of the scene.
"I think it gets a lot of people excited," he says. "It inspires a whole generation of people looking at their peers and friends onstage. You know—'With a little dedication and practice I could be up there.'"
After playing the Outside Lands festival in San Francisco over the summer, the Limos are finishing up a video for their song "The Future," before going on tour with Swedish indie sensation the Sounds.
Limousines vocalist and lyricist Eric Victorino admits that since they've gotten songs on the radio and have been playing bigger festivals, he's noticed a lot more interest in electro-pop in the South Bay and larger Bay Area scenes. That's a bit ironic, since some in the rock scene initially turned up their nose at Victorino's foray into the genre after his many years with the rock band Strata.
"I've seen it on Twitter where there's a two-man electronic band, and in their bio it'll say, 'Electro-pop duo from the Bay Area, how original.' I don't know if we have anything to do with that, if it's a good thing or a bad thing," he muses. "I don't want to say we inspired it, but when we first started out I remember saying you don't need four dudes with guitars to start a band; there's no rules, do whatever you want. Three years later, there's a lot of that going on."
Fanali says he's seen the Limousines' influence in the local scene already: "There's three or four other electronic bands in San Jose alone that might have been around for a while before, but have only just now started emerging on my radar." Once they see the Limousines are doing well, then all these other bands pop up and start knocking on my door, like, hey, can we do a show? It's like, wow, you guys have your own electro thing going. The Young Digerati, SlapBracelet, Seabright—people making their own music with just laptops and stuff."
"It might not be influence like 'We're so awesome, they want to be like us,'" says Victorino. "It might be like if you went to the circus and you saw someone do something, and the whole crowd clapped and it was great, and then you realize 'Wait a minute; I could do that. I just gotta figure out how to not burn my face when I'm blowing fire.'"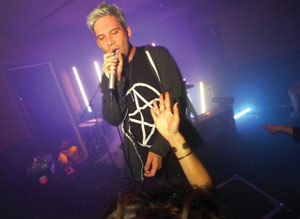 DIY Valley
The influx of new talent bubbling up from the underground has led to more (and more varied) bands looking for places to play. But at the same time, the number of mainstream live-music venues has shrunk.
Frustrated by the shortfall, several local musicians simply began booking shows themselves, inadvertently spawning a new set of subscenes that have been instrumental in growing the scene. "There's a lot more people who have a real do-it-yourself attitude. Not just do it yourself, but do it yourself successfully," says Ben Henderson of Good Hustle. "People have gotten a little bit smarter, and they've gotten craftier about throwing shows in backyards, warehouses, art galleries and clothing stores."
Henderson has booked many of his own shows for several years now, both for his band and for his solo performances.
"Whenever anybody pops up with a new venue, I check it out. If it doesn't feel like the right fit for me, I'll try to get my friends' bands in. I'm definitely a fan of a lot of things happening here, and I try to help other folks out when I can," he says.
Henderson often works within an emerging local subscene that connects the music underground with art culture. There have been shows at WORKS/San Jose, MACLA and other galleries; the tech-oriented 01SJ festival and its offshoots; skate-art events like Ray Stevens II's Art 'N' Soul series; and a thriving First Fridays scene.
But the center of this boho art underground has been Brian Eder and Cherri Lakey of Anno Domini Gallery, who organize the SubZero festival every year. They also work with bands like Corpus Callosum, who stage their bimonthly "Uncanny Valley of the Heart's Delight" events at Anno Domini.
"Things kind of dried up for a few years, so we started playing our own shows," says the group's Dax Tran-Caffee. "It's been so good, because we can finally curate our own style of stuff."
The collaboration between Anno Domini and Corpus Callosum has been a fruitful one. The band brings their flair for the theatrical and bizarre to Eder and Lakey's events—two years ago, they invaded SubZero with giant puppets—and the gallery owners don't mind if the band occasionally knocks a piece of art off the wall. The band finally has a home in the South Bay, after years of playing everything from muffler shops to museums.
"Our whole history in San Jose has been playing these alternative places," says Tran-Caffee.
"Corpus Collosum, with Dax and his puppets, and that moving book he made, it's amazing," says Hampton, who put out one of their EPs on Side With Us. "It's natural for [Anno Domini Gallery] to want to use them in their festivals, because they really are bringing art and music together. But they want to have other people involved, too. San Francesca got involved recently. Ghost and the City, which is Ash, who was in A Burning Water, lives in Oakland, but recently he's been doing more stuff down here."
The increase in shows outside of the traditional bars and clubs circuit includes everything from all-ages shows at Streetlight Records ("We're like a bigger house show," says booker Paige Brodsky) to Caff– Frascati to Good Karma's Thursday shows. Matt Gonzales of Blank Manuscript often puts together shows with his band, including several benefits. Rich Gutierrez from Sourpatch (who's long booked underground shows) put together the three-day, completely DIY Think and Die Thinking Festival at the Billy de Frank Center and Streetlight in August. Gutierrez has also been involved with bringing acts like K Records legend Calvin Johnson to the San Jose vintage store Black and Brown. Andrew Kutsenda of 5606 books multiple shows every week through his PinUp Productions, at spots like the Refuge in Cupertino and Nickel City in San Jose. And there are many more.
Evans from Dirty Pillows points out that often this innovation is born from a lack of traditional venues to play. He's frustrated that the club scene hasn't grown with the talent pool, and it's true that for every place like Pagoda Lounge or Myth trying something new, there seems to be a loss like VooDoo Lounge. He wonders what the live-music scene would do if it lost a spot like Blank Club or Johnny V's.
"The thing I love about Johnny [van Wyk, Johnny V's owner] is you could say 'Hey, I've got this Mexican techno polka band,' and he'd say 'sure, whatever'," quips Evans.
But he does see an upside. "If bands are finding these weird places to play, there will be more energy, because people get excited about going to odd spots like that," he says. "It takes the new generation of bands to keep it going."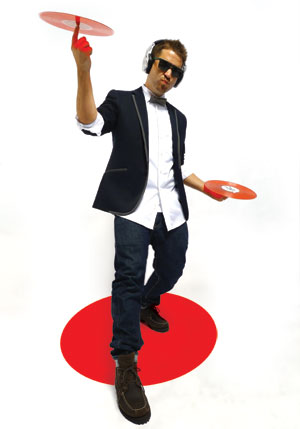 Left Turn
Esparza hopes to tap into that excitement with the lineup at Left Coast Live, which features local up-and-comers like Henderson, roots-rockers Hurricane Roses, hip-hop and electronic chanteuse Anya Kvitka, '80s-influenced alt-rockers the Trims, ambient project Seabright and more.
"We're starting to see people embrace live music and find their own way to present it," Esparza says. "We're still emerging, and not all of it is going to be perfect or right. But I love seeing a show at the Caravan and then walking over to the Blank, and then walking over to the De Anza Hotel and then ending my night late at Pagoda. That shouldn't happen only once a month, when the moon aligns. We're getting there."
Part of the mission of Left Coast Live, Esparza says, is to get the scene there faster.
"We want people just to have a great time, but there's also a sense of growing the ecosystem of music. It's a big goal of Left Coast Live, but we don't say it all that much," he admits. "San Jose Jazz, the Symphony, what the Blank Club is doing, and the way a lot of the festivals are featuring some of the best local stuff around. There's a sense that ecosystem has really grown in the last couple of years."
For the Limousines, the show is a bit of a homecoming after their recent successes. They had been looking for something a little bit different to come along, though they didn't expect to be headlining.
"The two biggest factors for us were that it's all-ages and the size of the PA," says Victorino. "We like to be loud, and there hasn't really been anywhere in San Jose where you can just take a big stage and do something fun with it."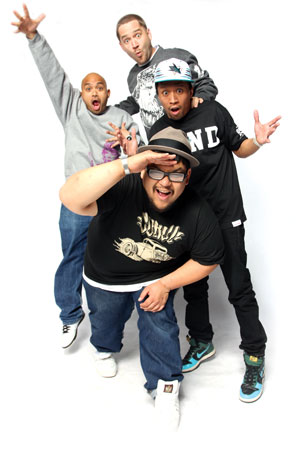 Bangerz Ball
Also appearing at Left Coast Live this year are Paolo Bello (DJ Cutso) and Dominic Cueto (Goldenchyld), both members of the acclaimed DJ/producer crew the Bangerz. Before they travel with the group to perform in New Orleans in front of thousands of people at the VooDoo Experience festival, they'll individually spin at one of LCL's coolest events, the Silent Disco, where dancers listen to the DJ's output on wireless headphones.
For Cueto, whose skills won him the Red Bull Thre3style competition in San Francisco this year, it's a rare opportunity for a DJ. "It's one of those situations where you have 100 percent of their attention. You have the ability to do a lot more," he says.
As his group has found success on a national level, Cueto has watched the local hip-hop scene take off in the last couple of years, with some of his favorite rising stars being Rey Resurreccion and the MCs on San Jose label Isolated Wax, which is home to Opski Chan, Megabusive, Dave Dub and more.
"There's a bunch of groups that are starting to take it a lot more seriously as of late," says Cueto. "They're all making moves, and they're starting to deliver a high-quality sound. I'm seeing a new wave of cats who pay attention to the standard of what's out there."
He's also happy to see some competition in the scene, the kind that drives the obsessive attention to detail in his own group.
"I think you're seeing a little bit of that among the younger rap groups, too. With each release, they're trying to step it up and make everyone else step it up. It's healthy for the scene. You want that," he says.
Brandon Slater, a promoter and DJ for The Workout, the South Bay electronic music event that celebrates its third anniversary this week, says the electronic scene is experiencing a similar boom locally.
"There's a lot of artists coming up, even just in San Jose," he says. "There's a handful of producers that are also DJs who are doing a lot of good stuff on the producing side. Justin Weisberg, he's doing a lot of stuff. Even Johnatron [one of the regular DJs at Agenda's monthly the Workout] has released a couple singles on some record labels. He's come out with another one on Disco Texas, which is a pretty big label."
Slater has seen how the attitude toward San Jose has changed within the larger electronic community as he's approached agencies and artists about guesting at the Workout.
"At first when I said the Bay Area, and it wasn't San Francisco, they wouldn't talk to me. They didn't know anything about San Jose. They didn't know where it was," he remembers. "Last year, for our anniversary, we had Le Castle Vania. That was our first really big one, and ever since then agencies are contacting me saying, 'Do you have a date open?' They're realizing there's a scene in San Jose."
Orange Sauce Scene
Throughout this revival of the scene, the best place in the South Bay to hear new music of all genres has been the Blank Club's free Wednesday shows, booked by Grand Fanali Productions. In more than a decade of promoting shows locally, Fanali had stuck to all-ages shows until the Blank's Corey O'Brien made him an offer he couldn't refuse: a space for free on Wednesdays to showcase new bands.
"I was like, 'I like that idea. Let's do that,'" says Fanali. "There's no Cactus Club anymore, that's where you used to go see new bands. So this was a great opportunity."
Since those Wednesday nights started, Fanali has booked many of the acts that have gone on to be the top bands in the local scene. He says there's one real secret to booking the best new music in the South Bay: orange sauce.
Sometimes you have an idea to put bands together because of their sound, sometimes because of the fans," he explains. "But really, in San Jose, sometimes you just go into La Vic [La Victoria Taqueria] and find who's in there at 1 o'clock in the morning and put together a bill of bands that are just hanging out at La Vic. I think that's one of the best things about San Jose. Everyone's getting a burrito late at night, and they just happen to be in a band. That might be their connecting factor—everyone's getting some orange sauce."
As her label's roster continues to grow, Hampton sees continued growth for the scene, as well.
"The number of good bands that are here, like Ugly Winner, Family Room, Worker Bee, Hard Girls, Albert Square, San Francesca and these other bands—that's a lot to build on. And it's not just that they're good musicians, they're all good people too," she says.
"I think people are coming around to the idea that it doesn't matter what genre you're going out to see, just go with a smile on your face and have fun," says Victorino. "Of course the music matters, but it's not high school. You can hang out with whatever clique you want."
"For me, in the last two or three years," says Henderson, "it feels like a changing of the guard."