Features & Columns
San Jose Redevelopment
San Jose spent more than a billion dollars to build a downtown that looks better but whose economic vitality didn't survive the subsidies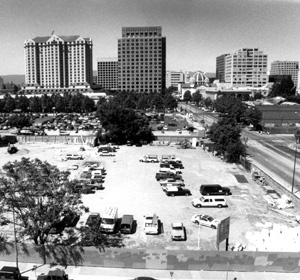 When redevelopment got going in the 1980s, downtown San Jose wasn't much of a destination; it was seedy and run-down, the casualty of several decades of suburbanization, bad planning and neglect.
A few sparks of life existed in the small retail community, holdouts from the valley's orchard heyday, along with some more recent additions with an eclectic bent. Rather than evolve, the motley collection of small bookstores, florists, thrift stores, clothing boutiques, stationers, bars and record retailers withered as rents rose, as buildings were brought up to earthquake safety and fire codes, as construction disrupted and as on-street parking spots decreased.
Today, if you walk South First Street from 280 to Santa Clara Street, the only sign you'll see from the pre-redevelopment days is Original Joe's. Just about all of the businesses on the same blocks of South Second Street were wiped out as well. Once-scrappy SoFA is, today, a quiet, gentrified district dominated by architecture and design offices and nonprofit arts groups. While trendy, small, owner-operated restaurants sprout up in Willow Glen, the downtown restaurant mix leans toward seafood and steak chains and Italian restaurants for executives on expense accounts. The lively club scene has faded. Music in the Park is gone.
Silicon Valley's social-media boom seems to have stopped north of San Jose, and downtown commercial space goes on begging. The San Jose Downtown Association, once the voice of downtown retailers, has not a single one on its 30-member board. Even the new City Hall, touted as a huge economic catalyst, has failed to bring economic vitality to its immediate surroundings, and its own retail spaces sit empty.
Some hopeful signs remain in the popularity of the new San Pedro Square Market, the strong high-rise rental housing market, well-attended traditions such as the SJDA-sponsored Farmer's Market and initiatives funded by property owners to clean and beautify the streetscape. And while it was wasteful and inefficient, without redevelopment's tax-increment funding, San Jose would be a city without a hockey team, an arena, a convention center, well regarded arts and technology museums, improved performing arts spaces, San Pedro Square Market or the Fairmont Hotel.
In the article that follows (based on his Aug. 29 speech to San Jose Rotary Club), Silicon Valley author Michael S. Malone asks whether San Jose got its money's worth for the billion dollar-plus public investment in downtown. His controversial outsider's perspective, like the one we published in 2003, poses a blunt challenge to downtown's leadership to rise to the occasion.