Features & Columns
Bridge to Nowhere
Sarah Palin comes to San Jose and insults Michelle Obama as well as the memory of Pat Tillman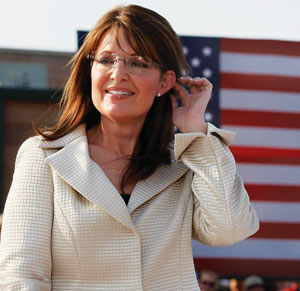 Sarah Palin brought her political road show to Silicon Valley last Thursday, replete with ramped-up rhetoric and flying elbows directed at her favorite liberal targets—"the lame-stream media," union "thugs," the "Democrat" Party, "Obamacare" and, of course, President Barack Obama himself, with whom she has been thoroughly obsessed ever since her failed vice-presidential bid in the 2008 election.
She even managed to take a cheap shot at Michelle Obama and to insult the memory of San Jose's Pat Tillman, the local football hero and NFL star who was killed by friendly fire in Afghanistan six years ago.
Perhaps most ironic of all, the woman who many consider the "most electrifying force in the Republican Party" and who is now the betting favorite in Vegas to win the party's 2012 presidential nomination, didn't mention a single GOP candidate in a rambling 40-minute speech before an adoring, albeit less-than capacity audience at the San Jose Center for Performing Arts.
This was one of Palin's first forays into traditionally "blue" territory in California—her previous appearances in California have taken place in "red" pockets of conservativism throughout the Central Valley and Southern Cal—and as I pulled up to the center, I was expecting to see some sort of counter-protest outside. There was none. The last time I attended a Palin event (in Redding this past February), there was a substantial protest and very long lines, as everyone was given a good frisking for concealed weapons and recording devices before being allowed inside.
Not so in San Jose. Instead, it was eerily calm and quiet, albeit with a fleet of TV news trucks perched on the periphery, as ticket holders quickly skirted through the foyer to escape the 90-plus degree heat beating down on the sidewalk. Security was so lax, I could have snuck in a flask, which is precisely what I needed given the staged, near-cultish exhibition of faux patriotism I was about to encounter inside.
The crowd was much more diverse (in respect to both age and ethnicity) and much mellower than I anticipated. This was not country-club America by any means—more like theDispirited petite bourgeoisie, many of them small business owners sick of a government bureaucracy they perceive to be taxing and regulating them at every turn.
Nor was it intensely angry, right-wing America blistering hatred with each breath. They were polite and reserved and waiting to worship the canned utterances by the Queen of the Tea Party, whom they clearly adored. My seat was situated between a very nice woman from Redwood City who owned a floral shop (and was the mother of grown children) and a retired mechanic from Fremont in his late 60s, clearly concerned that the social security system was on the verge of bankruptcy. (I didn't have the heart to tell him that Palin's candidate for the U.S. Senate in Alaska, Joe Miller, views Social Security as unconstitutional). She found Palin "pretty, bright, and quick on her feet," while he viewed her as "tough and fearless." Both, I should note, are supporting her for president in 2012.
Belly of the Beast
Having been at work on a critical biography of Palin for the better part of two years, I was a tad nervous heading into the belly of the beast and not sure what to expect. In Anchorage last summer I had an unpleasant encounter with a bevy of Palin supporters wearing side-arms in holsters.
Both of my seatmates, however, were nice people, friendly, and, apparently, unarmed. Both were overtly fearful of what they view as the impending collapse of the American economy and the imposition of "European socialism" (they both used the term) in the United States. Both admitted to watching a lot of Fox News. She was a fan of Beck; he of Hannity. And they both thoroughly detested Obama.
A lot of people have taken of the Fox Kool-Aid. There was the requisite Pledge of Allegiance to a massive American flag that stretched from top-to-bottom of the stage, then a rendition of "God Bless America" and then later yet, "The Star-Spangled Banner," performed admirably by a quintet of young sisters calling themselves Celestial City.
The opening act was performed by KSFO talk-show host Brian Sussman (the former weatherman at Channel 11 in San Jose), who received a rousing, standing ovation as he walked onto the stage. My guess is that about 2,000 people showed up in the 2,600-seat arena (apparently 1,400 paid $25 to $199 a pop) and a significant portion of them were devoted followers of Sussman, who promoted the event repeatedly throughout the past week on his show—and still couldn't pack the house. He was irreverently glib and took plenty of predictable potshots at Nancy Pelosi, Jerry Brown (and the "W-word"), Barbara Boxer and Barack Hussein Obama, emphasis on the "H."
Many of Palin's previous engagements this past year have been staged by right-wing front organizations that seem to exist for no other purpose than promoting Sarah Palin. The gig in San Jose was no exception. It was produced by the so-called Liberty & Freedom Foundation, headed up by a former figure skater and graduate of nearby Hillsdale High, Victor Cocchia.
The foundation's uncompleted website lists an address in Washington, D.C., as home base, but its paperwork submitted to the Federal Election Commission records its headquarters as located in Midland, Texas—home, of course, to George W. Bush and a score of rightwing oil tycoons hell-bent on getting Obama out of the White House.
The most recent FEC filing by the foundation lists not a single penny going through its coffers, though it produced a big-time Palin event in Midland, in March, and had another one canceled in Miami earlier this month. Something doesn't quite add up.
Indeed, Cocchia, donning a sun-bleached Prince Valiant haircut, made himself the center of attention in San Jose with a long-winded introductory speech following Sussman (rumor had it that he was covering for Palin, who arrived late) and then he served as Palin's foil in a canned question-and-answer session that sounded like a bad cable-television infomercial.
Star of the Show
But the star of the show was clearly Palin, clad in high-heeled sandals, a snug black skirt, and a purple suit jacket with the requisite American flag pin on her lapel. After watching far too much footage of Palin these past two years (yes, I do need a life), one never knows which Sarah Palin will show-up: the angry, vicious Palin (who delivered a demagogic speech just last week in San Diego); the giddy, nearly vacuous Palin (who recently appeared in an interview on Newsmax), the stunned, cross-eyed Palin (of Katie Couric fame), or "America's sweetheart," as the Washington Post's Chris Cillizza generously dubbed her (following her speech at the Republican National Convention in Minneapolis).
She came with the A-game version of the latter in San Jose, and the audience lapped it up. Palin made sure to garner headlines with remarks about Pelosi, Brown and Boxer, saying that they "act like they're permanent residents of some unicorn ranch in Fantasy Land"—although the only one seeing unicorns these says would seem to be Palin—who admits to having inhaled marijuana in her youth, but apparently forgot to exhale.
In her peculiar way of reaching out to the Bay Area crowd, she joked about there being a Mama Grizzly on the state flag and made several references to the San Francisco Giants and their National League West title (and if that jinxes them in the playoffs, I'm seriously going to hold that against her).
She also paid due homage to the patron saint of the modern-day conservative movement, Ronald Reagan, the Republican president (and former governor of California) whose administration expanded government spending and increased the national deficit by 300 percent. Such details have never mattered to Sister Sarah and her minions.
But perhaps the most galling remarks Palin made were about the late Pat Tillman, the Leland High football star who gave up the glories of the gridiron to serve in the Army Rangers in the Middle East, and whose tragic death in Afghanistan was shamefully covered up by American military officials and the Bush Administration.
After several tours of duty he had become critical of the Bush Administration and opposed the war in Iraq, where he also served. Palin used Tillman as a billboard for American militarism, and in so doing, not only shamed his legacy but insulted those members of his family who have honored his feelings about the war in the aftermath of his death. She knows no shame.
Palin then executed an insensitive segue by mocking remarks made by Michelle Obama during the 2008 campaign: "You know, when I hear people say, or had said during the campaign that they've never been proud of America," Palin spat out in her whiny shill and with a self-satisfied grin spreading across her face. "Haven't they met anybody in uniform yet? I get tears in my eyes when I see that young man, that young woman, walking through the airport in uniform ... you too ... so proud to be American."
The crowd roared its approval, because Palin showed her willingness to stick the stiletto not only into the President, but into the First Lady as well. That is part of Palin's appeal—her willingness to go after the jugular. She's a figure straight out of professional wrestling, and she loves playing the part of the villain. The nice lady and gentleman on both sides of me cheered her on.
Many of my pals in Alaska refer to Palin as the "Grifter Governor"—and she was clearly on the make in San Jose. Palin reportedly takes in $75,000 a pop for West Coast appearances and whatever other gratuities she can scrape up along the way.
After the talk she headed off to the Marriott, where big-ticket supporters of Palin had the chance to take pictures with her and, then, at an ever stiffer price, a meal. Palin trades on her celebrity at every turn—in her Fox News contract, her million-dollar book deals, her upcoming television series, and soon, even in her bid for the presidency.
As Bill Clinton recently noted, we are apparently entering into a "fact-free" period in American politics, "where the experience in government is a negative." Palin's only commodity is her celebrity—nothing more, and certainly nothing less. She's parlayed it into an international brand that is lasting well beyond the 15 minutes most of us imagined her to possess.
Mock her all you want, but if her performance in San Jose is any indication, she's getting her shtick down and has tapped into a troubling American zeitgeist. As a wise man once said, buyer beware. Sarah Palin is still peddling a bridge to nowhere.