Features & Columns
Staying Local
Holiday's about home. Why not spend it here?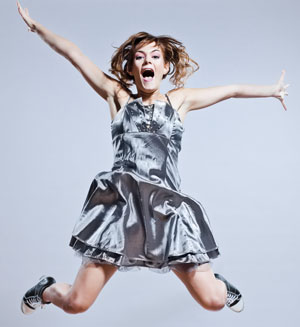 BY NOW it should be clear that even a committee optimistically (or perhaps ironically) named "super" can't help us out of our economic predicament. So, it is time for us to start from the ground up and provide a little bit of stimulus spending right here in our own communities—keeping dollars circulating among our neighbors and friends who run small businesses and cottage industries.
In that spirit, Giftomania notes with approval the designation of this Nov. 26 as Small Business Saturday, a nationwide campaign seconded by the mayor and City Council of San Jose. On that day, shoppers are encouraged to spend their money where it will do the most good—right here—to create jobs and sustain local government services dependent upon the sales tax.
To that end, our staff of shoppers and trend spotters has chosen an eclectic sampling of good gifts that are made and/or sold in Silicon Valley (with a few nods to our near neighbors to the north and south). The suggestions range in price, and encompass good things to eat and drink, cool gadgets for technology aficionados, new books by local authors and valley-designed clothes and art.
This year's gift guide also includes our annual round-up of holiday events (with even more selections being added daily to our websites SanJose.com and Metroactive.com) and a rundown of worthwhile volunteer possibilities, as well as a nod to the 1 percent who loom so large in our lives—after all, they too want to feel needed and loved during the season of giving.
Local Treasures
Domus
1395 Lincoln Ave., San Jose. 408.279.4787
Domus has been selling kitchen tools and gadgets for 41 years. Its sister store closed its Los Gatos location, but the Willow Glen store continues to serve kitchen tool junkies. One of owner Kathy Haren's favorite locally made gifts is the AeroPress, a coffee press made in Palo Alto by a former Stanford student. The $29.99 caffeine delivery device is like a French press, but it sits right on top of one's mug, allowing java junkies to brew just one cup. Another top seller is the Cork Pops ($28.99), a CO2-powered wine cork remover. To operate the gadget, sit it over the opening of a wine bottle. Push a button, and a straight pin descends into the cork to remove it easily with an audible "pop," no twisting required.
iPod Touch
$199 for 8GB model; Apple.com, Apple Stores
Apple's best-of-breed mobile media device has received nothing in the way of hardware updates this year, but it benefits from a $50 price drop. The iPod Touch is available in white as well as the classic black. $199 for the 8 GB model.
MacBook Air 11"
$999; Apple.com, Apple Stores, Best Buy
Apple's MacBook Air is one of the best notebook computers ever made, hands down. With a slim profile, light weight, vivid high-res display, backlit keyboard, long-lasting battery and zippy SSD storage, the Air makes other computers look morbidly obese by comparison.
Roku LT
$50; roku.com
Roku's low-priced video streaming box has finally hit a no-brainer price. Although the LT doesn't have some of the features of the more expensive boxes from the Saratoga-based company, it retains the important ones: WiFi, a remote control, HDMI and 720p video-out. Get ready for a Boxing Day Netflix streaming marathon. Also, Angry Birds.
Satori Tea experience
Gift certificate; 37 N. San Pedro St., San Jose; 408.292.1502
As a tea lover since childhood, Victoria Boyert got to wondering why it's the top drink (after water, that is) in every country in the world except the United States. Perhaps the answer is that most places here don't have a company like Satori. Before she started the company in San Jose in 2008, many locals would go somewhere like Berkeley's Teance for a truly pure hit of the loose-leaf experience. But Satori not only has its own line of tea, it boasts a tea bar now on San Pedro Street in San Jose, featuring properly brewed whites, greens, blacks and beyond.
Revolution in the Valley by Andy Hertzfeld
$24.99; O'Reilly Media
Although the Walter Isaacson Steve Jobs biography has shed new light on the Silicon Valley icon, this book about the development of the original Macintosh served as an important source material for Isaacson. Hertzfeld was a programmer and star member of Jobs' Mac team from early on. He recollects stories from Apple and tells them in a way only someone on the ground floor could. It's like a trip back in time to 1980s Cupertino, without having to get yelled at by Steve Jobs or work 90 hours a week.
Tesla T-Shirt
$26; Shop.teslamotors.com, Tesla's retail stores in Santana Row and San Carlos
You might not be able to afford one of Tesla's electric vehicles, but at the very least you can show your support for the local company. Tesla offers a variety of different, fashionable T-shirts for men and women. You'll have something to sport until you win the lotto and can plonk down for a shiny, new, NUMMI-made Model S sedan.
Fin City shirt by Mayberry Workshop
$25; Mayberryworkshop.com
OK, maybe riffing on other cities' classic designs isn't the most original way to show our civic pride in the 408. Except it is. Last year, it was the "I Heart SJ" shirt, but the pick for this season has got to be Mayberry Workshop's "Fin City." First of all, it's a two-fer, bringing the love for San Jose as well as the city's No. 1 sports export, the Sharks. (After all, not to jinx it or anything, but this is their year, right?)
Mead from Rabbit's Foot Meadery
$16 and up; 1246 Birchwood Dr., Sunnyvale; 408.747.0770
Honey-based mead is what Thor or Zeus would drink if they were at home. In short, mead is a very old style of beverage that could consider mankind's ancient friend beer as an upstart. The Rabbit's Foot Meadery in Sunnyvale specializes in meads, ciders and even a braggot (mead made with malt, like beer). The small and friendly tasting room open is Tuesday through Friday.
Candy—Snapdragon Baking Company
$5; Facebook.com/Snapdragon-Baking-Company
Visions of sugarplums? Boring! And so 1823. Luckily, San Jose's Snapdragon Baking Company is making candy for the 21st century. It all started with Snapdragon mastermind Hway-ling Hsu's brittle, which comes in flavors like black sesame, hazelnut espresso and even the seasonal pumpkin ale. Now they're selling holiday assortments of the stuff. Find Snapdragon at Barefoot Coffee locations, buy online or watch their Facebook page to find out which local events they'll be repping at next.
Vintage Modern Remade from Kerfufle Jewelry
Facebook.com/Kerfufle
San Jose's Mayra Marcotte has a flair for the strangely out-of-time relic. For her Kerfufle line, she takes vintage pieces and styles and tweaks them with a modern touch, adding a layer of alt-cool that transforms them completely. Her jewelry is available at two local shops, Eni*thing Boutique on San Carlos and the Usuals on the Alameda, as well as online. Marcotte does custom work, and she has a new fall line decked out with skulls, mermaids and bats—and yet, so Victorian. It's a steampunk Christmas!
Artisan Candies
A four-pound gift box for $40. 4432 Pearl Ave., San Jose; 408.267.7090
Kristen Scott began making caramel at home using a recipe from her grandmother. Friends and family urged her to open a store. Six years ago she did, and with her husband, Dean Scott, created Artisan Candies—"old-fashioned candy with a twist." They make and sell candy out of San Jose's Brannan Center. One of the bestsellers is the highly giftable maple pecan chipotle brittle, brittle made with real maple syrup and a hint of smoky chipotle. Don't miss the pecan toffee with chocolate and salted caramel made with sea salt.
Los Gatos Coffee Roasting Co.
101 W. Main St., Los Gatos; 408.354.3263. www.lgcrc.com
Chances are one's relatives from Dubuque, Iowa, can pick up a pound of coffee from their local chain coffee shop, but that doesn't mean they shouldn't be tempted with something better. Send them the gift of small batch, hand-roasted coffee from one of the pioneers in the bean game, the Los Gatos Coffee Roasting Co. The "Creme de la Creme Trio" is three pounds of exceptional coffee that includes a pound each of Costa Rican "La Minita," Hawaiian Kona and Ethiopian Yrgacheffe.
The Detachment by Barry Eisler
$14.95; Thomas & Mercer
At the beginning of 2011, Menlo Park author Barry Eisler irritated nearly everyone in the major book industry—agents and publishers—by walking away from a six-figure deal with St. Martin's Press to publish his next book with Amazon's thriller imprint, Thomas & Mercer. Eisler now has a much larger cut of the profits and can move books much, much faster than any of the big six houses in the Big Apple. His newest one (which came out last month), The Detachment, is his seventh book featuring John Rain, a rousing half-Eastern, half-Western assassin who doesn't fit in anywhere.
Recycled Can Rings
$6 and up. Kathryn Marie. At the Usuals, 1020 The Alameda, San Jose; 408.294.4500. www.facebook.com/seektheunique
"Responsibly eclectic" is Kathryn Marie's motto. As an 18-year-old student in fashion design, she hit on the notion of eye-catching daisy rings made from recycled soda cans, which she sells online ($6 and up). Now she has a celebrity fan in Project Runway's Nick Verreos. Everything from Coke to Monster Orange to Admiral Iced Tea has been given a second life. She's also been helping out South Bay schools with fundraising.
Lost San Jose Photos
$25-$85; lostsanjose.com
"Lost San Jose" is a fascinating project from native-born photographer and writer Josh Marcotte. He describes it as "guerrilla photography in an urban sprawl," which makes sense when you read what he went through to get some of these pics. But in a larger sense, Marcotte's photos are a map of a San Jose that seems to teeter on the edge between reality and Lynchian fantasy. Often, his pictures inspire the question of not just "where is this place?" but "what, why and how is this place?" The irony being that the place in question may be only a few blocks from where the person is looking at its photo. Marcotte sells limited-edition, signed prints of his work on his website.
Lytro camera
Pre-order (starting at $399); Lytro.com
Lytro is a brand-new type of camera based on research done at Stanford. Using a light-field sensor, the Lytro takes photos that can be refocused after the fact. Lytro also has a sleek design with a small touchscreen on the back of a long rectangular prism shape. Although Lytro's camera isn't out until next year, the company is taking preorders for early adopters.
Nested Scrolls by Rudy Rucker
$25.99; Tor Books
In December, Los Gatos native Rudy Rucker releases his long-awaited memoir, Nested Scrolls. It is quite refreshing to see a renowned science fiction author, mathematician and guru of the fourth dimension also waxing nostalgic about the Ramones gigs he saw at One Step Beyond in Santa Clara during the 1980s. That's right, soon after he moved to Silicon Valley to teach at SJSU, in his early 40s, Rucker went to punk shows while teaching assembly language programming and writing novels about moldies. Rudy's career is that of a writer, but he says math is his higher knowledge and his inspiration, while programming is a hobby, or perhaps a vice, and teaching was just a day job.
WIMM One watch
$299; Wimm.com
Tinkerers will love getting their hands on the new WIMM One watch from the Redwood City tech company. Although on the surface, this tiny, Android-powered wristwatch seems simple, the intention is to start a new, flexible computing platform for a variety of devices. The elegant square device comes with a variety of looks and functions. WIMM wants developers to start cooking up new uses for this micro marvel, and so it is offering free developer access to their flavor of Android. The watch has WiFi, Bluetooth, an outdoor-friendly multi-touch color screen and a bundle of sensors.
Shokolaat
516 University Ave, Palo Alto; 650.289.0719
Chocolate is kind of a no-brainer as a gift. But do you really feel special when someone hands you a box of See's candy? Chances are the box of industrial chocolates is a re-gift from someone just looking to unload the mediocre sweets on you. It is possible to break the cycle and buy some real, hand-made chocolates at Shokolaat. The Palo Alto chocolatier and restaurant makes chocolate with organic sugar, flour and dairy from St. Anthony's farm in Sonoma. Try the $21 "lady moon" gift box, a selection of 18 chocolates that includes names like "Don Juan," "Brother Monk" and "Night Cap."
Le Tarot Des Femmes Erotique
$34.99. vintageeroticatarot.com
These unusual tarot cards, created in Santa Cruz, add some sex magic into the realm of divination. Each of the 78 cards is illustrated with century-old pictures from the dawn of nude photography. Below the models from long ago are one sentence interpretations of the cards. It's exactly what the site calls it: "A great gift for the pagans, witches and Gypsies in your life."
Poetry Center of San Jose Membership
$15 and up; pcsj.org
Nonprofits are hurting everywhere, and thus is the case for the Poetry Center of San Jose. Shocking, considering the big money to be made in the poetry business, with its entourages and Escalades. Show that versifier in your life that you know they'll be poet laureate someday with a gift of a membership to the Poetry Center. It helps finance their readings, valuable workshops and their journal, Caesura. Annual memberships run from $15 for students, $20 for seniors all the way up to $500 for the patron aiming to be a Maecenas of today.
Dodocase for iPad
Starting at $60; Dodocase.com
Dodocase has taken a page out of Moleskine's book—literally. The famous Italian notebooks have provided inspiration for Dodocase's iPad case. Made using traditional bookbinding techniques, this unique case holds your iPad in place between covers in a bamboo tray. They're handmade in the Bay Area and also available for Kindle and BlackBerry Playbook tablets.
Three Libations Collection from Snake & Butterfly
$25, various locations
A seasoned veteran in the South Bay's current high-end sweets boom, this is Snake and Butterfly's fifth Christmas. They're in three local Whole Foods now, have signed a deal with Williams Sonoma, and are looking to open a shop in Campbell. They're also at Barefoot Coffee Roasters, who've been with them since the beginning, Vintage Wine Merchants and J. Lohr, with whom they've worked up a wine-pairing list. For the holidays, Snake and Butterfly has got several packages of jarred caramels, like the Three Libations Collection—which includes bourbon, rum and scotch caramel, and the Three Virtues Collection, which is one jar each of balsamic fig, honey and red alaea salt caramel.
Images of America: Sunnyvale
$21.99; Arcadia
In Sunnyvale, one finds decades of important Silicon Valley history, and it took a triumvirate of powerhouse researchers to finally throw together a photo book. Michael S. Malone penned the introduction, while Ben Koning and Anneke Metz compiled the wonderful historical photos. Many Arcadia books are ridiculously arcane, filled with dubious subcategories and seemingly random inclusions of photos, but Sunnyvale is one of the good ones. The authors present a logical, clear-headed unfolding of this quiet suburb. From homemade tractors to the Atari 2600—it all went down in Sunnyvale.
Evozip Bag/Skins
$18-$30; Etsy under the shop name wgreunke.
There's nothing new under the sun when it comes to self-expression, right? T-shirts, pins, posters, bumper stickers—it's all been done before. But Santa Clara's Evozip has found an ingenious new way to let people brand themselves. They've made a messenger bag that allows for easy swap-out of different "skins" featuring band logos, iconic movies, sports teams, one-liners, ironic '70s commercial art and whatever else. What they do is recycle (and wash) T-shirts from thrift stores, sew them onto canvas backing and standardize the size so every skin fits every bag, creating a whole new kind of social network.
Joseph George Wines
$20 and up; 1559 Meridian Ave., San Jose; 408.448.9463
Who says sports lovers are all beer drinkers? San Jose's Joseph George wine shop has been selling fine wine to Sharks' fans for 18 years. In fact, the store is the exclusive distributor of a whole lineup of NHL wines. The store sells Sharks red (a blend of cabernet sauvignon and merlot made by Napa's Minor Family Winery, $32) and Sharks white (sauvignon blanc made from grapes grown at the family owned wine shop's own Napa Valley vineyard, $20). To dress the bottles up as a gift, the store offers wooden Sharks wine boxes and glassware. Baseball fan on your list? Joseph George offers 2010 World Series San Francisco Giants commemorative bottles made by Napa's Duckhorn Winery. The bottles were just released in August and are beautifully etched and signed and range in size from 750 milliliters to a hulking 3 liters. "Anybody who's a Giant's fan has to have one of these bottles," says owner Bert George.
Two Buck Tuesdays at Kaleid Gallery
88 S. Fourth St., San Jose; 408.947.1785
"Two Buck Tuesday" doesn't mean that there's only $2 art to be had. But isn't it kind of amazing that it's there to be had at all? The real question, no doubt, is: What kind of art can you get for two bucks? Well, at last month's TBT, there were $2 handmade monster-head key covers paying tribute to Drac, Frankenstein, Jason, etc., and for $3 you could make your own. That's the best thing about this event, so much of it is about DIY. There's just so much that goes on at these things every month: live art, food, music, and a lot of sharing intelligence about what's new in the South Bay art scene. The next event is Dec. 20, 7-10pm.
Hay Market Bacon
$9 a pound; 1185 Lincoln Ave., San Jose; 408.295.4800
The bacon in Hay Market restaurant's bacon became an instant hit. It's made by owner Joe Cirone's dad. It's cured for a week with garlic, peppercorns, chiles, brown sugar and salt. It's then air-dried, smoked over alder and air-dried again. It tastes great and makes a fantastic gift (sliced or whole slab for $9 a pound). It tastes even better because it comes from sustainably sourced pork. Hay Market also sells house-cured (in Guinness and brine) and smoked pastrami-to-go for the discriminating sandwich eater.
Kitchen Gifts for Good Causes
Kitchen.com
It's tempting to shower more stainless-steel cladded gadgetry on the person who does most of the cooking in your life. Kindness aside, you can never know if such a cook has got some sentimental attachment to what they're using already: some battered wood utensil or some plastic measuring cup. Since the holidays are an excellent time to show some generosity to the rest of the world, it's appropriate that The Kitchen.com site has a list of selected donation partners. The Adventure Project seeks better fuel for the stoves of Third Worlders. Other partners include City Harvest, one of the oldest food banks in the nation, and the Wooly School Garden, using a mix of recycled planters and donated funds to introduce school children to farming.
Train of Lights
$25 and up; www.ncry.org
Niles Canyon was once the gateway into the Bay Area by train. Throughout the year railroad buffs take passengers in a round trip excursion into the canyon, so surprisingly rural for being so close to the sprawl of the valley. Throughout December, a special illuminated Train of Lights takes travelers up around sundown, and a pair of tickets on the excursion train sets a holiday mood that's not to be forgotten. Trains leave from Niles at 4:15pm and from Sunol at 7:15pm. Wednesday, Friday-Sunday and some Mondays.