Features & Columns
Art of the Wheel
Transportation with a distinctly Valley spin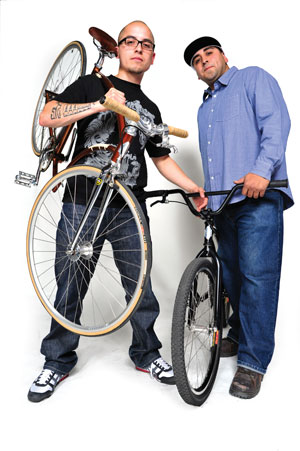 AT SHORTY FATZ' bike shop, Series 8 bicycles stand near a rack of new T-shirts and lowrider handlebars hang on tall white walls drizzled with black Keith Haring–like squiggles. Behind the shop is the workspace where Matthew Rodriguez fabricates bike frames and sculptures. In back is Sammy Rodriguez's graphic design studio.
A golden statue of a Tibetan Buddha sits on top of a bookcase, smiling down on a large wooden work table that holds neat stacks of Sammy's hand-painted design renderings. It's a spare space, bright with light from rows of small windows that sit below the high ceilings of this reincarnated warehouse, which was once part of the Tri Valley Cannery, on Ninth and Taylor streets in San Jose.
The Rodriguezes aren't brothers; they're friends and business partners. In 2007 they started building a brand of custom bikes in their East Side San Jose garage. That same year they won their first public art grant, which resulted in the creation and installation of a lowrider bike table on the third floor of the Martin Luther King Jr. Library.
It was part of Mel Chin's Recolecciónes project, an internationally known program of public artworks that involves community participation. The Rodriguezes have won two more public art projects, one in San Jose and one in Los Angeles, which they're working to complete this year.
Sammy and Matthew both grew up on the East Side, and Sammy says his family has been in San Jose since it was part of Mexico. His great-grandmother worked in the canneries, his grandmother worked in Santa Clara Valley fields and his mother worked at electronics companies—before the assembly and pack-out operations moved offshore.
Sammy's squared glasses, shaved head and khakis give him a studious look. He just turned 29 and lives in south San Jose with his fiance, Huong Nguyen, and their 4-year-old daughter, along with Nguyen's extended family.
He says he started drawing when he was 5 and became a graffiti artist at 12, when he started going to the Hank Lopez Community Center's "Aerosol Armageddon" events, which featured breakdancing, DJs and live painting.
"When I first saw somebody doing graffiti it looked like magic," Sammy says. "The person just moves their arm, and the cans seem to float and all of a sudden there's a mark on the wall. It was just kind of hypnotizing to see how they did that, and I fell in love with it."
Sammy credits Silicon Valley DeBug for giving him the space to explore art as a career. DeBug is known for its civil rights activism but for Rodriguez it was also a support group, with a zine and website where he could experiment. He moved from spray cans to fine art as he learned more about it at Oak Grove High School, De Anza College and California College of the Arts, where he earned a BFA in illustration, influenced by Baron Storey, Barry McGee, Yuko Shimizu and Jasper Wong.
After graduation, Sammy says, he was headed for a career in illustration and design for magazines and newspapers. But with the troubles facing print media, he worried there wouldn't be enough opportunities for him. When he began working with Matthew, a sculptor and lowrider bicycle builder, he saw the industrial design possibilities of bikes, and soon after they started Shorty Fatz LLC and got the Recolecciónes gig.
Sammy credits a show at the Anno Domini gallery as their breakthrough. "Before that show we modified existing frames. That's the lowrider tradition. Whether it's a car or a bike, you modify it and tweak it out so that it becomes a lowrider," Sammy says. "For this show we decided to do something completely unique from scratch, so Matthew created three frames. After the show we decided to take one of those frames and do a small production of it and that became our first cruiser bike.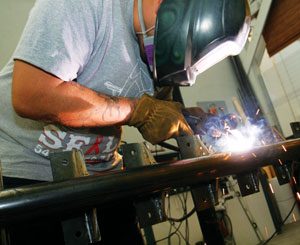 Old School, New School
Phil Wood & Co. have been manufacturing bicycle components in San Jose since 1971. They're located in an old brick building that's across the parking lot from Shorty Fatz. They're known for their precision-engineered hubs, cogs and eccentric bottom brackets, use U.S. made materials and sell to about 5,000 shops worldwide.
Peter Enright is their president. He's worked there 20 years. In 1978 he was one of five G.E. engineers who enjoyed cycling on Monterey Highway so much they formed the Almaden Cycle Touring Club, which now has 1,000 members.
A mutual friend introduced Enright to the Rodriguezes.
"Not knowing anything about them," Enright says, "they showed me some of their stuff, and I'm thinking, 'This is really nice. I want to help these guys.' So we did. Everyone else here said don't waste your time. I said, 'I see something. Let's give them a chance.'"
"They were bending their tubes over a 1953 Chrysler rim. So I think the biggest help was to introduce them to Dale Saso who taught them how to make a frame using braising."
Saso has been making custom bicycle frames in San Jose since the 1970s, using an old school welding technique called filet braising. "He taught them for a little bit," says Enright, "and he found out that they were very good at it, and it took off from there."
The Rodriguezes design and manufacture single-speed bicycles that appeal to cruisers and fixed-gear aficionados. They sell about 12 bikes a month. Frames cost from $775 to $875 and complete bikes range from $1,375 to $1,775.
Last year they shared a booth with Phil Wood & Co. at Interbike in Las Vegas, one of the largest bicycle trade shows in the world. Their bikes got a lot of attention and since then customers from Japan, Thailand and Indonesia have ordered as many as six bike frames at a time.
Sammy Rodriguez isn't worried about Asian copycats. "If they copy us it will give us more exposure because people know what makes a Shorty Fatz. It's not just the unique design; there's also unique function features like our bottom bracket that houses a Phil Wood Eccentric. And we filet-braise and powder coat our frames. You can't duplicate all of the time and all of the soul that goes into these bikes, and if you do people are going to see right through it because they're so unique that it's going to be obvious.
"If they copy us, it will be better for us because more people are going to want the real thing."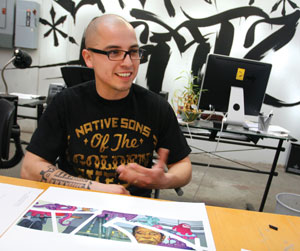 Cool Bike Capital
Terry Shaw says Shorty Fatz is part of a long line of San Jose bicycle innovation. Shaw opened up his first bike shop in 1976 near San Jose State University. Today his shop is in Santa Clara. He's a member of the Garden City Cyclists, a professional racing club that was called the Garden City Wheelmen when it was formed in the late 1800s.
"In the late 1880s, there were 4,000 people in San Jose, 27 bike clubs and nearly that many bike shops. Everybody was bike crazy because San Jose had perfect weather and lots of smooth city and country roads to ride on."
He says professional bicycle racing was the most popular spectator sport in America at the turn of the 20th century, until baseball and football took over in the 1920s. "Major national races were held here," says Shaw, "and bicycle racing at tracks was a central part of the social fabric of the Santa Clara Valley."
He says San Jose's early adoption of bicycle racing and the technology that went with it was the beginning of Silicon Valley's legacy of innovation. As the need arose, local tinkerers transferred technology from their mechanical farm equipment to early bicycles and automobiles and vice versa.
"While the electronics industry innovations were going on like mad here in the 1970s and 1980s, this area was a hotbed for innovations in cycling by some of these same bright young minds," says Shaw. "Phil Wood was one of the great innovators. He started out as a mechanical engineer, and then you have the modern bicycle helmet invented by an SJSU industrial design student, Jim Gentes [who formed Giro Sport Design to market it]. He worked for Jim Blackburn who produced the first state-of-the-art touring racks in San Jose."
Blackburn cycling products are now part of Bell Sports Inc. Mike Sinyard starting Specialized in San Jose after he graduated from SJSU in 1974. Specialized, one of the largest U.S. bike manufacturers, is now headquartered in Morgan Hill.
Jennifer Easton works for the city of San Jose's Office of Economic Development. "What's fantastic about Shorty Fatz is they bootstrapped from a garage, do a lot of work with kids in the community and they're reinforcing San Jose's established brand of innovation," says Easton. "This is a multicultural community where everybody has access to building businesses and following their ideals and dreams."
With the fixed-gear bike craze revving up, Easton says Shorty Fatz is getting new groups to get greener. "It's the fixie crowd, but it's also the hip-hop crowd that Shorty Fatz bikes are getting out of their cars," says Easton. "The thing about the fixies is, and you'll see this if you go on Craigslist where people sell them, they actually say they're curated, like 'I curated my fixie.' It's all about how you trick out and part out your fixie, how you style it. It's a very style-conscious culture and Shorty Fatz bikes fit right in there."
Sammy Rodriguez was one of eight California artists chosen to create artwork for the train stations on the Los Angeles Metro's new Expo Line, which will go from downtown LA to Santa Monica. He said he's proud that Los Angeles came to a San Jose artist for one of their highest profile public arts projects.
He has designed 20 panels that will be installed on two 270-foot platforms at the Jefferson/USC Station. Eight feet wide and 3 feet tall, the panels are populated with characters and scenarios visually divided by the silhouette of bike frames, resembling the layout of a comic book.
Zipporah Lax Yamamoto is a Los Angeles County Metropolitan Transportation Authority Public Arts Officer. "Sam's work is sophisticated and there's an elegance about it," says Yamamoto. "He breaks up the art panel in a way that's really fresh and interesting and will allow visitors to experience it on multiple levels over time."
Yamamoto thinks this commission is a huge leap for Rodriguez's career. Because of its proximity to USC's Galen Center sports complex and Expo Park, the destination for museums and the California Science Center, tens of thousands of people will pass through this outdoor station every day, which Yamamoto says is more than would ever see Rodriguez's work at an art gallery.
Prior public art experience wasn't a requirement for this project because LACMTA wanted to give young artists the opportunity to participate and to develop the skills needed to execute their projects from proposal to fabrication and installation. "Sam getting a major project like this under his belt," says Yamamoto, "means he'll be a more eligible candidate for future public art projects."
Rodriguez is now working with the fabricator that's translating his designs into ceramic mosaics and he'll oversee their installation. This station is slated for completion in 2011.
Rodriguez's alma mater is one of the top art schools in the country. California College of the Arts' alumni are known for getting media and movements recognized as fine art. Peter Voulkos and Robert Arneson did it for ceramics. Marvin Lipofsky did it for the studio glass movement. Rodriguez may do it for the fine art chops he mixes with graffiti, anime, hip-hop and lowrider culture that Barbara Goldstein calls urban art.
Goldstein is the city of San Jose's public art director. She says the community chose the Rodriguezes from a pool of preapproved urban artists to create a permanent installation inside the new Seven Trees Community Center and Branch Library. Goldstein says both Rodriguezes spent a lot of time visiting people in this neighborhood so they could figure out the themes and qualities that were important to this community.
People will walk from the Library's entrance to the children's area through a passageway that is a series of nine tubular steel frames that resemble model-bike kits. They look as though you could snap the parts out of them and assemble a real bicycle. "Each frame," says Goldstein, "will have images of faces painted on them that are reflective of the community." She says the art will be installed this summer but this branch may not open until 2011 because of budget shortfalls.
"I know a lot of people from here who moved to San Francisco because they think they're going to discover something or find an opportunity for their art, but I think you can find it here," says Rodriguez. "There are a lot of good artists here but it's still fresh and new because there isn't a fixed art establishment. It is what it is and people are themselves. If you've been working on this thing and you're in the right place, people will give you the opportunity."
He sits at his wooden work table, surrounded by cool white walls and the soft roaring sounds of Matthew welding a tubular frame for the Seven Trees Library project. He picks up a piece of paper with Shorty Fatz's new head badge design on it. This will be the thin metal name plate attached to the front of the bicycles just below their handle bars. It's a winged character holding the words "Shorty Fatz San Jose."
"We were going to put 'USA' on there for 'Made in the USA' but we decided to put 'San Jose' there instead, because let's just let people know where we're from. Let's represent San Jose."