Summer Guide 2014
Summer Movies
Summer 2014's films show how well the studios learned the lessons taught by Paranormal Activity—which made $100 million off a found-footage gimmick and a $350,000 pick up price. 2014 may be the last summer the everyday movie watcher registers the difference between a selfie-cellphone shot and a tracking shot. All genres are subject to this new aesthetic. John Legend is working on a found-footage musical planned titled Breaking Through. The Sacrament (June 6) directed by Ti West, revisits Jonestown as if filmed by a Vice Media crew; the taste is iffy, but that's producer Eli Roth for you. As Above So Below (Aug. 15) takes the hand-held camera to the depths of the Paris catacombs, which turn out to have a few living gargoyles in them.
Earth to Echo (July 2) looks like a hit because it looks like a film that was a hit, genre-blending ET Spielberg, The Goonies and cellphone-emulating camera work ("Cameras gonna be on non-stop!"). In it, three kids discover coded messages from an alien who longs for home.
Elsewhere more than a dozen sequels, prequels and remakes (including the latest Step Up All In, July 25). Maleficent prequelizes Sleeping Beauty, with Angelina Jolie as a live-action witch giving her side of the story. The death-dream/alien-fighting/Philip K. Dick/Tom Cruise vehicle Edge of Tomorrow (June 6) has a risible line in the previews, "How many times have we been here before!" which gets a laugh after the parade of trailers. Loads of animation and live-action/CG crypto-animation for children Planes: Fire and Rescue (July 17); How to Train Your Dragon 2 (June 13) Guardians of the Galaxy (Aug. 1), Teenage Mutant Ninja Turtles (Aug. 8) as well as something for adults: Sin City: A Dame to Die For (Aug. 22). Maleficent prequelizes Sleeping Beauty, with Angelina Jolie as a live-action witch giving her side of the story.
Clint Eastwood's musical Jersey Boys (June 20) is based on the tourist-thrilling Broadway musical about the rise and fall of the band Frankie Valli and the Four Seasons. Jupiter Ascending (July 18) is the Wachowskis' lavish Dune/Star Wars emulation, about an ordinary Chicago scrubwoman (Mila Kunis) who is wanted dead or alive by the Queen of the Universe. Your eyes will pop, but your ears will hurt: "You are the perfect hunting machine," Sean Bean tells a perfect hunting machine (Channing Tatum). Is it not Hercules (July 25), who is the truly perfect hunting machine? Wrapped in a lion skin, Duane Johnson prepares to play the hell out of pretty much the most ancient action hero around, clubbing beasts and giving a hydra a hailing it'll never forget. I strangely need this movie.
Transformers: Age of Extinction (June 27) may have giant robots, but it is batting cleanup for X-Men: Days of Future Past (May 23). How many times have we been here before? Once, at least, when it was called The Terminator. But it looks like powerful stuff, taken from a particularly rewarding stretch of X-Men comic books published in the mid-1980s. Paranoid humanity has turned to Sentinels—colossal killbots—to purge the mutants, and the few survivors in a blasted future send valiant Wolverine (Hugh Jackman) on a mission to the 1970s to stop the war before it starts.
Some weeping in the above—at least an oily tear from the shape-shifter Mystique (Jennifer Lawrence). But the real torrents of summer come from doomed romance in a brace of films: The Fault In Our Stars (June 6) based on John Green's novel of young cancerous kids getting to know each other. Rumor has it it may liquefy an audience like nothing since Love Story. In If I Stay (Aug. 22) girlfriend (Chloe Grace Moretz) is in a coma, and maybe she'd prefer to be there than deal with the cold world outside. Men are allowed to snivel manfully at When the Game Stands Tall (Aug. 22) in which the epic win streak of Concord's De La Salle High School is celebrated (with tragedy for a counterpoint). Boyhood (July 18) may be the surprise of the summer. It's Richard Linklater's already celebrated family drama, which was filmed in stops and starts over the course of a decade.
This isn't the place for me to discuss my cordial loathing of Seth MacFarlane, from the wild success of the tedious Butt-chin Family to his performance of "We Saw Your Boobs" on last year's Oscars. Oddly, the red-band previews for A Million Ways to Die in the West (May 30) were really funny: idiotic in all the right ways. It may be that the mightiness of the Western landscape cuts a self-satisfied dude like MacFarlane down to size, framing him with some necessary negative space. Or it may be that the idea of Sarah Silverman dressed as a dance-hall girl is irresistible.
Amid this and other releases: 13th Annual Doc Fest in San Francisco, representing the Bay Area's heavy presence in the national documentary scene. This year it includes Brian Knappenberger's The Internet's Own Boy. This concerns the ill-fated genius Aaron Swartz, the Stanford-educated developer of RSS and Reddit, dead before age 30. May 29-June 1 at the Castro Theater is the Silent Film Festival 2014, demonstrating the way the roots of cinema were meant to be experienced. On tap: the Valentino melodrama The Four Horseman of the Apocalypse in honor of the centenary of World War I, one of Ozu's rare gangster films, Dragnet Girl, and The Sign of Four, a 1923 Holmes adventure with Eille Norwood starring as a Sherlock approved of by Conan Doyle himself.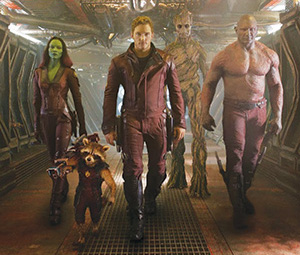 Summer Film Series
Starlight Cinemas
This annual traveling cinema series features an '80s-themed lineup this year. Alternating locations in downtown San Jose. Wednesdays, unless otherwise noted. Free.
(Sat) June 14, 8:15pm: Bend it Like Beckham, Plaza de Cesar Chavez Park, immediately following World Cup viewings.
(Sun) June 22, 5:30pm: Back to the Future, Part II, St. James Park, immediately following World Cup Viewings.
July 16, 7pm: Indiana Jones & the Last Crusade, St. James Park.
July 23, 7pm: Ghostbusters, San Pedro Square Market.
July 30, 7pm: Pee-wee's Big Adventure, St. James Park. (Bike to the show for a bike-in movie experience.)
Aug. 6, 7pm: Pretty in Pink, San Pedro Square Market.
Aug. 13, 7pm: Gremlins, St. James Park.
Aug. 20, 7pm: Airplane!, San Pedro Square Market.
Movies on the Square 2014
Bring a blanket and grab some takeout from downtown restaurants. Courthouse Square, Redwood City. Thursdays, sundown. Free.
June 5: 8:45pm: Captain Phillips
June 12. 8:45pm: The Butler
June 19: 8:45pm: The Hunger Games: Catching Fire
June 26. 8:45pm: Frozen sing-along
July 3: No movie
July 10, 8:45pm: E.T. The Extra Terrestrial
July 17, 8:45pm: Turbo
July 24, 8:45pm: Saving Mr. Banks
July 31, 8:30pm: Gravity
Aug. 7, 8:30pm: The Wizard of Oz
Aug. 14, 8:15pm: Secret Life of Walter Mitty
Aug. 21, 8:15pm: The Croods
Aug. 28, 8pm: The Monuments Men
Sep 4, 8pm: Mr Peabody and Sherman
Sep 11, 7:45pm: Spaceballs
Sep 18, 7:30pm: Captain America: The Winter Soldier
Sep 25, 7:30pm: Muppets Most Wanted