Features & Columns
Going Viral
How the Limousines became the South Bay's most successful indie sensation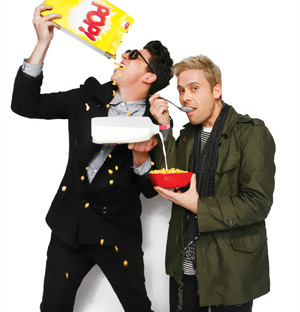 MUSIC FESTIVALS, radio airplay, YouTube and zombie attacks—that was the Limousines' year in a nutshell. Actually, the Campbell duo's strange days began in the summer of 2009 when it hit the alt-rock airwaves with "Very Busy People," a buzzing, anthemic slice of electropop released by Universal.
Since then, it's been a wild ride. Former Strata frontman Eric Victorino and beatmaker Gio Giusti had played together only a handful of times before they were suddenly being offered opening slots for major acts and gigging at the Bay Area's biggest music festivals. Originally, they'd started the band as a hobby, passing Giusti's beats and Victorino's lyrics back and forth between them by email before they'd ever even met. To this day, their core is an unconventional two-piece—with Victorino as vocalist and Giusti performing all of the electronic instrumentation—though they recently have added a drummer at their live shows.
In 2010, the Limousines released a zombie-themed video for their second single "Internet Killed the Video Star" that went viral on YouTube, released their debut album, Get Sharp, on their own and saw hundreds turned away from their CD-release show in San Francisco. They've cracked the alternative-music charts, become the local darlings of Bay Area stations Live 105 and Channel 92.3 and made it big on iTunes. With a homecoming show set for Dec. 17 at the Blank Club, it's time to take a look at how the Limousines blew up, with an oral history that hits the highlights of their improbable last 18 months.
Cast of Characters
Eric Victorino: The Limousines' lead singer and lyricist
Gio Giusti: The Limousines' beat architect
Rose Kirkland: Bay Area booking coordinator for Live Nation
Aaron Axelsen: Live 105 music director
Michael Solari: Channel 92.3 promotions director
Dino Campanella: drummer for Dredg and live drummer for the Limousines
Matt Galle: New York–based manager of the Limousines. Runs a record label and also books bands like My Chemical Romance through Paradigm Agency.
Corey O'Brien: Owner of the Blank Club
Todd Cooper: Recording engineer who worked on Limousines' debut album, Get Sharp, at Street Symphony Studios in Fremont
Opening for Duran Duran at Mountain Winery
ERIC VICTORINO: That was a weird moment. It was a wine and cheese party.
GIO GIUSTI: But it was still awesome. I thought it was cool. We kind of shocked 'em, I think. They weren't expecting something like us, going to see Duran Duran. But we got a good response.
ERIC VICTORINO: At the last minute, they needed somebody to open, because somebody dropped off or something. They called literally 18 hours before the show and said "Can you guys do this?" We're like, "OK."
ROSE KIRKLAND: I listen to a lot of bands and try to stay as dialed in as possible. I had just heard the Limousines for the first time about two months earlier. It happens a lot that we have to put somebody on at the last minute, and I needed something to work for Duran Duran. You can't put a singer/songwriter on Duran Duran; you need more energy. It just clicked to me. I sent [their music] to the agent, and Duran Duran thought it was great.
GIO GIUSTI: It was cool that we could tell people, "We're the new electro in the house"—show those people what's up.
ERIC VICTORINO: A Duran Duran or a Depeche Mode, when they came out, there was a lot of nonelectronic stuff going on, so they kind of stuck out. Depeche Mode also had the same thing the Cure has, where they could write a song that sounds like the happiest song ever, melodically. And then you listen to the words, and you're like "Fuck, this is so dark. If the sound was dark too, I'd probably want to kill myself right now." You kind of juxtapose the light and the dark together.
ROSE KIRKLAND: They'll come through for you. They work hard. "Can you come open for Duran Duran?" "Sure!"
ERIC VICTORINO: We got a lot of messages afterward, from people you wouldn't expect. Like, "I was there to see Duran Duran, I haven't seen them since I was kid"—so obviously there you know they're older—and how much they enjoyed it, or how shocked they were that the opening band was good.
ROSE KIRKLAND: The only time that we ever got a noise complaint for an opening band at Mountain Winery was the Limousines.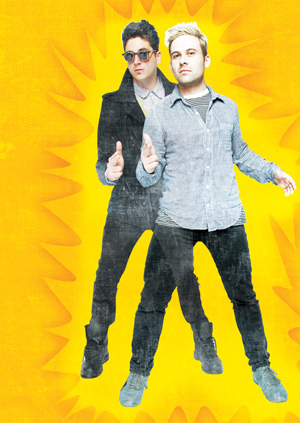 Treasure Island Music Festival
ERIC VICTORINO: I think that was the first time we'd played a big stage, just the two of us. Since then we've been using the drummer to kind of fill up the space a little bit and make it a little more of a production. I remember thinking, just for a second, "How did we get here?" It was sort of whiplash, being unexpectedly thrown into something.
GIO GIUSTI: I was in a big table we built with all my lights on the front of it. It was daytime so you couldn't really see them, but it still looked like I was in a big spaceship. That was a fun show, even though we played first.
ERIC VICTORINO: That was interesting, because you could see the busloads of people coming. There's no way to just walk up to that show. So for one song, there'd be 50 people, then the next song 100, and it'd go in increments, instead of a steady flow.
GIO GIUSTI: That was probably the seventh show we'd done.
ERIC VICTORINO: It's kind of how everything happens with us. Somebody calls and says, "You want to do this? And we say yeah. Now it's managers, but back then—"back then," like, a month ago—it'd just be email. GIO GIUSTI: It was all viral. We had nothing out really. One song we'd released.
ERIC VICTORINO: Before that, it was all free MySpace demos. A month after Treasure Island we put out a vinyl thing of all the old demos put together, the Scrapbook EP.
Recording the Album
GIO GIUSTI: It was definitely spaced out. We did the first half of it in a professional recording environment, with our engineer buddy Todd. The second half, the darker grittier stuff, we did in my garage. By that time we were going pretty fast.
TODD COOPER: Me and Giovanni have been best friends since fourth grade. We got into music together. Giovanni was always doing cool stuff, and I looked up to him for inspiration and motivation. He had started developing this cool sound, which later became the Limousines. I was working on so much rap music, and it became so boring and monotonous. All of a sudden, the Limousines came out of nowhere, and they damn near saved me, because I was getting so burnt out. I did the whole project for free, because I was in love with the music.
ERIC VICTORINO: Where we're doing the vocals is one thing, but it's basically Gio and his computer and he's kind of always putting stuff together. So it's not really a recording session. When he has something that's ready for me to hear, and then once I have something to put on that, I guess that's a technical recording session.
GIO GIUSTI: It's all pre-production before that. I mix as I write, and he's writing at the same time. Then we get together, and we'll restructure there, and he'll add new stuff. But it comes together pretty quick.
ERIC VICTORINO: There's a couple songs on the album that we did in a room together—"The Future," "Get Sharp" and "Fine Art." That was basically a pad of paper, a computer and a microphone. I'm shooting words at him, he's like, "I don't like that, try this, try that."
GIO GIUSTI: He'll sing melodies, and I'll play them on keyboard, and it'll stay a keyboard melody, or whatever. Sometimes I have a problem with ... not overdoing things, but adding too much. It's like a big jigsaw puzzle, I could sit there forever doing it.
ERIC VICTORINO: I've left him listening to one song, leave and come back, and it's almost a completely different song. It's always better. But you could have easily taken the thing from three hours ago, and made that a whole different song by itself and come out with two of them.
GIO GIUSTI: He's always pushing me to do weirder shit. I'm always like "No, we need to do a cookie-cutter building block pattern of a song." He's like "No, just flip that shit backwards and stretch it out and make it all googly and weird." That's the fun part of production.
ERIC VICTORINO: We both say everything to each other. That's what's kind of cool. At first it wasn't a collaborative project—he made all the music, I did the words, and that was it. But now while we're working on stuff, if you feel strongly enough about something to bring it up, it deserves to be listened to. I might use the same word in two different lines, and it feels awkward. I'm just happy I got something together, but he'll push me harder. He'll be like, "Dude, that's not up to your standard."
GIO GIUSTI: He's my filter, I'm his filter.
Getting on the Radio
ERIC VICTORINO: Aaron [Axelsen, of Live 105] played "New Year's Resolution" on Soundcheck. At the time, I was still in Strata. When we first started doing this, it was really just a hobby, and there was no intention of trying to do what we're doing now.
GIO GIUSTI: I was doing my own solo thing, too. I was doing instrumental music, just beat stuff. It was a total hobby. Then I remember being in my living room with my mom and hearing that on the radio and going, "OK, this is pretty dope. Something could happen here."
ERIC VICTORINO: Everything started with Aaron, and to be honest, probably about half of the good things that have happened to us have been his fault.
AARON AXELSEN: I'd say 72 percent. I'm kidding. It's all good. I knew Eric from the Strata days. When they formed the new project, Eric brought me a bunch of demos. One of them, "Very Busy People," just hit me over the head. I jumped on it. I started playing it on my show immediately. It sounded like a hit song. I like playing hit songs.
GIO GIUSTI: He's been going to bat for us for a long time.
AARON AXELSEN: I probably get 300 new CDs a week. People ask me, why do I play one band over another? Sometimes it's a perfect storm. The timing, the quality of the song, the lyrics. Sometimes it's an instinct. I love their amalgamation of pop and synth and electronica.
ERIC VICTORINO: For a while there, Michael Solari [of Channel 92.3] was the Lone Ranger on "Very Busy People." He was playing it in the daytime like three weeks before anyone else.
MICHAEL SOLARI: When I got "Very Busy People," it was pretty much a no-brainer. Eric has a very clear way of communicating with an audience about everyday things that people are saying or thinking.
ERIC VICTORINO: The other thing happening that was along the same lines was satellite radio getting a hold of it. I don't even know how they got it, but they got "Very Busy People" before Universal was involved. Friends will text from all over the country and be like, "Hey, I'm in a bar and they're playing your song." That's satellite radio. The thing that's amazing is that we actually cracked the alternative charts as an unsigned band.
GIO GIUSTI: That was a trip, I remember seeing that. And also charting on iTunes with our album. We released the album ourselves, and what did we hit, No. 47? Then to see crazy bands like Radiohead underneath us.
ERIC VICTORINO: Of course, it's not like we're really beating them, but for that moment ... I have so many screenshots of all the rad bands we've beaten for a minute.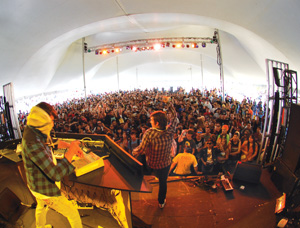 'Internet Killed the Video Star' single
GIO GIUSTI: I made a beat for it. It was actually a remix beat for something else, but I was like, "This beat's pretty good; we should use it for something else." He recorded the hook ["The kids are disco dancing; they're tired of rock & roll"] on his iPhone and sent it to me, and I was like "That's it. That's it right there."
ERIC VICTORINO: I just sang it into my phone. It sounds silly to say it, but the reason that became a single is we had a cool video idea for it. It wasn't like "Oh, this is the perfect next single." Once that video idea started up, it felt like that was going to be the song to focus on.
GIO GIUSTI: It was a 100 percent homemade video. We built the cardboard guns, and we got to see those in the video. We painted the whole ["Zombie Killer"] station wagon ourselves and attached lights to it. We recently sold the station wagon. ... It was sad to see it go, kind of, but it was sitting in my driveway for so goddamn long, leaking oil.
ERIC VICTORINO: It's pretty crazy having been in a situation before [in Strata] where you have like 50 people working on a $100,000 music video for you, and how stressful that is. You're not really even doing anything except standing in front of the camera, that's it. And in this case, we wrote it, co-directed it, made the props, did so much stuff, and it was not stressful at all. It was just fun the whole time. And cost nothing.
GIO GIUSTI: We shot all the inside-the-house kids' scenes, where the zombies are first coming up, in one day. They had to get a shot of the station wagon unpainted. Then that night, we had to take it back to my garage and paint it, for when the kids painted it [in the video]. It was crazy, just a two-day thing.
ERIC VICTORINO: It's funny because [music] goes through phases—there are certain times when MGMT works, or Duran Duran works, people are accepting of a certain thing—and then a Nirvana comes around and ruins everything for them. It's just a cycle. I think context is hilarious if you think about it. Whether something's good or bad really depends on what else is going on at the time. For right now, maybe it's OK for just two dudes and a drum machine to be out there, and then five years from now it's the butt of every joke, like disco was. I think that's where [the lyrics] come from, but there wasn't any specific message, saying whether it's good or bad.
GIO GIUSTI: It's funny to see people confused about it, too. They're like, "These guys use a drum machine, and they're bitching about it?"
ERIC VICTORINO: It's talking about the kids liking it, but the narrator's basically saying he doesn't like it, even though he is in a band that's like that.
ROSE KIRKLAND: Last time I looked, they were like the 15th-most-played artist on Live 105.
ERIC VICTORINO: "Internet Killed the Video Star" is No. 1 on Sirius' Alt Nation this week.
Adding a Drummer
DINO CAMPANELLA: We [Dredg] had them open for us at the Great American Music Hall, it was the first show they ever did. I've known Eric forever, and I remember he mentioned there was this guy Giovanni that he was maybe going to do some tracks with. I really liked all the stuff I heard, and I told him, "Hey, I'd love to drum for you guys." It kind of took a while.
ERIC VICTORINO: That was April 20 of 2008. At that first show, we had a drummer, a bass player and a backup singer who was playing a tambourine, so it was a five-piece. After that it was just the two of us again. Then we brought in Dino.
GIO GIUSTI: We just wanted to switch shit up a bit. We felt like we could add something else live.
DINO CAMPANELLA: Eric was like, "We want to bring in some live drums, and we'd love to have you." We just started jamming in Giovanni's garage.
GIO GIUSTI: He was all about it. I think it's cool when someone's as interested in the band as you are, and they want to play. That's really important, when you have that chemistry with someone you're working with. I respect him greatly; he's awesome.
DINO CAMPANELLA: It wasn't hard [to adjust]. When I hear their music, to me it hits hard rhythmically. It's already aggressive. My first instinct when I started drumming with them was "make it pound more."
ERIC VICTORINO: Dino's already in a band, and when he's on tour, it's like ... you know. We have an open relationship with Dino.
DINO CAMPANELLA: It's funny, the new Dredg record has a lot of electronics. I'd never played to electronic beats, but the Limousines got me so tight at it. I love playing to Giovanni's beats.
DINO CAMPANELLA: We're the only two members of the band, ever. We have no plans to ever officially make anyone else a member. And the reason for that is so we're able to switch up our live show later on, if we want to. If we want to have a drummer or two drummers or a guitar player or whatever, for one show or for one tour, we can.
GIO GIUSTI: That'll totally switch it up, chemistry-wise. If we have Tommy Lee—not like we would, but Tommy Lee drumming for one show, and then a more artsy-type rock drummer for something else, it'll switch up the live show completely. That's what's cool, that's what we keep changing.
ERIC VICTORINO: Nothing's set in stone. Five years from now we could be a seven-piece flute band.
BFD 2010
GIO GIUSTI: I love the tent. We passed out little psychedelic 3-D things.
ERIC VICTORINO: The acid glasses. That was because we didn't get to use our lights.
GIO GIUSTI: In the daytime, you know, we gotta trip it out somehow. That was the first time we did that.
Rickshaw Stop CD Release Show
GIO GIUSTI: That was the show where I could look out and see people singing even the most obscure songs. It was "Whoa, they know this stuff." That was a crazy moment.
ERIC VICTORINO: That was the show that felt more like we were a real band. When you don't have an album out, you kind of don't feel like a real band yet. Then once that album comes out you feel like, "OK, now we're legit." And when you see people singing along to the album tracks, that's when you really feel like something's starting.
DINO CAMPANELLA: It was crazy. It was definitely over the fire marshal limit.
ERIC VICTORINO: There was sweat raining off the ceiling at that show.
Adding Management
ERIC VICTORINO: We've spent basically the last six months putting together our team. All the people that are going to work for us are people who are kind of younger, who came to us. We didn't go searching for people to help us. If you knocked on our door long enough, we'd finally be "OK, you can come in. What do you want to do?" It's been good for us.
MATT GALLE: I heard them online, and I thought they were great. We just started emailing back and forth. I said, "I'm super passionate, and I think your music is amazing." I really wanted to work with them.
ERIC VICTORINO: It probably would [change our lives] if we were the type of people who would just sit back and let people do their jobs.
GIO GIUSTI: We like to take control. We're still sending out merch ourselves, we're still doing it all ourselves.
MATT GALLE: They're real. They want to do it on their own terms. Their sound is original, and the way they play live is original. They put together their own light show. They did the video on their own dime. It's cool to see somebody work that hard for that stuff.
ERIC VICTORINO: Now, if we don't know how to do something, we can ask someone else to do it. We're playing in Chicago with Weezer, and I don't know how to set any of that stuff up, how to book the right flights, or make sure we get paid enough that we're not losing money to play the show. It's nice to have people helping with stuff like that.
Live 105 Spookfest At the Cow Palace
ERIC VICTORINO: For us, it was interesting. We played first. They didn't really give people time to get in.
GIO GIUSTI: It was like a rave. But Eric ran around the whole place with a wireless mic, all over.
ERIC VICTORINO: Well, I had plenty of room to run around. I had the whole arena to myself.
Opening for Weezer
COREY O'BRIEN: My friend Dan who manages Weezer was asking what was going on in the Bay Area. I sent him a link to the Limousines and a couple other bands. He must have liked them.
ERIC VICTORINO: It was great of him to say that, too, 'cause we have a show with him. For him to say, "Yeah, go ahead and play this other show, where I could potentially lose tickets," that's cool of him to support us.
COREY O'BRIEN: That would have been a really lame and selfish way to think about it. To have one of our [South Bay] bands in a high-profile show in San Francisco, that's huge.
GIO GIUSTI: The Weezer shows were cool. It was all seating, because the Masonic is a theater-looking place. But Eric got everyone on their feet. That was pretty dope.
ERIC VICTORINO: I tricked 'em. I told 'em our job is to warm them up, and just think of how happy Weezer would be if they looked out right now and they saw all you guys standing up. So they all stood up, every single person. I was shocked by that, so I was like, "They'd be even more stoked if they saw your hands in the air!" So everyone did that. They stayed up for the rest of the set.
ERIC VICTORINO: When we have a good reaction from the crowd, like at the Weezer shows, it kind of trips me out. If I were in their position, and these two dudes got up there, no guitars, no bass, just these two guys and maybe a drummer—if you're used to seeing a four or five piece rock band, and you find yourself liking us, it probably twists some little part of your universe around, like, "I'm not supposed to like this, but I do. Like, at the Weezer shows, watching all these people we knew didn't know who we were, and trying to put myself in their position and wonder, "Would I like what we're doing?" I think I'd respect the fact that we're doing something different, first off. But there are so many purists who are all into guitars and bass, and then they see us and they like us, even though we don't have that.
GIO GIUSTI: There's still the rock element; we still bring edge to it with just the three-piece. Even when it was me and Eric it was still kind of like a rock show. I'd bob up and down or whatever. He called me a jack-in-the-box for a little bit.
MATT GALLE: When you hear them, you might think "This is electropop." But when you see them, you're like, "This is a rock band."
ERIC VICTORINO: I think it's weird when people pay too much attention to the tools that music was made with. It doesn't matter. What does it sound like? That's it. It doesn't matter whether the thing you played it on was a computer or an acoustic guitar. What's the difference? When Rage Against the Machine was coming out, in the early '90s, electronic music was not cool. It was a big deal to tell people, "We didn't use computers or samplers on this record. They'd actually put that on the back of their album. I can't imagine us putting on the back of our album, "We did not use an acoustic guitar."
GIO GIUSTI: There's no rules, that's what it comes down to.
The Future
MATT GALLE: I'm dealing with securing their label deal, which should be done within a week or two. They're going to be recording three or four new songs, and Get Sharp will be re-released, probably in spring. Something else we want to do is a video for "Very Busy People." There was never a video for that song. That should happen next year.
GIO GIUSTI: We want to be international. I think we could do awesome over in the U.K. and Japan.
ROSE KIRKLAND: I think they've made all the right moves over the last year or so.
ERIC VICTORINO: It's weird how stuff happens. Someone picks up on it, and they just want to support it. You've got to say thank you, make yourself known.
COREY O'BRIEN: They're down to Earth. They're doing it for the right reasons. And they're on a roll.
ERIC VICTORINO: Everything we do is potentially our big introduction to the world. Whether this album ends up being that or not, who knows? The next one could be the one that gets big. Or the one five years from now.
DINO CAMPANELLA: They're hitting it on the head right now. And they deserve it. I think next year is going to be a big year. I don't there's anything that can stop them.