Features & Columns
Catching the Buzz
Urban beekeepers swarm in Silicon Valley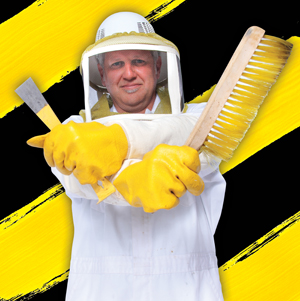 STEVE DEMKOWSKI spent the morning at his desk in his home office, preparing a bid for a new R&D construction project. Deep into diagrams, measurements and budgets, shortly after noon, he had to take a break so he headed into his kitchen. While slicing fruit for a salad he heard a strange, loud humming above the roof of his house on San Jose's Dry Creek Road. He looked through the glass of the French doors leading from his kitchen to his backyard and noticed that the bright day seemed to have clouded over. Confused, he stepped outside and looked up. What he saw gave him a fright. "I couldn't even see the color of the sky," Demkowski recalls. "I saw hundreds of thousands of little black dots moving in the air."
At first he was just amazed, marveling at the massive numbers of insects flying 25 feet above him. But then he freaked. "When I realized they were little flying stinging bees," he says, "curiosity turned into fear, and I ran back into the house." In his office, Demkowski did what anyone would do: he frantically Googled "bee swarms." As it would happen, he stumbled on the website of the University of Nebraska (home of his favorite college football team). The Cornhuskers' agricultural department reassured him that swarm season was the safest time to be around honeybees and that what he was witnessing was the beginning of a hive's new life.
Now he was curious again, so he braved going outside. The swarm had descended to 10 feet above the ground, and soon Demkowski was surrounded by tens of thousands of swirling bees. He was terrified at first, so he shut his eyes to stem his panic. With eyes shut, he recalls, he was able to feel the breeze generated by the beating wings; he heard their buzz and inhaled their lemony scent. He says he felt euphoric.
"This smell totally relaxed me," Demkowski recalls. "It's a marvel that within minutes I mentally went from doing this industrial work to panic, and then to feeling totally one with nature."
The experience was so profound, Demkowski says, that he took up a new hobby, and now "it's all about the bees." And so Demkowski became part of a trend that has taken off in the Santa Clara Valley.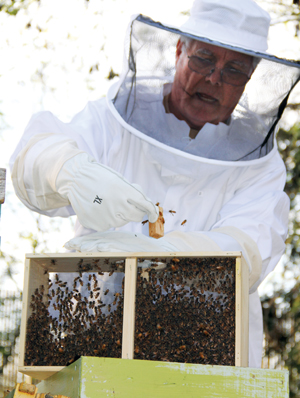 Going Apiarist
A rapidly growing number of Silicon Valley professionals have decided they want honeybees in their backyards. They're taking classes and workshops, joining the Santa Clara Valley Beekeepers Guild and becoming apprentice apiarists. They're part of a national movement that is a mash-up of the locavore, slow foods and DIY sensibilities.
Demkowski's day job is building R&D labs and production lines for a number of Silicon Valley companies. He is president of his own firm and still finds the work somewhat rewarding—but his backyard epiphany rearranged his life. Now, he is a bodhisattva of beekeeping.
Demkowski teaches the ancient craft to 4-H kids at San Jose's History Park, and keeps his own bees in rural Morgan Hill. He works as a "swarm rescuer," on call helping frightened people who, as he did, suddenly find bees swarming in their gardens. And he helps the expanding number of neophytes around the valley through the Beekeepers Guild. Demkowski also set up the new hives at Happy Hollow Park and Zoo, and serves as the zoo's resident beekeeper.
Vanessa Rogier, Happy Hollow's conservation manager and a bee enthusiast herself, wanted to showcase honeybees when the zoo began a $72 million renovation project that was completed last year. The makeover added new rides, an education complex, animal hospital, interactive play areas and four more acres of animal exhibits, which now include honeybees. Visitors can watch bees work behind a glass-walled observation hive, and new pedestrian pathways wind past demonstration hives.
Rogier says that there were lots of discussions about public safety when she proposed these exhibits but also points out that honeybees aren't dangerous.
"They're very focused on pollinating and don't care about us walking by," she says. "The only time they'd care is if we disturbed their hives. People may be phobic about beehives, but bees are all around us. They're in our gardens, parks; they're anywhere you see flowering plants."
Rogier says the park wants to educate the public about the importance of pollinators like bees, birds, bats, and butterflies and has provided habitat for them with thousands of new native plants that are growing on rooftops and along new walkways.
"The visitors just love the bees," Rogier says. "That's exactly our intention—conveying that bees are really cool, they're special. And we need to protect and take care of them."
Bee Cool
Visiting Franklin Carrier at his shop is a time-travel excursion back to 1975. That's when, after getting laid off as an aerospace engineer, he began selling beekeeping supplies from his ranch-style house just off a busy stretch of Winchester Boulevard in San Jose.
Carrier's Beekeeping Supplies offers everything the hobbyist beekeeper needs. The place is stacked with protective gear, honey-extraction equipment (available to buy or rent) and sweet-smelling wooden pieces to make and repair beehives' boxlike units.
Nearby sit copies of the four books Carrier has written on beekeeping, which are considered classics in the field and take readers from beginner status to "tips and tricks" that save master beekeepers' time.
Jars of honey neatly crowd tall homemade wooden shelves along with candle supplies and beeswax. They represent a lifetime of caring for bees and beekeepers.
Carrier, 88, is tall and stately. His beard, thick glasses and unhurried manner give him the calm presence of a Bible scholar or a minister. Speaking slowly and carefully, Carrier says that unlike companies that sell bee supplies on the Internet (which he calls "mail-order firms"), he spends time with his customers making sure they get the right item.
He says new customers are filling up his classes and have doubled his sales over the last two years, making last year his best yet. National retailers Dadant & Sons, Brushy Mountain Bee Farm and Mann Lake Ltd. report the same growth curve.
The Obamas keep a hive in their backyard at the White House. Villa Montalvo in Saratoga just got its first hive, for the culinary garden at its Lucas Artists Residency program. Google sponsors a beekeeping club to go with its hive, and the au courant contemporary homestead-supply designers at Omlet Ltd. are getting in on the action with their $860 prefabricated Beehaus.
Carrier seems surprised that so many of the new customers who have found him are young and work in Silicon Valley's high-tech industry.
"It's new people," he reports. "A lot have wanted to keep bees for years, or they've read about beekeeping or have friends doing it. They come here to get started."
Apple audio/video engineer James Green started beekeeping by putting a hive outside the back door of his Blossom Hillarea home. A youthful 45, Green wears an outgrown crew cut and the Silicon Valley uniform: Polo shirt, khaki shorts and cross trainers without socks.
Two years ago, Green and his wife took a class at Love Apple Farm in Santa Cruz and then went to Franklin Carrier for the gear and advice. Green says his neighbors were amenable to the idea because he first made sure no one had bee allergies, and he talked to them with their children about leaving the bees alone.
Drawn to beekeeping partly because it's something he and his wife can do together, Green also enjoys the tinkering aspect of it. And the techie in him appreciates the bees' mechanical nature.
"They're basically little flying computers with GPS," he says. "They're pretty easy to maintain, [even] when you're busy working a lot of hours. Once a week or so, you just open up the hive and do it."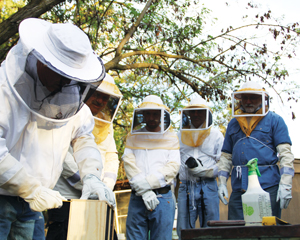 Save the Bugs
Like many contemporary beekeepers, Green is motivated by the fact that bees are dying off at rates so steep that some scientists believe the decline is a threat to the entire food chain. He also appreciates the honey: "A bunch of guys at work want to get into it because I brought honey to work, so now they're figuring out how to make it work where they're at."
Now that he's moved to the mountains near Los Gatos, Green wants bees for his large garden. To learn more, Green, along with other beginners, have found their way to the Santa Clara Valley Beekeepers Guild.
Open to the public, the guild holds monthly sessions in the Willow Glen Baptist Church's large basement meeting room. Recent gatherings have drawn crowds of almost 100—a number that's doubled from three years ago. The meetings offer practical advice for novices in a Q&A format, along with subject-specific workshops.
Filip Crnogorac, 29, attended his first meeting in January. He just earned his Ph.D. in electrical engineering from Stanford and works at a biotech startup in Mountain View. He signed the apprentice list and found a mentor who hooked him right up with free equipment and guidance.
Crnogorac plans on keeping bees in the backyard of an Eichler house that he rents with roommates near Palo Alto's city center. "I'm a complete new beginner, and I joined the guild to find out how to keep bees," he says, "and to protect them."
In addition to meetings, an apprenticeship program and website resources at www.beeguild.org, the guild provides low-cost classes and equipment rentals. One popular program is its free honeybee swarm rescue service.
February through June is swarm season. To avoid overcrowding, half of a hive's bees will leave with their queen to start a new colony. Alert beekeepers may add frames to existing hives or add hives to accommodate the growth. But it is the nature of bees to wander, and they sometimes settle where they aren't wanted.
Like members of a volunteer fire department, dozens of Guild members list their names and cell-phone numbers on the Guild's swarm rescue page. Last year, the Guild rescued and placed hundreds of colonies.
Guild rescuers like Jim "Fuzzy" Campbell are enthusiastic about helping a hysterical citizenry by removing swarms from their yards and finding new homes for them among the beekeeping community. Specialists on the list will help with removals from inside walls and other unusual places. Even the city of San Jose has called them to remove a swarm that settled on City Hall's outdoor patio.
"The public should know swarms aren't dangerous and that the Guild is ready to help people," Campbell says. "So there's no need to spray them or call an expensive exterminator. Anyone who finds a honeybee swarm can go to the website and call somebody and we'll come get them."
Bees Here Now
California's first honeybees were purchased in 1853 by Christopher Shelton for the 1,939-acre Rancho Potrero de Santa Clara, which was located just south of what is now the San Jose International Airport. Only a single hive's worth of bees survived the rail, pack-mule and steamship journey from New York, but they quickly propagated, laying the foundation for California's modern beekeeping industry.
There had been thousands of species of native bees in California, but during the 19th century, even while farming became this region's dominant industry, thousands of acres of land were plowed, destroying vital bee habitat. Old-timers say it was the valley's Italian immigrant farm workers who advised Shelton to get European honeybees to improve crop yields to what they remembered from home.
Honeybees were a fixture in valley backyards throughout the turn of the last century. They vanished for a time, but then the back-to-nature movement of the 1970s inspired hundreds of valley residents to take up beekeeping. That's when the SCVBG was formed. The group's membership thinned during the 1980s when the invasion of new mites and other pests killed off their honeybees.
In 2006 massive numbers of honeybees in North America's agricultural fields started dying off, threatening a long list of fruit, vegetable and nut crops that rely on bees for pollination. Calling it Colony Collapse Disorder, researchers say pathogens, parasites and an industrial agriculture model that promotes pesticides and monocropping are to blame.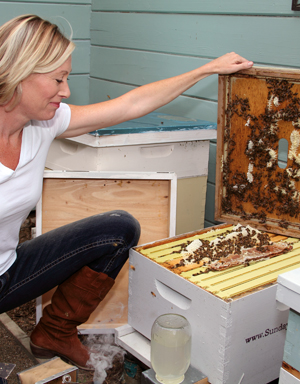 Hive Minders
Tall and fashion-model pretty (until she dons her head-to-toe protective gear), Gail Rieg says she became interested in bees when she studied beneficial pollinators. Rieg, who looks exactly the part of the hip hair stylist she is at Alchemy in Willow Glen, says she obtained her first hives shortly after buying a house five years ago. The bees so fascinated her that all she wanted to do was sit in her backyard and watch them.
She now teaches beekeeping classes at Love Apple Farm and at her San Jose home, and she has started an online resource, www.sundayhoneybees.com.
Her Victorian, with its white picket fence, "Bee Crossing" sign and lush lavender bushes, looks better kept than some other houses on her street, but a neighbor's complaint lead to a visit by the city of San Jose's Animal Care and Services Division.
Rieg says that given her large backyard, she had no problem proving to the animal-control officer that she could comply with San Jose's ordinance, but she believes that law is too restrictive.
The county's beekeeping ordinance governs the unincorporated portions of the county, while each city has its own regulations. Citing concerns about public safety, the ordinances generally require hives to be located far from neighbors, to have water nearby and to be placed so that entrances prevent unwanted beelines.
Palo Alto allows two hives if they are 25 feet from the nearest property line and if beekeepers obtain written permission from adjacent neighbors. Sunnyvale allows up to five hives if they meet placement, fencing and water- supply requirements and if beekeepers file written consents from all adjoining neighbors. Although Mountain View has no ordinance, its Code Enforcement Division allows single-family homeowners to keep bees as long as they're noncommercial.
The city of San Jose requires beekeepers to obtain a permit, limits hives to two and has placement, fencing, setback and water-supply requirements. If backyard configurations don't meet the letter of the law, permits may be granted if permission letters from adjacent neighbors are filed with the office of the Deputy Director of Animal Care and Services.
By copying Santa Clara County's ordinance and requiring hives to be at least 300 feet from any public road, Los Gatos, Campbell, Santa Clara and Saratoga make it almost impossible for urban residents to keep bees.
"These ordinances don't work for most Silicon Valley homes' lot sizes, so a lot of people have to fly under the radar and hope that their neighbors don't complain," Rieg says. "I think these ordinances could safely be changed so more people can keep bees legally."
While environmental concerns are just part of the motivation driving contemporary beekeepers to set up their hives, it may be true that the world needs urban bees.
Demkowski points out that bees are necessary to human survival. "People wouldn't exist without honeybees, because there wouldn't be the plants we need to survive—fruits, vegetables, nuts, you name it," he says. "Bees weren't put on this earth to sting us; they were put on this earth to pollinate."
"I believe our urban areas are the last stand of the bees, because unlike industrial agriculture's beekeepers, we have the time to work with our bees and help them develop into new stronger strains," he says. "It's the urban honeybees that are going to save us."