01.02.08
home | metro silicon valley index | columns | silicon alleys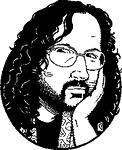 Silicon Alleys
Frank's Place
By Gary Singh
AS OF last Monday, Frank Annino has operated the Spartan Barber Shop for exactly 50 years at 487 S. Fourth St. in San Jose. The original health permit, dated Dec. 31, 1957, graces the wall opposite the front window, and the rest of the place looks exactly what you would expect from an old school barber shop: Faded checkerboard flooring, archaic barber chairs, photos of Joe DiMaggio in his prime and dated posters of haircut styles from the early '60s. One such placard offers choices like "Butch," "Ivy League," "Flat Top With Fenders" and "Forward Brush." Annino says a duplicate of this same placard can be seen on the wall of Floyd's Barber Shop in an episode of The Andy Griffith Show, and he still gets requests for those cuts.
San Jose State University spent mucho dinero hyping the school's 150th anniversary in 2007, and Frank has now chopped hair right there in his shop around the corner for one-third of that time span. It's one thing for a restaurant to withstand the constantly changing scenarios of this valley for a half-century, but for one man to go it alone for that long is a rare feat. We do not see many Frank Anninos these days. Over the years, he has trimmed the hair of both the Smothers Brothers as well as quarterback Jeff Garcia, all of whom were SJSU students.
Originally, Frank ran a shop on Willow Street; he then got drafted into the army, where he was stationed in France and cut hair for 35 cents a head. Upon returning home to San Jose, he bought the Spartan Barber Shop for $750 in 1957, and the rest is history. Over in the corner of the place, you can even see one of the antique cash registers he originally used, with a $1 slot for the haircut.
Obviously, much has changed since then, but one gets a completely different perspective when seeing it all through a barber's eyes. "Once the Beatles came around, a lot of the barbers went out of business," Annino said. "There were a lot of barbers around the campus at that time, but many had to close." Annino then used some leftover bucks form his G.I. Bill to supplement his income. "I stuck it out," he said.
Like any old-timer, Annino has much to tell about how his neighborhood has changed over the years. "Fourth Street used to go both ways in the old days," he recalled. "Then it went one-way going north, and then they put 280 in there in '67 and then eventually it went one-way going south again." Annino also has photos on the wall from back when the train tracks went straight down Fourth Street and dropped the college students off. "The tracks are now underneath the street," he said. "They built over them."
These days, men come from all over the neighborhood and even from across town to get their cut of choice at Frank's place. Antony Nispel, a substitute teacher, has been getting his shag lopped at Frank's since 1984.
"I'm not usually a very talkative person," he said. "But as soon as I would walk in there and sit down, there would always be conversation of some sort. You would get the local news, or whatever the Spartan Football team was doing, or anything else. Frank is just a really easy guy to talk to."
Nispel also added that Frank's place has always been a multigenerational establishment: "People walk in there and he remembers cutting their dad's hair." It's true and there exist SJSU professors who've had their mops trimmed at Frank's for 20 years running.
Once in a while, some audacious creep might saunter in and ask Frank if he wants to sell the place. "I always say no," he told me.
Contact Gary Singh or send a letter to the editor about this story.